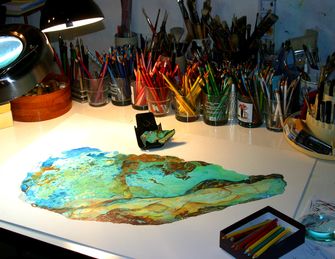 AGATE ART BY IRENE BARON
Your favorite jewelry, gem, rock, or mineral captured in watercolor!
If you are interested in commissioning, displaying, or purchasing such original art, please contact Irene using email: irenebaron@irenebaron.com. 
One of my largest and earlier banded agate watercolors was purchased by the gentleman who was at that time President of OUTWARD BOUND for his office. http://www.outwardbound.org/ I did not get a photograph of that particular artwork. Photographs of all other Agate Art watercolors, however, will be posted on this site as time permits. Thank you for your patience.
---
TURQUOISE AGATE - 33" X 23"  Watercolor, colored pencil, 24K gold leaf
Your favorite rock or mineral reproduced in watercolor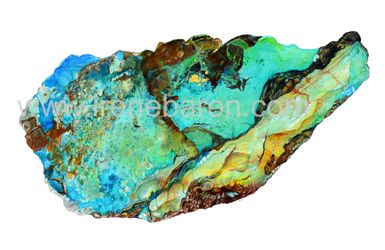 I sincerely appreciate the beauty of nature and want to share that beauty with others. I do that by complimenting the creations through an art form to extend their magnificence.
As a colorist, when I see colorful agates, especially banded agates, I am mesmerized by their formation. Through on going testing, it has been observed so far that the human eye can distinguish between over 50,000 colors, tones and hues. It makes one wonder exactly how many colors there are.
The color turquoise sets up vibrations within the human which gives feelings of pleasure. That must be why the mineral gem turquoise is so popular. Fashion wise, the color melds with everything. When I first saw this particular turquoise slice/slab, I was intrigued.  It had many different facets and colors of turquoise within the mineral. I asked myself, "How accurately could I achieve a likeness using my freehand techniques? I don't use artificial means to project the image like some artists. Some project the image and copy it or use a light board to copy. I do not cheat in this manner. Instead, I create the finished art using only freehand methods. Over 20-years of art training has provided me with skills and the eye to accomplish this intricate work.
Using artistic license, I try to always incorporate 24K gold leaf or another sparkling/shiny mineral such as muscovite or biotite. I thought about iron pyrite, fools gold, but determined it would tarnish too quickly. Real gold doesn't tarnish.
The image presented here does not do the gold justice. However a local portrait photographer said he would try to capture the metallic glint/luster of the gold. This is such a mesmerizing picture, I thought others might want a print. When people look at it, they can't turn away easily. They have said, "I don't know what it is about this picture, but I can't stop looking at it."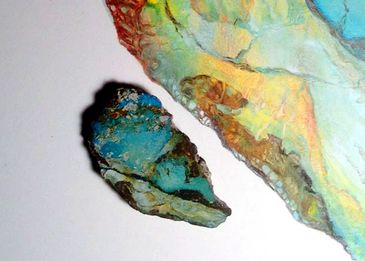 To illustrate the size of the freehand drawn and painted turquoise, I have included an image with the original turquoise mineral piece. It will be made into a gold wire wrapped pendent to be given to the buyer. They can wear the beautiful pendent when displaying the original art. This painting is wired to display as illustrated, but like all my Agate Art, can be placed in any position to be oriented in a room to the pleasure of the owner. This particular artwork is priced at $649.00 plus packing and shipping. Without the pendent, the price is $600.00.
Work area for the Art Baron, Irene Baron. 
---
LIGHT BLUE GEODE - 30" X 34"
Watercolor, Colored Pencil, Muscovite, gold foil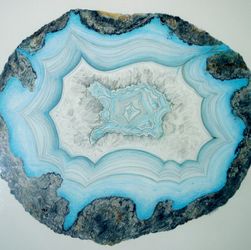 Upon admiring this exquisite piece of nature, the original geode was loaned to be by a dear friend. I promised that as soon as I made a painting of the geode, I would return it. Thus it was returned to be displayed in her living room. (Thanks Barbara!) The original geode is about 3-1/2 inches in diameter, small enough to rest in the palm of your hand.
All shades of blue give feelings of peace and calm to the observers. Therefore, to have the original geode enlarged so much allows everyone who sees it to enjoy every day.
The image shown was taken through glass and ended up with a glare. However, it gives you an idea of the original art. Can you find the muscovite?  :-)
The Light Blue Geode artwork is priced at $649.00 plus packing and shipping.