Zanesville Astronomy Club - Affiliate of the Night Sky Network
TOTAL SOLAR ECLIPSE 2024
Irene Baron has become the Eclipse Ambassador for SE Ohio.
In this capacity, she will be visiting organizations, interested businesses, libraries, universities and colleges to make presentations about the 2024 total solar eclipse. Be thinking about having her and the college student she is mentoring visit your site to make an educational presentation.
The next total solar eclipse in the United States will take place on 8 April 2024. It will make a narrow path across 13 states and be visible as a partial eclipse in other states. Since the Zanesville Astronomy Club sponsors this page, we will discuss primarily the viewing and happenings in Ohio.
There will be many maps available in the future for this event. In this map of Ohio, the centerline is the line of the totality. If you were on the ground at that center line location, you would be at one of the prime locations to view the total solar eclipse.
Ensure you have safety lenses to protect your eyes.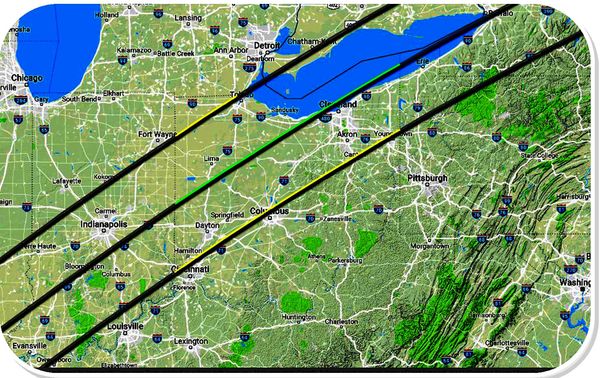 The Zanesville Astronomy Club is expecting to receive the free solar viewing lenses again. The last time,  ours were provided by Google, NASA, the NASA Night Sky Network and different optical/medical organizations.  
The local libraries handed out lenses as did some businesses. Our club only had about 600 which were handed out after the presentation at Ohio University Zanesville with Chuck Bruckelmeyer and myself as keynote speakers. I expect we will host another event at Ohio University Zanesville to present information and hand out lenses a week prior to the event. 
The width of totality averages 146 miles.  I'm not sure what it will be for the 2024 event but I will try to find out. The above map gives a rough idea of where you should be.  Note that all of Columbus is NOT in the totality area.  You would have to be in west Columbus to see full totality.  Outside the three lines on this map, you would only see a partial solar eclipse. 
TRAVEL SUGGESTIONS

NASA considers Cleveland, Ohio the best place to be in our state for viewing the eclipse. 
In some locations totality will last 4 mnutes 24 seconds.
A word to the wise.  When the last total solar eclipse took place in the United States, the nearest clear viewing to Ohio was Tennessee. Everyone arrived in Nashville at different times. However, after the eclipse everyone left at the same time. 
Members of the Zanesville Astronomy Club who drove to Tennessee reported that interstate traffic was bumper to bumper with speeds 10-15 mph. After traveling several miles, the Bruckelmeyer family headed west to Indiana to get out of traffic. They reported ALL roads were congested.  It took them 13-hours to drive home.
REFERENCES:

NASA references: https://eclipse.gsfc.nasa.gov/SEgoogle/SEgoogle2001/SE2024Apr08Tgoogle.html
Eclipse wise site: http://www.eclipsewise.com/solar/SEprime/2001-2100/SE2024Apr08Tprime.html
National map: https://nationaleclipse.com/maps.html
Map of totality: https://www.space.com/37878-solar-eclipse-2024-path-of-totality-maps.html
Orthographic map: http://www.eclipsewise.com/solar/SEdisk/2001-2100/SE2024Apr08T.gif
Animated map: http://www.eclipsewise.com/solar/SEanimate/SEanimate2001/SE2024Apr08T.gif
Path Table: http://www.eclipsewise.com/solar/SEpath/2001-2100/SE2024Apr08Tpath.html
Circumstances table: <span style="color:#8e44ad;">http://www.eclipsewise.com/solar/SEcirc/2001-2100/SE2024Apr08Tcirc.html</span>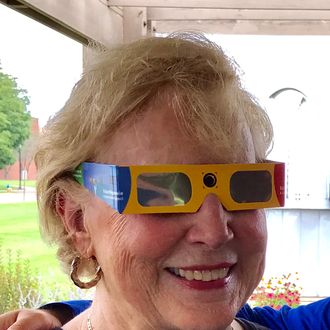 Irene Baron is demonstrating the old style solar safety lenses. The new ones are very different. Never look at the Sun without eye protection.
Lenses should be available throughout the state of Ohio for this event
As a Total Eclipse Ambassador, Irene should have safety lenses to hand out to attendees of organizations with whom she makes presentations.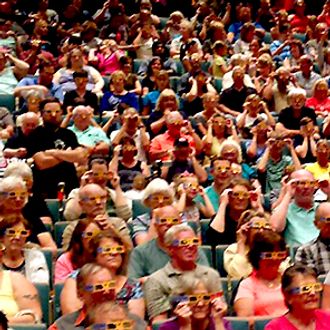 OUZ AUDIENCE FOR LENS SAFETY
Irene Baron & Chuck Bruckelmeyer passed out 600+ lenses before the last solar eclipse seen in Ohio after  explaining the eclipse. OUZ staff reported the standing room only audience was the largest attendance ever experienced at the university.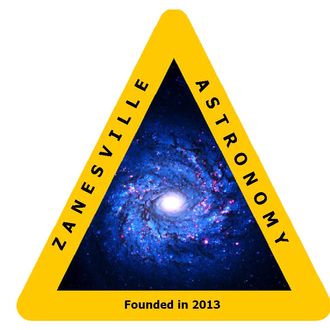 Logo Zanesville Astronomy Club