IRENE BARON
Irene Baron was named the "Top International Female Writer of 2020" by the International Association of Top Professionals (IAOTP) for her outstanding leadership and commitment to the industry. 

She was awarded the "2020 Albert Nelson Marquis Lifetime Achievement Award" by Marquis Who's Who. In 2021 she was recognized by the Continental Who's Who as a 2021 International Top Professional in Education and selected for the 2021 FIREBIRD Speculative Fiction Award.
__________________________________________________________________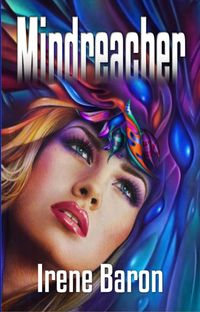 https://www.audible.com/pd/Mindreacher-Audiobook/B096CFNC14

Presented the 2021 Speculative Fiction Award by Firebird!
"Mindreacher," an international, psychological sci-fi, adventure thriller, is sold in paperback, ebook & audible formats.

Government agencies fail to find terrorists threatening the United States with nuclear weapons. To remedy that, the new President forms a highly classified operation with an Executive Order. The Virtual ExtraSensory Perception Experimental Research project (VESPER) is created and housed in secret facilities under the JFK runways.
VESPER leaders learn of South African 'mindreachers' born several decades ago. Rumored to have the ability to read minds over great distances, no one knows their current locations. A teacher and pilot, Ana Masterson, is identified stateside as a minor telepath. She is hired by VESPER to find a mindreacher and teamed with elite warrior and former SEAL, Major Jon Coulter, USMC. Despising anyone psychic, Coulter reluctantly follows orders to protect Masterson and report to his superiors how telepathy may be used in combat. Supplied with the latest in espionage gadgets, including embedded nano-size satellite tracking transceivers, their search begins in Johannesburg, South Africa. Not wanting to be identified, every terrorist cell places Masterson and Coulter on their hit list.
Readers will find it difficult to distinguish fact from fiction in this Indiana Jones style of friendly beginnings filled with memorable dueling characters, suspenseful changes in venue, exotic scenes, epic actions and a chart busting climax.

Order :                     Mindreacher 
Audible sample:     https://www.audible.com/pd/Mindreacher-Audiobook/B096CFNC14
Learn more:            https://www.mindreacher.net
---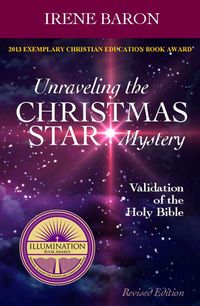 Awarded the Gold Medal in 2014 as the best Christian Education Book of the year published.
Unraveling the Christmas Star Mystery is an illustrated book proving the birth events written in the Bible are fact. Written for understanding by readers ages 12 and older, it is an excellent source of information for Bible scholars, teachers and the population in general. This book of ancient astronomy was awarded a Gold Medal as the year's best Christian Education Book. 
Over 15-years of ancient skies were surveyed using 68 NASA astronomy computer programs. Correlating events with symbols, symbolism and interpretations used by the ancient skywatchers of 2,000-years ago, ten significant celestial announcements just prior to Christ's birth were discovered and verified with additional computer programs. The Christmas star was the geographical position marker for the birthplace of a God, Jesus Christ.

To Order Unraveling the Christmas Star Mystery
 Learn more:  https://irenebaron.com/christmas-star
---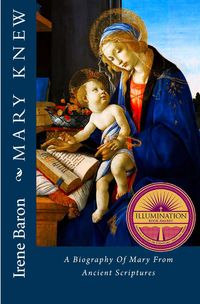 Awarded the Bronze Medal as one of the top three Christian Biographies in 2019.
Mary knew - A Biography of Mary from Ancient Scriptures, an award-winning book,  uses ancient scriptures and testimony of Apostle James, the youngest son of Joseph.

James became the first Bishop of Christian churches in Jerusalem after the death of Jesus Christ. He was an eyewitness to many events, including the birth of a God, Jesus Immanuel, the Christ. 
God named, blessed, and ordained Mary to be the mother of Jesus, Immanuel, before her conception. This book [provides biographical details about Mary's parents, her birth, early life, Joseph, and the birth of Jesus Christ. It includes much information about angels and miracles which occurred because of Mary. Primary scriptures were the eyewitness testimonies from Apostle James. Mary was raised according to God's direction in a sanctuary of the family home for 3-years before going to live in the Jerusalem Temple for over a decade. Angels visited her every day to commune with her and feed her. The book ends at the phenomenal birth of Christ, unlike any human birth.
To Order:  Mary Knew - A Biography of Mary from Ancient Scriptures 
Learn more: https://irenebaron.com/mary-knew
_________________________________________________________________________________________________________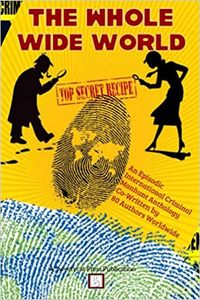 THE WHOLE WIDE WORLD

I am proud to be one of 80 authors from around the world who combined their talents to write the greatest episodic criminal manhunt anthology ever written.

Published by Sweety Cat Press, you will find great writing diversity as you read with a smile how the theft problem is solved.

Follow Detective Curly Knucklewad and his assistant, Wanda Wowzer, as they pursue leads and clues around The Whole Wide World in search of the thief who stole a secret Limp Noodle Sauce recipe.

From comic to chilling, each episode offers a fresh perspective and new eyes on the greatest heist ever pulled off.    https://rb.gy/ftppq4
 
---
ABOUT IRENE:
A former teacher and current pilot, Irene Baron also worked with the Advanced Research Project Agency (ARPA), Supreme Command Headquarters, Research & Development Center in Thailand for four years completing Top Secret work while employed by Battelle Memorial Institute as an Information Specialist in Geology & Hydrology. She was the project's Director of Aerial Photographer.  In that capacity, she directed aerial photography from Air America/CIA Sikorski Helio-19 helicopters and two-winged aerial imaging aircraft. Irene contributed to the geology and hydrology sections of the now unclassified Mekong River Project book. She also authored the Operational Procedures Manual, Laboratory Material Division (all levels) for the Bangkok ARPA facility.
Baron used the knowledge gained and experiences with the military, government, Battelle Memorial Institute, and as a veteran high school science teacher to create the geopolitical and psychological Mindreacher thriller series.  
---
LINKS FOR MORE INTERACTION WITH IRENE

FACEBOOK:                    https://www.facebook.com/IreneWorthingtonBaron/
AMAZON Author Page:   https://www.amazon.com/author/irenebaron 
Award-winning blogs:    https://irenebaron.com/irene-baron-blog
Blog Index:                      https://irenebaron.com/blog-index
Linked In:                        Https://www.linkedin.com/in/irene-baron-5a460a34
Twitter:                            @Baron1Irene
Mindreacher URL:          Https://www.mindreacher.net