MARY KNEW~A Biography of Mary From Ancient Scriptures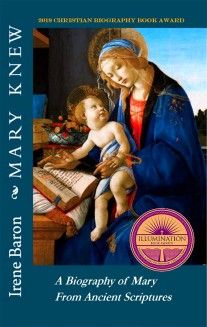 Exemplary Christian Biography
Third Place-Bronze Medal received 2019
The Jenkins Group-Illumination Book Awards: "Shining a Light on Exemplary Christian Books," with a Christian worldview. 
Using the eyewitness testimony from Joseph's youngest son, Apostle James, Irene Baron wrote the biographical data in the historical narrative format.
The book was written in answer to a popular song asking if Mary knew what was going to happen to her. Baron said, "Yes, she knew. By the time she was one year old, all of Galilee knew her she would be the mother of the Savior."
The testimony of Apostle James states that God named, blessed, and ordained Mary to be the mother of Jesus, Immanuel before her conception. It contains biographical information about the tribulations of Mary's parents, Mary's birth and life, her vow to God, the elderly and reluctant Joseph, the tribulations of Mary and Joseph, life in Galilee, and the holy birth of Jesus Immanuel.
There has never been, nor will there ever be, the birth of a God on Earth as when Jesus was born. It was a holy and epic birth witnessed by Joseph, James, midwife Zelomi, and midwife Salome. Shortly after the birth, Salome had a personal trial in the birthing cave. After her instant healing upon holding the Holy Child, she said, "From henceforth, all the days of my life, I will attend upon and be a servant of this Infant." She was with the holy family as a friend and helpmate throughout the life of Christ and was present at His death and at His tomb to find it empty. Mark 16:1
This biography is a compilation of traditions and history from ancient scriptures not found in the New Testament. Bible scholars state the scriptures of James were omitted because they were about a woman, not Jesus. The scriptures contain information about angels and miracles which occurred because of Mary. Angels told her parents that Mary would be more blessed than any woman or may net born on the Earth. The only person born on Earth more blessed than mary was her son, Jesus Immanuel.
James lived in his father's home and accompanied Mary and Joseph to Bethlehem along with two of his brothers. He was an eye witness for all that happened during Mary's pregnancy and the events surrounding the virgin birth of Jesus. He became a chief Apostle and the first Bishop of the Christians in Jerusalem. His testimony was used in the early Christian churches for hundreds of years.   

COMMENTS/REVIEWS:
CARMEN BACA
Oh, friends and readers—this really is the most enchanting book I read to date this year; I hope you go out and get your own copy if you've not already done so. Definitely 5 stars!

DAVID V. WRIGHT II
Irene Baron has put together a document that once I started reading, I could not put down! The story of Mary is written showing great research and clarity. I highly recommend this book to all that seek the life and history of Mary. It is a great book that I will make part of my Biblical reference for future use. Very well done!

STEVE CARR 
 A very impressive read about one of the most well-known individuals in Christian history.
Baron does something I didn't imagine could happen, she introduced me to characters and events in the life of Mary and Christ that I had never heard of. And she backs it up with some very impressive references. This is a book that makes you wonder about the life of one of the most well-known individuals in Christian history, the mother of Jesus Christ. It's written in a very lovely, simple style that reads like fiction (with tons of accurate historical and Biblical references). For believers and non-believers, this book is well worth the time to read it. It never hurts to learn something new.
     Inside Minds Unplugged, the book is dedicated to six to sixteen year-olds, its intended reading audience. Even though in terms of age I'm far from the targeted readership ages, I was quickly drawn into the first story, "School Trip," about a group of boys taking a bus ride to a smaller village. It's written with such gentleness and a sense of fun and adventure, that it reminded me of stories I read when I was much, much younger. It's only at the end that I was brought back to the current time when the final paragraph ends with a note that the "lockdown" (as a result of the advent of Covid-19) would begin shortly after. Covid and lockdown and the effects it had on children and how they dealt with it is a common theme in all of the stories. The author approaches the subject in multiple ways, from a boy finding solace in a "fur friend" in the story "I Wanna Play" to a teen girl's diary entries in the story "Pages From Shonali's Diary," to the heart rending story about the emotional distressed felt by a couple of children over the sudden disappearance of some neighborhood friends in the story "Forever Friends." Each story is thoughtful, compassionate and suited perfectly to the intended readers. The second part of the book is filled with poems. My favorites were the first and last, "The Sly Fly" and "Growing Up." I should add that anyone not familiar with the Indian culture or language, the author provides notes on the meaning of certain words and events (like festivals). For adults wondering how to explain the pandemic to their children and to gain a better understanding of the impact of lockdown on their young ones, this is an excellent tool, one that is beautifully written.

JULIA WILSON
Mary Knew: A Biography of Mary From Ancient Scriptures by Irene Baron is an account of Mary, the mother of Jesus. Irene Baron has used ancient and Biblical texts to produce a very personable read. Mary knew is not designed to be read instead of the Bible, but alongside it. We know very little about the life of Mary, but Irene Baron has pulled everything together  to produce this fabulous and very approachable account. Mary becomes a fully rounded 3D character in her own right, showing she is more than just the mother of Jesus. Set apart before she was born, the reader 'feels' the anguish, shame and desire experienced by Mary's parents as they longed for a child. We share their elation when their hopes come true. Mary was a much loved child, dedicated to God and used in a way her parents never imagined.
     Irene Baron has produced a, very accessible for all, account of the life of Mary. It is fascinating and I thoroughly enjoyed reading it. I could recommend it for Christians young and old, as well as those exploring the faith and those who just want to know more about the historical figure of Mary. I reveived this book free. A favourable review was not required and all views expressed are my own.
SHERRY SUNAFRANK
I so enjoyed my book. I reread it often. Thank you so very much.
HERB WORTHINGTON
I learned much about Mary I never knew. Mary Knew is a beautiful book and a good read. Very impressive.
S.REEVES
This was a beautiful gift.
I really enjoyed this book. Irene Baron transcribed the scriptures into new meanings. I've never found anything about the history of Mother Mary and I had no idea she was raised in a temple to avoid corruption.
This book was a joy to read, easy to understand, and clarified the confusion sometimes experienced when attempting to interpret scripture.
Thank you, Irene. This book was very enlightening and answered many of the questions I've had since childhood.
CONNIE
Makes a fine Christmas gift. Wonderful book for family and friends.
ORDER BOOK: https://cutt.ly/oe5n8my
Visits from around the world.
A Top Author Website of 2017