MARY KNEW~A Biography of Mary From Ancient Scriptures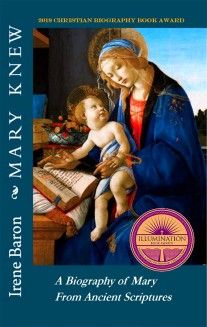 Exemplary Christian Biography
Third Place-Bronze Medal received 2019
The Jenkins Group-Illumination Book Awards: "Shining a Light on Exemplary Christian Books," with a Christian worldview. 
Using the eyewitness testimony from Joseph's youngest son, Apostle James, Irene Baron wrote the biographical data in the historical narrative format.
The book was written in answer to a popular song asking if Mary knew what was going to happen to her. Baron said, "Yes, she knew. By the time she was one year old, all of Galilee knew her she would be the mother of the Savior."
The testimony of Apostle James states that God named, blessed, and ordained Mary to be the mother of Jesus, Immanuel before her conception. It contains biographical information about the tribulations of Mary's parents, Mary's birth and life, her vow to God, the elderly and reluctant Joseph, the tribulations of Mary and Joseph, life in Galilee, and the holy birth of Jesus Immanuel.
There has never been, nor will there ever be, the birth of a God on Earth as when Jesus was born. It was a holy and epic birth witnessed by Joseph, James, midwife Zelomi, and midwife Salome. Shortly after the birth, Salome had a personal trial in the birthing cave. After her instant healing upon holding the Holy Child, she said, "From henceforth, all the days of my life, I will attend upon and be a servant of this Infant." She was with the holy family as a friend and helpmate throughout the life of Christ and was present at His death and at His tomb to find it empty. Mark 16:1
This biography is a compilation of traditions and history from ancient scriptures not found in the New Testament. Bible scholars state the scriptures of James were omitted because they were about a woman, not Jesus. The scriptures contain information about angels and miracles which occurred because of Mary. Angels told her parents that Mary would be more blessed than any woman or man yet born on the Earth. The only person born on Earth more blessed than Mary would be  her son, Jesus Immanuel.
James lived in his father's home and accompanied Mary and Joseph to Bethlehem along with two of his brothers. He was an eye witness for all that happened during Mary's pregnancy and the events surrounding the virgin birth of Jesus. He became a Chief Apostle and the first Bishop of the Christian churches in Jerusalem. His testimony, used for the Mary Knew book, was used in the early Christian churches for hundreds of years.  
---
Read Irene Baron's latest essay about Christmas from a Woman's perspective using information from this book.
https://fourcolumnsofabalancedlife.com/christmas-from-a-womans-perspective/