PRESS KIT - MARY KNEW    


ORDER BOOK: http://www.amazon.com/IRENE-Baron/e/B07F2N8RH7
MARY KNEW-A Biography about Mary from Ancient Scriptures
Awarded Third Place Bronze Medal 2018,  Exemplary Christian Biography, Illumination Awards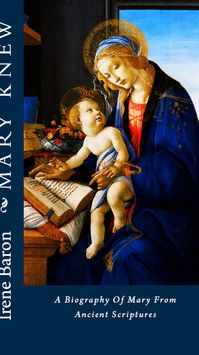 BOOK MAIN POINTS:
1.    Mary was named, blessed, and ordained by God to be the mother of Jesus before her conception.
2.    Angels provided daily food, instructions and conversation to Mary for over a decade while she lived in the Jerusalem Temple.
3.    Scriptures about Mary were used in early Christian churches for hundreds of years.
4.    Original scriptures were written by James, youngest son of Joseph, as his eyewitness testimony about Mary.
 MARY KNEW contains detailed biographical information about Mary's parents and their trials, her preconception consecration by God, her birth and early life, Temple years and holy vow, the refusal of Joseph when selected by God to be her husband, their betrothal, difficulties, and the beautiful phenomena that occurred during the birth of Jesus Christ.
This compilation of traditions and history from ancient scriptures is filled with stories of angel visitations, Old Testament prophecies fulfilled in front of witnesses and miracles. Author, Irene Baron, stated, "You won't find any religious story with more angels, miracles and fulfillment of prophecies than in the scriptures about Mary. Her story is astounding! "
Mary was born of a barren woman in a miraculous manner. Her parents were told by heavenly messengers that Mary was to be the most important woman that will ever be born on Earth. While yet a virgin, in a way unparalleled, Mary was to bring forth the Son of God. God provided the name, Jesus, Immanuel, when He announced the future conception of Mary. According to the signification of the name, Jesus was to become the Savior of all nations. Baron said, " 'Jesus, Immanuel' is the name God gave His Son before Mary's conception."
New Testament books were limited to those about Jesus Christ, not His mother.
This book includes a glossary, references and, a list of prophecies from the Old Testament.
 ABOUT THE AUTHOR - IRENE BARON:  
Irene Baron began studying ancient scriptures as a teenager by borrowing books from local churches and personal libraries of many pastors. When NASA sent her almost 70 astronomy computer programs, she researched information about ancient astronomers and their beliefs. With that information and after several years of working with the astronomy software, she discovered the Christmas star and wrote the book, Unraveling the Christmas Star Mystery. Ancient scriptures continued to intrigue her as scrolls several thousand years old were found, translated, studied by experts and found to be almost identical to present-day works.
An internationally famous song was produced in 2017 asking questions about Mary, the mother of Jesus Christ. Baron found that most people had no idea who Mary was. To correct that lack of knowledge, she researched ancient scriptures, compiled information, and created a historical narrative to make those scriptures understandable by present-day readers. She produced the book, MARY KNEW- A Biography About Mary From Ancient Scriptures.
Irene Baron began her writing career as an Information Specialist with the Remote Area Conflict Information Center, Battelle Memorial Institute, under contract to the Office of the Secretary of Defense, Advanced Research Projects Agency, Research & Development Center-Thailand.  She obtained a Hiram College BA in General Science and Ohio University MA in Education Administration. A retired science teacher, Baron has been a public speaker over 20-years and has been interviewed on radio, Internet radio and television. She is a classical drawing instructor and private pilot. Baron lived in Thailand (4-yrs), Germany (2-yrs), and currently resides in Ohio. She spends her time writing and painting. 
Learn more:
Buy Book:  http://www.amazon.com/IRENE-Baron/e/B07F2N8RH7
HOME PAGE/ Mary Knew: http://www.irenebaron.com/mary_knew/
PRESSKIT:  ­­­­­­­­­­­­­­­­­­­­­http://www.irenebaron.com/press_kit___mary_knew1/
PUBLIC SPEAKER:  http://www.irenebaron.com/public_speaker__educator/
PHOTOS:  http://www.irenebaron.com/photos_irene_baron/
WEBSITE:  http://www.irenebaron.com/index/
BLOG: http://www.irenebaron.com/irene_baron_blog1/
BIO:  http://www.irenebaron.com/short__long_bio/
AWARDS:  http://www.irenebaron.com/awards_irene_baron/
FACEBOOK:  https://www.facebook.com/IreneWorthingtonBaron/
AMAZON AUTHOR PAGE:  https://www.amazon.com/author/irenebaron
CONTACT:  

IRENE BARON
P.O. Box 1203
Zanesville, OH 43702