NEWS RELEASE Contact: Irene Baron 320 East Highland Drive, Zanesville OH Cell: 740-487-3002 www.irenebaron.com      Email:  irenebaron@irenebaron.com
ORDER BOOKS:  http://www.amazon.com/IRENE-Baron/e/B07F2N8RH7
FOR IMMEDIATE RELEASE 2013
 ZANESVILLE, OH
CHRISTMAS STAR PROVEN
Illustrated book provides proof of the Christmas star and explains astronomy behind the facts. 
Facts surrounding the Christmas star have been discovered. Ancient skies above Bethlehem of Judea were surveyed using NASA astronomy computer programs. Astronomical events, found and compared with symbols and symbolic interpretations used over 2,000-years ago, prove the birth date of Jesus Christ.  Several significant star events that occurred in the preceding months, verified with additional computer programs, describe the importance of the first God to be born on Earth. The last event, like a modern day Global Positioning System (GPS), gave the geographical position for the birth place of Jesus Christ. This research proves the event as written in the Bible is fact.
The  illustrated book, 'Unraveling the Christmas Star Mystery' by Irene Baron, has been recognized as an  Exemplary Christian Education Book during Illumination Book Awards sponsored by the Jenkins Group. This award honors and brings increased recognition to the best Christian Education titles written and published with a Christian world view. It is available in digital format.
Written for understanding by readers ages 12 and older, it is an accurate and spellbinding account of the Christmas star phenomena. Basic astronomy is included in the book for understanding. Findings are based on proven astronomy computer programs, historical records, carvings and illustrations on ancient monuments, coins and legal seals dating back over 2,000 years, and Biblical passages. 
 "This is a significant historical discovery for archaeoastronomy," author and scientist Irene Baron said. "Movements of the Sun, Moon, planets and stars create precise and repeatable mathematical patterns. The patterns have allowed ancient and modern astronomers to predict what would happen in the night skies. Modern computer programs can create exact replicas of star patterns for any instant in time for thousands of years in the past or future."
The Table of Contents include: Introduction, Biblical Records, Basic Astronomy, Ancient Symbolism, Christmas Star Events, The Wisemen, Computer Evidence, Computer Programs, Endnotes, Glossary, References, and an Index. 
 The book may be purchased on line from Amazon.com or through bookstores. Buy at: https://www.amazon.com/author/irenebaron
Additional information can be found at: www.irenebaron.com 
ABOUT THE AUTHOR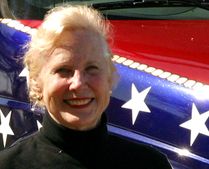 Irene Baron, the most decorated living educator in the USA,  is also a pilot. She directed aerial photography and wrote the Geology & Hydrology chapters for the classified Mekong River Project book. She also wrote the ARPA  Operational Procedures Manual, Laboratory Material Division. Both publications were written for Battelle Memorial Institute, Office of the Secretary of Defense, Advance Research Projects Agency, Research & Development Center - Thailand. Baron has been a professional blogger over 20-years. She lives with her rescue dog, Cody, in Zanesville, Ohio.
REVIEW COPIES & MEDIA INTERVIEWS may be requested by contacting author Irene Baron. 
Cell phone: 302.766.3800. 
Email: irenebaron@irenebaron.com.
URL: http://www.irenebaron.com
BOOK REVIEW EXCERPTS:
"A great read!"
"Spellbinding."
"Wonderful book."
"Unique book."
"A great message."
"Understandable book."
"A real contribution."
"An inspiring read."
"Unique analysis."
"Recommended highly."
"A genuine contribution."
"A blessing to receive."
"I'm amazed at all the research."
"Thought provoking."
"Accurate."
"...made it so clear."
"Light, fun & interesting read."
"A fascinating record of astronomy & historical facts."
"Helped bolster my faith."       
BOOK COVERS:                                http://www.irenebaron.com/book_cover_photos
AUTHOR PHOTOS:                          http://www.irenebaron.com/photos_irene_baron/
SHORT & LONG BIOGRAPHIES:    http://www.irenebaron.com/short__long_bio/
Q & A:                                                http://www.irenebaron.com/q__a_unraveling_the_christmas_star_mystery/
READER QUOTES:                           http://www.irenebaron.com/quotes_about_books/