Unraveling the Christmas Star Mystery
BUY BOOK: http://www.amazon.com/IRENE-Baron/e/B07F2N8RH7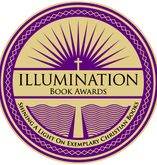 2013 Gold Medal  - First Place Winner
      Exemplary Christian Education Book 
      Illumination Book Awards    
         Award sponsored by the Jenkins Group.
        Motto: "Shining a Light on Exemplary Christian Books."
        The Illumination Book Awards honor the year's best new
        titles written and published with a Christian worldview.
                                             The award was announced in 2014.
Book Trailer: https://www.youtube.com/watch?v=HbvEN54VNPw&feature=youtu.be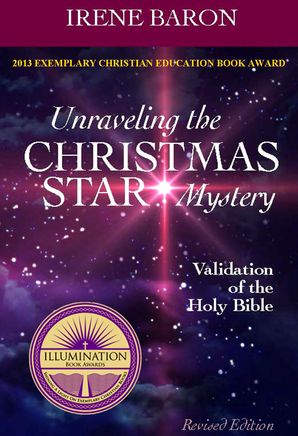 CHRISTMAS STAR PROVEN in an illustrated book

All sky data above Bethlehem over 2,000 years ago was found using NASA supplied astronomy computer programs. Facts about the Christmas star are revealed. Astronomical events, found and compared with symbols and symbolic interpretations used over 2,000-years ago, prove the birth date of Jesus Christ. 
Several significant star events that occurred in the preceding months. Readers verified data using additional computer programs available to the public.  They describe the importance of the first God to be born on Earth. 

The last event, like a modern day GPS, gave the geographical position for the birth place of Jesus Christ. This research proves the event written in the Bible is fact.
Written for understanding by readers ages 12 and older, it is an accurate and spellbinding account of the Christmas star phenomena. Basic astronomy is included in the book. The findings are based on proven astronomy computer programs, historical records, carvings and illustrations on ancient monuments, coins and legal seals dating back over 2,000 years, and Biblical passages. 
 "This is a significant historical discovery for archaeoastronomy," Irene said. "Movements of the Sun, Moon, planets, and stars create precise and repeatable mathematical patterns. The patterns have allowed ancient and modern astronomers to predict what would happen in the night skies. Modern computer programs can create exact replicas of star patterns for any instant in time thousands of years in the past or future." These replicas are reproduced in the text.
The Table of Contents include: Introduction, Biblical Records, Basic Astronomy, Ancient Symbolism, Christmas Star Events, The Wisemen, Computer Evidence, Computer Programs, Endnotes, Glossary, References, and Index.  
BUY PAPERBACK or KINDLE VERSION NOW: https://www.amazon.com/Unraveling-Christmas-Star-Mystery-Illumination/dp/1477683976
ISBN - 13: 978-1477683972.
Library of Congress Control Number: 2012911227 
Translator found at bottom of web page

Follow Irene Baron on Facebook: https://www.facebook.com/IreneWorthingtonBaron

COMMENTS/ REVIEWS first & revised editions:
Kathleen Ormond   ★★★★★ November 2014. Goodreads. This is a fascinating record of astronomy and historical facts to help us understand the timeline of the Christmas Star at the birth of Christ. An inspiring read!
Tobi Miller   ★★★★★ September 2013. I just finished your wonderful book about the Christmas star, all the time wondering how you could write such an in-depth, technical book. Until I read, near the end, that you were an astronomy professor for 30-years. Then it became clear and I'm very impressed, to say the least. T. Miller
Jim Workman   ★★★★★ You did a very nice job explaining the basics of astronomy and presenting the way the ancients studied and interpreted the "stars". Your discovery that the ancient "astronomers" typically took their sightings at dawn is a real contribution. That should help in all types of historical and archeological studies. I've always heard people wondering about conjunctions, speculating about supernovas etc. Your careful explanations of how the expectation and conformational sightings of the ten solar system events would have been interpreted by and would have motivated the ancients seems to me a genuine contribution and eliminates the absurdity of starlight focusing through a barn window, or thereabouts. J. Workman
H.Lewis, M.D. ★★★★★ Unraveling the Christmas Star Mystery is a thorough, accurate and spellbinding account of the Christmas Star phenomenon based on numerous NASA computer programs, Biblical passages, historical records, illustrations on ancient monuments, coins and legal seals dating back three thousand or more years.The scientific data with ancient observations and beliefs form a precise explanation of the birth of Jesus and the associated phenomenon of the Christmas Star. This text is a good source of information for the scholar, teacher, and population in general. Recommended highly for Biblical Scholars." H.Lewis, M.D.
Amazon.com ★★★★ This book helped bolster my faith, made me believe in the Christmas star and had me thinking more thoroughly about what it must have been like in the year preceding Christ's birth. All around a great read, especially during this time of year. Amazon.com
Betty Weichert  - ★★★★★ December 2013.I'm amazed at all the research you've done to write the mystery of the Christmas star ... and put all that information in an understandable book for the non-scientist to understand. It's really fascinating to see how the planets move around and create the patterns they do. You made it so clear! I really like the drawings - helps so much to follow the reading material.
Pastor Dennis J. Baker, PhD. ★★★★★ December 2013. What a blessing to receive and what a great message!
Betty Weichert, CNN Hero.  ★★★★★ September 2014.  I can't believe all the research you did. You put all that information in an understandable book for non-scientists to understand. I really like the drawings - helps so much to follow the reading material. You are really an amazing young woman.
Amazon.com. ★★★★ I think this is a well written book with a viable and interesting theory as to not only the truth of what the Star of Bethlehem was, but also detailing a listing of several celestial events leading up to the birth of Christ. These additional events served to alert the Wisemen who traveled to meet the Messiah."
Amazon.com. ★★★★ This book is written for a very wide audience, which I think makes it a wonderful book that could not only be appreciated by an adult audience, but also easily used with an audience as young as middle school. This opens up a lot of possibilities to use this in Sunday school or with youth groups, which were a big part of my childhood.
Amazon.com. ★★★★ I appreciate that Ms. Baron kept the book at its current length, which made it a light, fun and interesting read. I would recommend this book to almost anyone with a 6th grade or higher reading level. I could also see this book being read by Christians undertaking a home schooling path.
BOOK REVIEW EXCERPTS
 from above and former Amazon.com reviews
"A great read!"
"Spellbinding."
"Wonderful book."
"Unique book."
"A great message."
"Understandable book."
"A real contribution."
"An inspiring read."
"Unique analysis."
"Recommended highly."
"A genuine contribution."
"A blessing to receive."
"I'm amazed at all the research."
"Thought provoking."
"Accurate."
"...made it so clear."
"Light, fun & interesting read."
"A fascinating record of astronomy & historical facts."
"Helped bolster my faith."
 

 CHAPTERS: Introduction, Biblical Records, Basic Astronomy, Ancient Symbolism, Christmas Star Events, The Wisemen, Computer Evidence, Computer Programs, Endnotes, Glossary, References, Index.
ILLUSTRATIONS: Crab Nebula, Altitude, Azimuth, Axis Tilt, Zodiac Constellations, Sirius, Precession of Earths' Axis, Solar Eclipse, Legend Computer Graphics, and each event separately illustrated, #1 through #10.  
NASA COMPUTER PROGRAMS USED TO SEARCH FOR THE CHRISTMAS STAR: Adjust Right Ascension & Declination for Precession, Altitude Azimuth, Altazimuth Calculator - Interpolator, Angular separation-Two Stars, Calendar, Calendrics, Close Encounters, Comet, Coordinates: Moon & Planets-any Date, Conjunction, Dynamic Planet Orbit Plotter for Different Solar Masses, Elongations & Transits of Polaris, Ephemerides, Ephemeris, Ephemeris Computer, Equinoxes & Solstices, Galilean Satellite Positions, Great Circle Distance, Julian Day & Calendar Interchange, Lunar Eclipse/Umbra, Lunar & Solar Eclipse Calculations, Mars: Next Opposition & Data, Messier and NGC Catalogs, Moon: Eclipses for Any Year, Moon Finder, Moon: Phases for Any Date, Moon Phase Program, Moon Phases, Moon Plotter for Phases/Locations, North Sky; A computerized Star Chart, Northern Star Field, Observer, Planet Coordinates, Planet Data, Planet Grand Tour, Planet Locator and Solar System Simulator, Planet Orbits, Planet Views, Precession, RA & DEC: Moon & Planets-Any Date, Retrograde Motion of Mars, Rise/Set Transit & Star Time, Satellite Passage, Solar Eclipse #1, Solar Eclipse #2, Solar System Orrery, Solar system: Rise Transit Set, Spirografix - True Path Plotter, Star & Nebula Locator, Summing Stellar Magnitudes, Sun Azimuth & Maximum Altitude, Sunrise/Set, Sunrise/Set Version #2, Sunrise Sunset-Dawn & Dusk, Sunrise/Sunset/Sun Locations, Text, Time Dilation, Time:Local Mean -Sidereal, Times of Rising and Setting of Mercury and Venus For Any Date, Twilight Times; Any Location, Ursa Star Time, Year Sunrise/Set & Twilight Calculator, Zodiac Sunsigns.
   BOOK REFERENCES:  The over 90-books used in this research should be easily obtainable through your local library.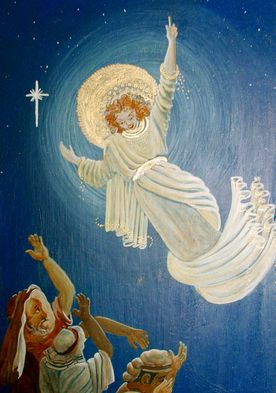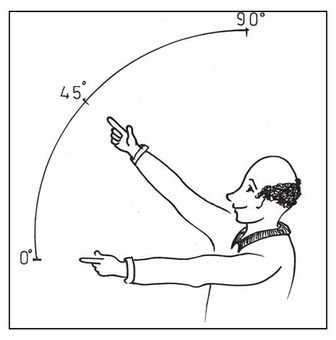 All India ink and painted illustrations were created by the author. 
Irene Baron would love to hear from readers. Please email her at: irenebaron@irenebaron.com.