Mindreacher was recently awarded the 2021 Speculative Fiction Award by the FireBird organization. 
Irene Baron was recently selected as the "Top Female Writer of the Year 2020"
by the International Association of Top Professionals (IAOTP) and selected as the 2020 recipient of the Nelson Marquis Annual Lifetime Achievement award from the Marquis Who's Who. 
---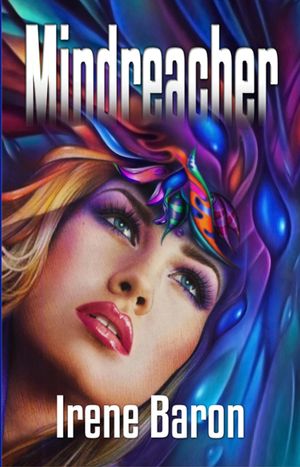 MINDREACHER, Book one
"Mindreacher," an international, psychological sci-fi, adventure thriller, is sold in paperback, ebook & audible formats.
Government agencies fail to find terrorists threatening the United States with nuclear weapons. To remedy that, the new President forms a highly classified operation with an Executive Order. The Virtual ExtraSensory Perception Experimental Research project (VESPER) is created and housed in secret facilities under the JFK runways.
VESPER leaders learn of South African 'mindreachers' born several decades ago. Rumored to have the ability to read minds over great distances, no one knows their current locations. A teacher and pilot, Ana Masterson, is identified stateside as a minor telepath. She is hired by VESPER to find a mindreacher and teamed with elite warrior and former SEAL, Major Jon Coulter, USMC. 
Despising anyone psychic, Coulter reluctantly follows orders to protect Masterson and report to his superiors how telepathy may be used in combat. Supplied with the latest in espionage gadgets, including embedded nano-size satellite tracking transceivers, their search begins in Johannesburg, South Africa. Not wanting to be identified, every terrorist cell places Masterson and Coulter on their hit list.
Readers will find it difficult to distinguish fact from fiction in this Indiana Jones style of friendly beginnings filled with memorable dueling characters, suspenseful changes in venue, exotic scenes, epic actions and a chart busting climax.

Order            Mindreacher 
Audible         https://www.audible.com/pd/Mindreacher-Audiobook/B096CFNC14
Learn more: https://www.mindreacher.net
---
COMMENTS/REVIEWS:
"The mindreacher concept is novel and refreshing. The action doesn't stop."  Justine Wittich, Editor 
"This novel reads like a blend of Clive Cussler and Indiana Jones. Full of excitement!" Sandy McWhorter, Editor

"I was fascinated to learn so much about the human mind. I didn't want it to end." Kathy Brantley, Reader

"Once I started reading, I couldn't put it down." Catherine Frompovich, Editor
" ... intense sci-fi thriller! ...I was swept off my feet by a far more complex scenario.  ... what startled me about this story is just how different a path it took. It is loaded with psychological and scientific intricacies that really make you wonder. ...The science is dense and the ethical complications are thought-provoking. I highly suggest this to anyone who loves science fiction or is interested in psychics. Theophanes Avery, Author
"Mindreacher is a top-notch geopolitical sci-fi thriller that is epic in its scope, truly original and encyclopedic in its details. ...is written with such clarity that even the most complex concepts are very easy to grasp. ... Enter a U.S. Marine who adds dash and heroism to the story that expands the globe.  ...detailed glossary and five pages of references. ... I highly recommend this book. Steve Carr, Author
" A novel to enjoy - and to make you think! ...purporting to be fiction and yet leaves the reader with a gnawing doubt if this is not actually happening. ...meticulously researched. ...I was taken in and captivated by this story. ...enjoyable and scarily credible psychological thriller. ... fully integrated and capturing the exotic scenes through which the characters travel and experience. ...A thought-provoking enjoyable and entertaining read that deserves a wide readership.   Peter Thomson, UK Author
Cover art by Leon Alegria. https://www.deviantart.com/leonalegria
---
In the first book of the MINDREACHER series, a 50-caliber ROBAR rifle is used by a Sri Lanka sniper in Laos assigned to kill the American telepath. In this image, with a similar rifle, author Irene Baron practices on a 1-inch thick steel target 500-yards distant to experience the feel of the weapon at a private firing range. The bulls-eye was hit continuously!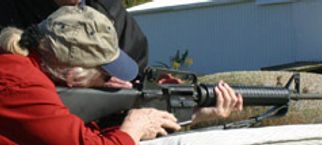 Baron was provided the firearms and ammunition by USMC veterans who gave her the "U.S. MARINE CORPS SCOUT/SNIPER TRAINING MANUAL" to study. She said, "You have to write about something you know.  I needed to know what it was like to fire large caliber rifles and see how difficult it is to pinpoint your shot. After covering that section of my novel, my readers will know what it feels like to use a ROBAR sniper rifle."
Readers can learn more about Robar services and products at https://robarguns.com/place-an-order/precision-rifles/50-bmg/.
This initial action-packed suspense of the Mindreacher series blends future technology with telepathic activity. It has attracted a broad spectrum of followers of all ages. Editors and readers fall in love with the exciting adventures of the key characters. The international and multicultural aspects of the novels heighten the reader's awareness of existing countries, their culture, religions, and people.
Mindreacher URL:          www.mindreacher.net
Mindreacher Facebook: https://www.facebook.com/mindreacher1/
Irene's URL:                   www.irenebaron.com
Irene's Facebook:          https://www.facebook.com/IreneWorthingtonBaron/
Irene's Twitter:              @IreneBaron1     @Baron1Irene
---
Visits from around the world.
A Top Author Website of 2017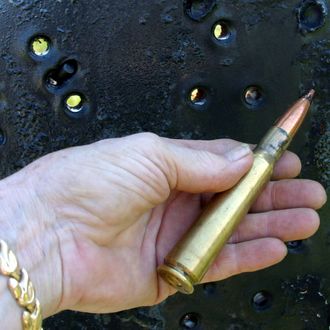 SNIPER SHOOTING TARGET PRACTICE
Irene was taught to use different sniper rifles by members of the U.S. Marine Corps, retired. They supplied the USMC instruction manual she studied earlier, the firearms, ammunition and the private 500-yard rifle range in SE Ohio. The 3.5' X 3.5' square inch thick steel target had a white bullseye 12" in diameter. Her 50-caliber bullets punctured the target in the bullseye. By learning how to fire sniper rifles, she was better able to write about a sniper in the first book of the Mindreacher thriller series.