ZANESVILLE ASTRONOMY CLUB




An affiliate of the NASA NIght Sky Network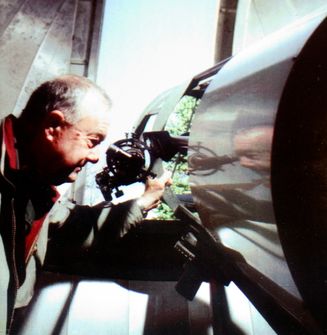 HUDNELL J. LEWIS, M.D.
As the designer of his 17-inch Newtonian reflecting telescope, Dr. Lewis (1933-2021) had been requested to submit personal background information for this website. The telescope he donated to the Ohio University academic institution in 2012 will be used for many years by area amateur astronomers.  
When the telescope and observatory were installed on his Zanesville, Ohio property in the 1980s,  Dr. Lewis allowed any teacher to bring their students for observations. It was also visited by troops of Boy Scouts and Girl Scouts in addition to church groups, regional organizations, and many interested individuals.
Dr. Lewis was always a gracious host to all interested persons. When the visiting groups became too large to easily accommodate, he provided a video feed using a portable large television set/screen so that whatever was visible through an 11-inch Celestron reflecting telescope appeared on the screen. That way, while students/observers waited in line to look through the 17-inch reflector, they could observe what was happening through the other scope.
Depending upon what was happening in the sky, Dr. Lewis provided interested person telescope observations of the Moon, Sun, planets, stars, etc. He also volunteered his time to persons interested in astronomical photography.  Dr. Lewis provided the telescope, camera and expertise for persons who provided the film during lengthy photography sessions. His goal of providing a telescope for any interested person was achieved. It is estimated that thousands of persons over the years have used his telescopes. He is to be commended for his dedicated service to the Southeastern Ohio community.
Since the telescope has been installed at the Rogge Pavilion site at Ohio University-Zanesville, it has been named the Lewis Telescope. The beautiful observatory, a smaller version of the Mt. Palomar observatory holding the Hale Telescope, has been named the Lewis Observatory in his honor.
The above photograph of Dr. Lewis has been provided courtesy of the Zanesville Times Recorder. 
 
---
Reflections by Hudnell J. Lewis. M.D. 
"As a 12-year old Boy Scout, I had my first view of the stars through a homemade telescope built by the scoutmaster. The view was just a few seconds at the Pleiades. This took place in Norfolk, Virginia in winter 1945 and the telescope was just a 2-foot tube on a tripod.
Two years later in Los Angeles, I ordered two lenses from an advertisement in Popular Mechanics and soldered soup cans together and put together a telescope of about three feet in length. The experience was cut short because we moved to Guam from July 1948 to September 1949.
On returning to the States at Annapolis, MD I saw an advertisement for a 6-inch reflector lens, ordered one, and built a 6-inch reflector using stove pipe. This did not last long for in 1950 the Korean War broke out. I joined the U.S. Navy Reserve at 17-years old. Since I was the one with high school knowledge on geometry and trigonometry, I was chosen to navigate the Chesapeake Bay in a yard patrol boat. Upon graduation from High School, I switched to the U.S. Marine Corps and was shipped off to Parris Island.
From Parris Island, the Marines shipped me to the U.S. Naval Electronics School at the Great Lakes Naval Station. Upon graduation, I was sent to the U.S. Marine Corps Radar Technician's School at San Diego. I was then assigned to 100 Harrison Street, San Francisco, where I received radar sets from the factory for testing and repair including other types of sets as: Identification, Friend or Foe, Meteorology sets, Anti-Mortar, and fire control sets using three 90mm Antiaircraft weapons.
Upon discharge, I was accepted at the Virginia Polytechnic Institute and in the third year, another Marine suggested going to medical school at the Medical College of Virginia.  I did my Internship in Petersburg, VA and two years as a surgical assistant and then two years as Resident Physician in Anesthesiology in Youngstown, Ohio. At this time, Celestron started making a ten-inch compound telescope called a Schmidt-Cassegrain which used both refractor-reflector methods to produce a powerful, but compact scope. I bought one.
Appearing in Astronomy magazine at the time were advertisements for various parts such as reflector lens, yokes, diagonals, etc. I decided to buy the necessary parts and seek a person who could assemble them. I found a man in Arizona who took my design and built the apparatus. I then found a company that built the Mt. Palomar Dome and ordered one to be made.
Several friends helped me pour the concrete base and assemble the dome and scope. My purpose was to invite various school classes out to view things of interest. Numerous classes visited the observatory and viewed many things. Also, pictures of many things were taken through both scopes.
Finally, age set in as well as the realization that students should not come to my home. It was entertained that the scope should be moved to the place where it could be readily available to students and teachers. Ohio University-Zanesville was the obvious destination and home.
Hudnall J. Lewis, M.D."
Astronomy Club Photos URL: http://www.irenebaron.com/astronomy_paparazzi_photos/