Next Astronomy Event
NEXT EVENT
ZANESVILLE ASTRONOMY CLUB
Affiliate of the NASA Night Sky Network  
NOTICE:
Zanesville Astronomy Club T-shirts may be ordered, paid for by 2 November, and picked up at the November 13 event/meeting. If you live out of Ohio, there will be a handling and shipping fee. (Note: payment due date changed from club newsletter date)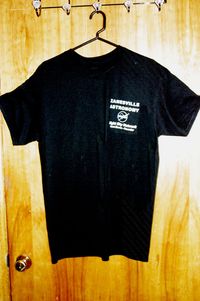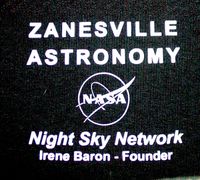 This is the only time we have offered T-shirts. They are short sleeved and black in adult sizes. Your name will be at the bottom of the white logo, as pictured at the left. You will appreciate your name on the logo signifying you are an active member of the club.
 Your total shirt cost is $20 which may be paid to Irene Baron with cash or to PayPal:  paypal.me/irenebaron1. You must let me know the size you wish to order and how you want your name on the shirt. 

The shirts will be available at the November meeting. (They will make a nice Christmas gift.) If you wish to order them, I need to know what name goes on each shirt. They are the better GILDAN brand shirt and a very soft and sturdy cotton.

We were gifted a special rate for these shirts to include each of your individual names. That is rather special. If you have any questions, email me at: irenebaron@irenebaron.com with the subject ASTRONOMY or call me.
_____________________________________________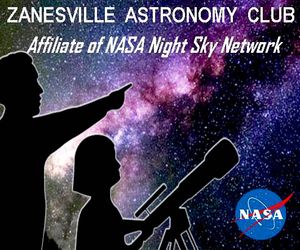 Monthly events are open to the public and free of charge. They are scheduled for the 2nd Saturday evening each month beginning at sunset on the Ohio University Zanesville campus at the Lewis Observatory site located north of the main university parking lot. Look for the domed observatory as pictured left. State COVID regulations are in effect with social distancing and required masks. 

If you wish to receive the Zanesville Astronomy Club newsletter, send an email to: irenebaron@irenebaron.com. Enter the word ASTRONOMY as the subject matter. In the message, include your full name, street address, city and state or country.
---
 We use the 17" Lewis Newtonian telescope in the Lewis Observatory. Members and guests bring their curiosity and passion for astronomy to our events. It is the destination for persons wanting to exchange ideas and learn more about astronomy. You will appreciate having binoculars. Keep a folding chair in the car for easy observing of constellations and during meteor showers. Members with telescopes often bring them to share.
____________________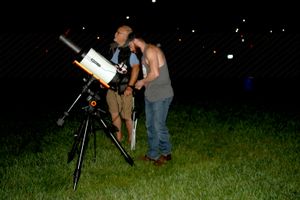 OCTOBER is "INTERNATIONAL OBSERVE THE MOON MONTH"
Many children attended to see the sunspots. Attendance was almost persons. Shared Telescopes included an Exlorer, Celestron and Dobsonian. The Lewis Telescope was also used to view the Moon, Venus, Jupiter and Saturn.

Astrophotographer, Kirby, set up his newest Celestron telescope with onlooker & club coordinator Chuck Bruckelmeyer. His photography equipment was examined by everyone present.
Our friendly natural satellite was in the waxing crescent stage, meaning it will appear to grow in size every night. It will be perfect to see the shadows of the mountains and ridges. You will enjoy viewing the Moon with us.
The NASA handouts were depleted with everyone taking one new one and a vintage image.
See the official Observe the Moon Night trailer at:
https://moon.nasa.gov/resources/385/international-observe-the-moon-night-trailer/?site=observe%20the%20moon

OCTOBER EVENTS
10 Sept - 20 Nov Northern Taurids meteor shower from an asteroid. Look                to the constellation of Taurus. See about 5 per hour.
6-10    New Moon. Draconid meteor shower with about 10 meteors per                      hour. They will appear to originate around the "head" in the                                constellation of Draco the dragon. They are from the Giacobini-Zinner              comet. Peak is 7/8 October.
8         The Sun moves in front of Mars. This is called a conjunction. Mars                   will remain hidden behind the Sun the rest of the month.
9         Mercury will appear in the morning sky close to the horizon. It will                  rise each day to reach a high elevation of 52 degrees by 25 October. It                 will be visible until 29 November. Venus is just south of the waxing                   crescent Moon. It appears almost half lit and increases in apparent size             over the rest of the month.
11       Saturn's rings reach a maximum opening tilt of almost 20 degrees and             begin to close again from this point forward. 
15       Comet 15P/Finlay, visible only by telescope at 11.5 magnitude, is                     found in the constellation of Cancer.
           Comet 67P/Churymov-Gerasimenko changes magnitude often and                 has outbursts of brightness. Find it in the constellation of Gemini. It is               visible only by telescope with a magnitude of 12.5.
           Minor planet Ceres is visible in the constellation of Taurus with a                   telescope.
16-27  Orionid meteor shower with about 25 per hour. Look toward the                     constellation Orion. The debris visible is from the Halley comet. They             move fast.
18       Jupiter appears to reverse course and moves in its normal path. It                     outshines Saturn, both of which are in the constellation of                                 Capricornus.

MOON PHASES

  6               NEW MOON
13               FIRST QUARTER
20               FULL MOON (HARVEST moon)
28               LAST QUARTER
All Covid regulations apply during our meetings. 




Source of information: Jones, Brian. Editor.
YEARBOOK OF ASTRONOMY 2021.
 
ISBN 978 1 52677 187 2
*************************************************************************************************
Hudnall J. "Skip" Lewis, M. D. (August 1933 - March 2021)
irenebaron.com - DR. HUDNELL LEWIS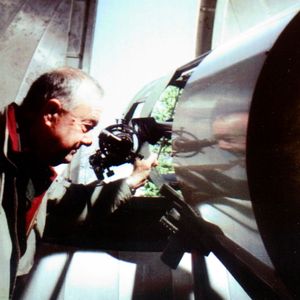 The first page of this astronomy website is dedicated to Dr. Hudnell (Skip) Lewis, M.D., who passed in March of this year. Dr. Lewis designed the Lewis Telescope and had it built in Arizona. He bought the observatory from the same company that constructed the Palomar Observatory in California. 
Dr. Lewis offered the use of his telescope to the education community of Muskingum County. Irene, a near neighbor, often walked the 1/2 block to work with Dr. Lewis on clear nights for over 20-years. He graciously allowed her high school astronomy students to observe many times per year. He opened his observatory to Girl Scouts, Boy Scouts, 4-H and other youth organizations. As he lost his sight, he donated the telescope and observatory to Ohio University Zanesville.
As it sat unused for a year, Irene inquired if she could use it for community events. The university gave her permission to do so. Dr. Lewis updated and repaired the telescope at that time in order for Irene to use it during community events. Image to the left by the Zanesville Times Recorder.
If not for Dr. Lewis, there would not be a Zanesville Astronomy Club. Thank you Skip, You have been a special person. Rest in Peace.
_________________________________________________
 ANNUAL AWARDS: 
The NASA Night Sky Network provides annual pins for outstanding volunteers. The pins for 2020 have were distributed at the 13 March event. Congratulations fo the 2020 volunteer honorees: Chuck Bruckelmeyer, Gregorio Biolcati, John Bolen, Tom Heider and club Founder Irene Baron. With 300 members, we could use more volunteers! 

________________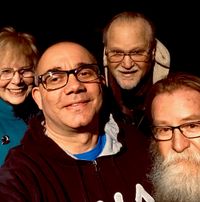 Coordinators for the club, left to right in the picture are : Irene Baron, Gregorio Biolcati, Chuck Bruckelmeyer, and John Bolen. If you would enjoy volunteering for our events, let a coordinator know at the next event. 
NOTE: Zanesville Astronomy Club founder, Irene Baron, used NASA astronomy programs to identify the Christmas star. Her book explaining the extensive research was awarded the First Place Gold Medal as the best Christian Education Book for 2013. If interested, buy the book at: Http://cutt.ly/we5mqvt 
_____________________________________
READ MORE:
https://skyandtelescope.org/
www.space.com
http://www.seasky.org/astronomy/ astronomy-calendar-2020.html
https://in-the-sky.org/newscal.php https://www.timeanddate.com/ astronomy/sights-to-see.html
__________________________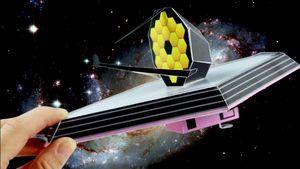 Irene assembled NASA & ESA links for their paper model patterns of space vehicles, instruments, telescopes, etc. and posted them on a recent blog site. When you print them, I recommend the more sturdy cardstock paper, although plain paper will work. Although some of the patterns are in color, they all print well as black and white.
The patterns may be printed, cut out and assembled by persons ages 9 and up. The difficulty is listed for each from easy to moderately difficult.
Provided on each pattern is usually the history of the space object and additional information.  The image to the left is the completed model of the James Webb Space Telescope.  Some of the patterns are in color. They will make a beautiful educational addition to any art shelf and become a conversation starter for all ages.
This is a wonderful way to teach astronomy to children who share the model building with a parent. From experience,  I recommended that 2 patterns be printed out in case a mistake is made on the first construction attempt.  :-)

The link to the patterns is: https://irenebaron.com/irene-baron-blog/blog/space-instrument-models-to-print-build
____________________________________
 The NASA Night Sky Network offers annual award pins for top volunteers of each affiliate organization for 2019. This year the pins were awarded to Irene Baron, John Bolen, Chuck Bruckelmeyer and Gregorio Biolcati Rinaldi. In the image to the left Irene holds the certificate which came with the award and has the award pin on her jacket. Congratulations to all volunteers in the Zanesville Astronomy Club!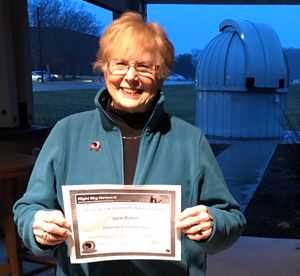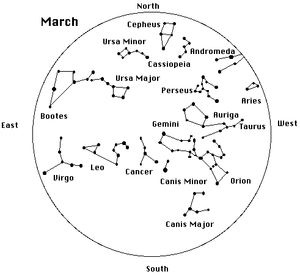 The Circumpolar constellations are those which we can see all year.  They surround the center of this image from JPL NASA. We will point them out each astronomy event, especially the brightest stars to orient you to the sky. You will learn how to find geographic north by using the stars. 
The supergiant red star, Betelgeuse, is in the news. In the constellation of Orion, the star is fluctuating in brightness which is normal for that star.  It is about 650 light-years away. That means that the light we see from it left the star 650-years ago. If it exploded years ago, we won't know until the light of that explosion reaches us. We are watching [ast history happening with all the stars. They are at various distances from us. Our nearest star is the Sun. We learn about stars by studying our Sun. The light from our Sun takes about 8-minutes to reach us. The sunlight hitting your face was created 8-minutes earlier. Anything that happens on the Sun will not be seen by Earthlings for 8 minutes. 
If Betelgeuse ever goes into a supernova stage, we'll have front row seats.  We're too far away for it to hurt us, but the star will be about as bright as the full moon for a while. We're going to begin including it as the first and last star to see at each astronomy event. Let's watch what happens to it. What an exciting event in our lifetime. A supergiant star changing before our eyes. 
When you arrive for an astronomy event, please sign in at the designated table inside the Rogge Pavilion next to the Lewis Observatory.
Dress for the weather. In cooler weather, wear thick-soled shoes and layered clothing. Bring gloves and a hat. You'll be outside at least an hour.  If the sky is covered with clouds, we will meet in the Pavilion to talk astronomy. If your telescope needs adjustments, let Chuck Bruckelmeyer know to set up a time for him to examine it.  We are extremely fortunate to have him as a member who dedicates much time to keeping the Lewis Telescope in good repair.  
Binoculars are nice to have on hand during meetings. They are like two small telescopes. Dig them out of your closet and keep them available for meetings.
Experts in telescopes, Chuck Bruckelmeyer and John Bolen, are usually present to answer your questions.
THANKS TO:

OUZ- Andy Freeman, Manager of the OUZ Facilities, and Executive Assistant Linda Sinift for having the observatory maintained and the nearby lights turned off during our meetings.
 ZANESVILLE POLICE DEPARTMENT -  The Zanesville Police Department will have their patrol officer include the Lewis Observatory on their schedule of places to visit. Please thank the officer if they have time to stop and invite them to use our telescopes.
ZANESVILLE TIME RECORDER – Reporters of the newsroom, thank you for posting our events for the community.   
NASA NIGHT SKY NETWORK - Dave & Vivian, thank you for updating affiliate organizations such as our club with information and workshop materials, rewards, etc.

Please share this information and URL link with family and friends who may be interested in learning more about astronomy.


EARLIER NEWS:
During an earlier workshop at the John McIntire Public Library, information about winter constellations was well received. The images are Irene baron at the beginning, the Tshirt door prize, and some of the audience.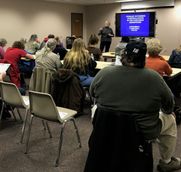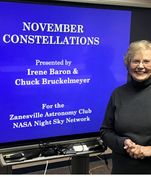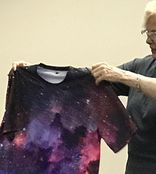 An earlier presentation at the public library using the NASA Night Sky Network kit, "Glass & Mirrors - An Inside Look At Telescopes," was well received. The images below show presenter Chuck Bruckelmeyer discussing his Dobsonian telescope with a few of the participants. The picture to the right is Astronomy Club member, Greg, creating a refracting telescope model using two convex lenses. The lenses had to be adjusted by each viewer to create clear magnification of a distant object.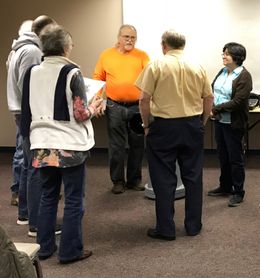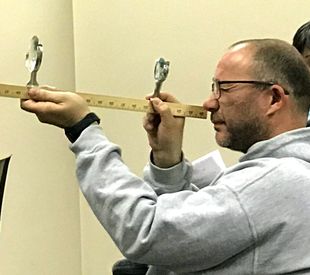 The table top-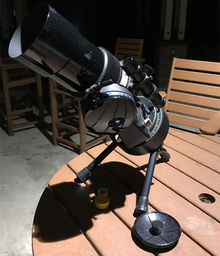 Celestron telescope with clock drive, donated by club member Carl Matesich of Newark, may be borrowed for home use by club members for 1-2 months at a time. It will be on loan until May and available for another user at our May meeting.. If you wish to borrow that telescope in 2018 for a month or two, arrange to schedule the time with Irene (irenebaron@irenebaron.com ) That telescope is easy to carry and is supplied with a variety of lenses. When you see Carl, thank him for the donation. The telescope is pictured to the left.

The 11-inch Celestron telescope donated by Dr. Hudnell Lewis is available for our use.
---
---
Check out this NASA map for the 8 April 2024 TOTAL SOLAR ECLIPSE. Most members of our club will live within 60-miles of totality!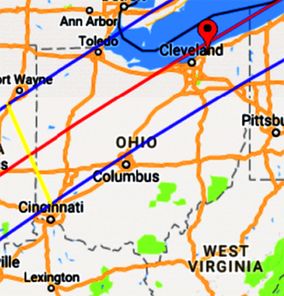 Time will go fast, so plan way ahead to visit an eclipse area during the mid-day eclipse. The red line shows the area of the longest and greatest totality. If you are within the blue lines, you will see totality, but not as long of a time as you will within the red line. Cleveland will be the major eclipse city in Ohio. I imagine they will be making preparations for quite a while.
Meanwhile, plan way ahead for this. Arrange family time or time with friends to visit the nearest point you wish to visit that day.  Your current eclipse glasses will not be good at that eclipse as the material evidently can be used for only 3-years if it has no fingerprints or scratches. Mine aren't very pristine after the last eclipse. The newer ones will most likely be better anyway.
I hope the NASA NIght Sky Network gives us free ones again.
PLEASE SHARE INFO WITH FRIENDS!
---
Irene Baron and Chuck Bruckelmeyer of the Zanesville Astronomy Club made a presentation to over 500 attendees in Elson Hall at Ohio University Zanesville on 17 August 2017. If you were there, you saw it was standing room only with more people waiting in the hallways.
During the events leading up to the eclipse, 500-eclipse safety shades donated by Google & Berkeley University of California were distributed during the August club meeting and during the OUZ presentation.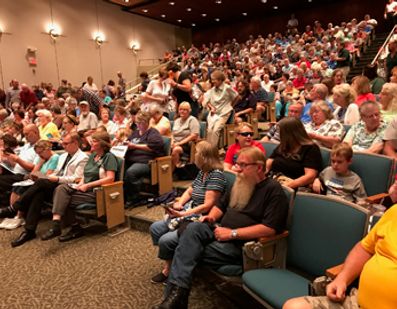 During the presentation activities, persons signed in at the main desk, Many signed up to become a club member. They were from New Straitsville, Newark, Baltimore, Norwich, Quaker City, Glenford, Shawnee, Nashport, Frazeysburg, East Fultonham, Dresden, Adamsville, Minerva, New Concord, Roseville, Westerville and Zanesville. That geographic distribution shows how important Zanesville has become in astronomy family education.

Our club membership is currently 238. Not too bad after only 4-years of existence. 
We would like to thank the Muskingum County community and surrounding areas for their enthusiastic support of astronomy and the Lewis Observatory. To have Ohio University Zanesville support us and provide access to the observatory is deeply appreciated. Persons associated with the University have been active with working behind the scenes, including the facilities department who provides the Campus Center rooms for our use and turns off the lights surrounding the observatory. Thanks to our members who may not arrive for all meetings, but keep their interest.
---


---
PHOTO HIGHLIGHTS OF SELECTED PAST MEETINGS
Click here for link.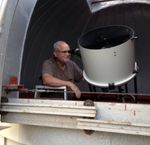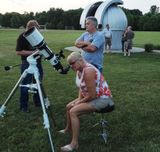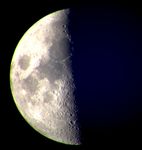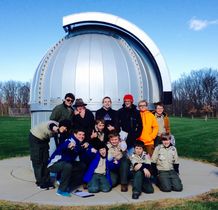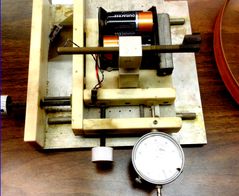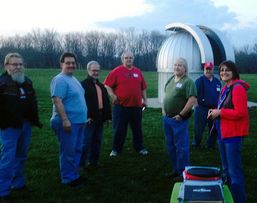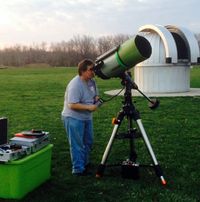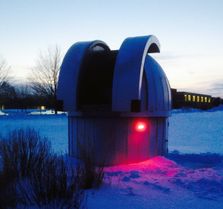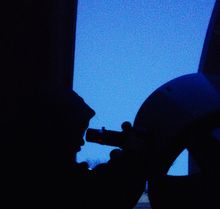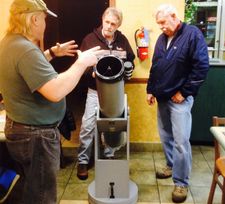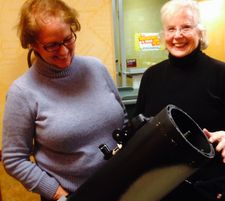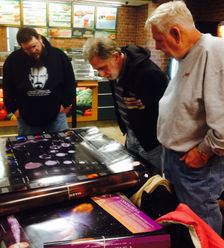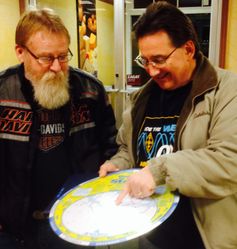 The Zanesville Astronomy Club is an affiliate member of the NASA Night Sky Network!  
The Night Sky Network is associated with NASA, the Jet Propulsion Laboratory, the California Institute of Technology, the National Science Foundation and the Astronomy Society of the Pacific. The Network provides information to the public such as local/state/national events, astronomy activities for ages pre-school through adult, videos, games and other astronomy resources.
The mission of the Zanesville Astronomy Club is to provide public outreach about astronomy. Monthly meetings are held at the Lewis Observatory located adjacent to the Rogge Pavilion on the Ohio University-Zanesville campus in Zanesville, Ohio.  The 17-inch Newtonian reflector telescope in the observatory is used for celestial observations. Club organizers Chuck Bruckelmeyer and Irene Baron invite community members of all ages to enjoy viewing the galaxies, stars, the Moon and planets. Baron said, "To have such a large telescope available for the community provides a unique resource for families and amateur astronomers. I would hope citizens will continue to take advantage of the free observational opportunities available." Baron said she is available to open the observatory for school classes, scout troops and community/service organizations. She is also available as a public speaker to discuss past and current astronomy events, reminding that Comet ISON is arriving this winter.
 The URL address for the Night Sky site access is: http://nightsky.jpl.nasa.gov/.  Information about the local organization may also be found through the Zanesville Astronomy Club Facebook page and web site.
Individuals, schools districts, teachers and community organizations wishing to receive the monthly electronic Zanesville Astronomy Club newsletter are asked to send an email request to: irenebaron@irenebaron.com.
Citizens are reminded they may take advantage of computers at the public libraries in gaining gain access to all club and affiliated electronic astronomy sites
Visits from around the world.
A Top Author Website of 2017
MIRROR GRINDING INSTRUCTION
One of numerous workshops
Coordinator Chuck Bruckelmeyer presented a workshop at OUZ about making a telescope. He has constructed several by grinding his own concave mirror surfaces by hand. He is an expert at helping club members put together their new telescopes, help in repairing them and using his laser calibration system to align the mirrors correctly. Discuss your needs with him at monthly events. In this photo, Chuck holds one of the mirrors on which he is currently working. We are very fortunate to have him as a member and active coordinator.
Coordinator John Bolen w/Lewis Telescope
Aligning telescope to nebula
John Bolen is a ZAC Coordinator who, with Chuck Bruckelmeyer, will be hosting your viewing through the Lewis Telescope. In this image, John is setting up the telescope for a distant object through the dome opening of the observatory. John also brings his Dobsonian telescope to most events. For viewing solar eclipses and sunspots, he has special solar filters. It is quite astonishing to safely look at the sun through his telescope with solar shields. Thank you John for all your work with our organization.