Next Astronomy Event
ZANESVILLE ASTRONOMY CLUB
Our 13 January free open night sky viewing EVENT begins at 5:30 PM at the Lewis Observatory on OUZ campus in Zanesville, OH. Come join us with your friends and/or families for a fun and educational adventure. 
NOTE: There is no December event. 
Irene Baron is a NASA Partner Solar Eclipse Ambassador in Ohio. 
DECEMBER EVENTS
Events noted from "2023 NIGHT SKY ALMANAC" by Nicole Mortillaro  
GENERAL EVENTS:  
Orion is king of the night sky this month. Bundle up and head outside to see the many nebulae in that constellation.  

Northern Taurids Meteor Shower 20 October - 10 December and originates from Comet 2P/Encke. Normally having 5 meteors per hour, peak night is 12-13 November. It usually produces some fireballs.
Geminids Meteor Shower 4-17 December is the most active meteor shower of the year.  The rate of meteors per hour is 150. Expect to see bright fireballs. The meteors are usually bright and colorful. The Moon will be in Crescent phase and the shower will rise early in the evening, so you'll be able to see even faint ones.  They are from asteroid 3200 and the peak night is 14-15th.
Ursids Meteor Shower is 17-26 December. Right on the heels of the Geminids, there is only about 10 per hour, but there might be a burst of 25 at one time. The Full Moon may interfere with all but the brightest meteors. The peak night is 22-23 December. The parent object from which they originate is Comet 8P Tuttle.
With the Sun becoming more active, there will be more solar storms and lights from the aurora borealis, also called the northern lights.  Astronomers are expecting big ones which will come down further south than Ohio. 
The inner planets Mercury and Venus stay near the Sun in the western evening sky.  Last month we were able to see Mercury clearly through the Lewis Telescope just after sunset in the evening twilight. It will be east of the Sun the first week of December. Venus can be found low in the evening sky after sunset. 
 
CONSTELLATION HIGHLIGHTS
Ursa Major (the Great Bear & Big Dipper) is now climbing in the northeaset.  You may want to see if you can spot Messier 81 (Bode's Galaxy) & Messier 82 (the Cigar Galalxy) using a telescope.  
Ursa Minor (the Little Bear & Little Dipper)  looks like a small upside down spoon now.
To the east is Gemini (the Twins) with its bright stars Castor & Pollux. Joining Gemini is Cancer  (the Crab), a faint constellation that contains the Behive Cluster (Messier 44). You can see it with binoculars.  Cepheus is in the east. Use binoculars to find the open star cluster NGC 7243. Just below that is the Cocoon Nebular (IC5146) that is just 2,500 light years away.

DECEMBER CALENDAR/ Where to aim your telescope
1     Pollux 1.7 degrees N of Moon
2     Beehive 3.9 degrees S of Moon
4     Mercury 2`.3 degrees E of Sun
4     Moon at apogee
5     Last quarter of the Moon
8     Spica 2.5 degrees S of Moon
9     Venus 3.9 degrees N of Moon
12    New Moon
15    Geminid meteor shower peak
16    Moon at perigee -only 228,602 miles
17    Saturn 2.5 degrees N of Moon
19    First quarter of Moon
22    Winter solstice (sol= Sun, stice= standing still)
23    Ursid meteor shower peak
24    Pleiades 1.1 degree N of Moon
27    Full Moon
28    Pollux 1.9 degrees N of Moon
 
Winter nights are spectacular and should not be missed. Dress for the weather. Have warm coats, hats, and gloves on the kids. Layer clothing! Thick soled shoes with winter socks stop cold penetration from the frozen Earth. The observatory gets warm fast with a body or two inside! For a restroom break, ask Irene to escort you into the locked Campus Center to use the facilities there.
NOTE:
The total solar eclipse of Monday, 8 April 2024, will be visible west of Columbus. Plan ahead to take that day off if you work and share this very special event with your family and/or friends. I recommend children not go to school that day. The eclipse begins shortly after 1:00 PM and ends about 4:00 PM in Ohio. Being a science teacher of 43 years, Irene worries that kids leaving school on their bus will want to see what is going on and look at the Sun. They need to be with their parents who can guide them and keep them safe. The next total solar eclipse to be seen in this area will be in 2099.
Lyra (the Lyre) is in the NW. That constellation is easy to find because of its brightest star, Vega. It is the 5th brightest star in the night sky and close to us at 25 light years away. (About 7 trillion miles in a light year). In about 14,000 years, it will replace Polaris as the North Star.
THE MAY MOON
5 Full Moon  
12 Last Quarter Moon  
19 New Moon  
27 First Quarter Moon
MAY
8 Pollux is 5 degrees south of Mars&
11 Moon at perigee (229.472 miles)
13 Saturn is 3.3 degrees north of Moon
13 There is a conjunction of the Moon and Saturn at the beginning of dawn
17 Jupiter 6.2 degrees north of Mercury, Jupiter 0.8 degrees S of Moon
18 Mercury 3.8 degrees S of Moon
22-23 You can enjoy a conjunction of a crescent Moon and Venus. They will be 6-8 degrees apart.
23 Venus 2.4 degrees S of Moon
24 Pollux 1.7 degrees N of Moon, Mars 4.2 degrees S of Moon.
24 The Moon and Mars will appear to be 4-6 degrees apart
26 Moon at apogee (251,345 miles)
29 Mercury 24.9 degrees W of Sun, Pollux 4 degrees S of Venus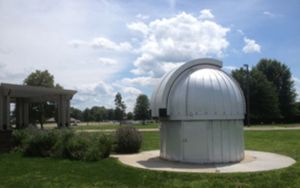 If you have been loaned a telescope by our astronomy club to use at our events, we would appreciate seeing you and the telescope to share with others on clear nights. 
If you would like to borrow a telescope to bring and share with others during our events, please let Irene Baron know to be placed on the waiting list. Thanks to all who are bringing and  sharing telescopes! Please be aware you can check telescopes out of our local John McIntire Public Library as easy as checking out a book. 
If you wish to receive the Zanesville Astronomy Club newsletter, send an email to: irenebaron@irenebaron.com. Enter the word ASTRONOMY as the subject matter. In the message include your full name, street address, city & state.  Anyone may bring a telescope to  learn how to use it and to share. 
Please share this information and URL link with family and friends who may be interested in learning more about astronomy.


_______________________________________________________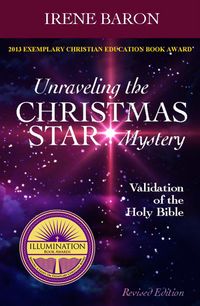 THE CHRISTMAS STAR HAS BEEN IDENTIFIED
Unraveling the Christmas Star Mystery 
by Irene Baron
The Zanesville Astronomy Club founder was sent 68 unannounced astronomy programs by NASA JPL. She used these programs to identify  the Christmas star. Her book explains the research that took place daily over several years. Note the gold medal on the lower left of the cover.  The historical nonfiction book was awarded the First Place Gold Medal as The Exemplary Christian Education Book in 2013 or the best Christian Education book the year.   Http://cutt.ly/we5mqvt 
Bring your book to any club event to have it autographed by the author.
_____________________________________
 The Zanesville Astronomy Club is an affiliate member of the NASA Night Sky Network!  
Visits from around the world.
A Top Author Website of 2017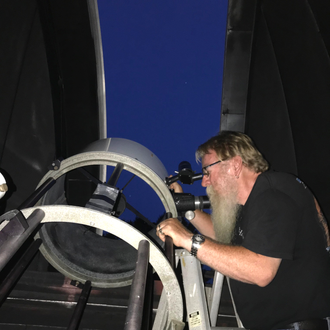 Coordinator John Bolen w/Lewis Telescope
Aligning telescope to nebula
John Bolen is a ZAC Coordinator who, with Chuck Bruckelmeyer, will be hosting your viewing through the Lewis Telescope. In this image, John is setting up the telescope for a distant object through the dome opening of the observatory. John also brings his Dobsonian telescope to most events. For viewing solar eclipses and sunspots, he has special solar filters. It is quite astonishing to safely look at the sun through his telescope with solar shields. Thank you John for all your work with our organization.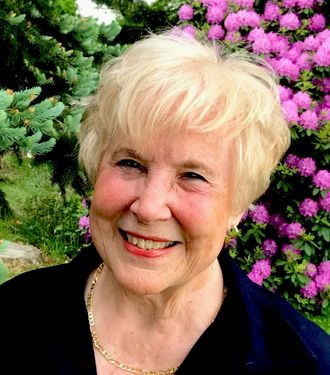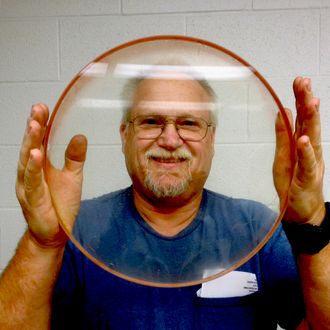 MIRROR GRINDING INSTRUCTION
One of numerous workshops
Coordinator Chuck Bruckelmeyer presented a workshop at OUZ about making a telescope. He has constructed several by grinding his own concave mirror surfaces by hand. He is an expert at helping club members put together their new telescopes, help in repairing them and using his laser calibration system to align the mirrors correctly. Discuss your needs with him at monthly events. In this photo, Chuck holds one of the mirrors on which he is currently working. We are very fortunate to have him as a member and active coordinator.