Next Astronomy Event
ZANESVILLE ASTRONOMY CLUB
Affiliate of the NASA Night Sky Network
THE 8 OCTOBER EVENT AT THE LEWIS TELESCOPE ON THE OHIO UNIVERSITY ZANESVILLE CAMPUS BEGINS AT 7:00 PM.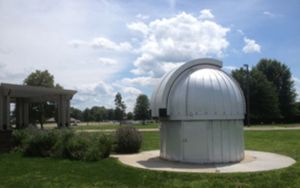 if you have been loaned a telescope by the club to use at our events, we would appreciate seeing you and the telescope to share with others on clear nights. If you would like to borrow a telescope to bring and share with others during our events, please let Irene Baron know to be place on the waiting list. Thanks to all who are sharing telescopes! 
If you wish to receive the Zanesville Astronomy Club newsletter, send an email to: irenebaron@irenebaron.com. Enter the word ASTRONOMY as the subject matter. In the message include your full name, street address, city & state.  Anyone may bring a telescope to  learn how to use it and to share. 
O C T O B E R  S K Y
LOOK FOR-
8 th  – Moon is with Jupiter low in ESE
12-14- The Moon passes the Pleiades, Aldebaran, and Mars.
16-18 – The Moon passes Castor & Pollux in the constellation Gemini
20-22 -   The waning crescent Moon passes Regulus

PLANETS
JUPITER  is still in retrograde
MARS, in Taurus, brightens over the month. It begins retrograde
motion as we pass it on 31 October
MERCURY is low in the morning sky.
VENUS is close to the Sun.
CONSTELLATIONS  – Towards the north
ANDROMEDA is near your zenith
AURIGA is beginning to climb higher in the NE sky.
CASSIOPEIA is high overhead.
CEPHEUS is near your zenith (the point right above your head).
DRACO is winding between the dippers.
HERCULES is visible in low W horizon.
ORION starting to rise
PERSEUS'S Double Cluster will be easy to see in the Lewis Telescope.
PEGASUS dominates the sky
PLEIADES visible in the E
TAURUS and GEMINI becomes visible in the E
TRIANGULUM & ARIES are below Andromeda.
URSA MAJOR (Big Dipper) is on the horizon.
The northern Milky Way is visible arching from south to north.  

CONSTELLATIONS – Towards the south
AQUARIUS in SE
CAPRICORNUS in SE
ORION rises in E
PEGASUS is high in SE
PISCES is east of Aquarius

METEOR SHOWERS
The a-Aurigids meteor shower occurs September
through October. 
The Orionids are the major meteor shower 2 Oct -7 Nov
A minor shower, the Draconids, begin on 6 October and peaks 8-9th.
Associated with Comet 1P/Halley. Meteors are very fast and many
leave trains. The maximum is 21 October, actually lasting about
a week around that date. You may see 50-70 per hour at maximum.
Around 20 October the Northern Taurids begin to show. It peaks in November.

MOON –    at our 8 Oct event, it is one day from being full and will be 2.1 degrees
south of Jupiter in Pisces. 
3     First Quarter
9     Full Moon
17   Last   Quarter
25   New Moon
THANKS TO
ZANE STATE & OHIO UNIVERSITY ZANESVILLE FACILITIES DEPARTMENTS 
Thank you turning off the street and other lights to enable us to see the night sky better during our monthly meetings.
ZANESVILLE POLICE DEPARTMENT -  The Zanesville Police Department will have their patrol officer include the Lewis Observatory on their schedule of places to visit. Please thank the officer if they have time to stop and invite them to use our telescopes.
ZANESVILLE TIME RECORDER – Reporters of the newsroom, thank you for posting our events for the community. You are always welcome to join us.  
NASA NIGHT SKY NETWORK - Dave & Vivian, thank you for updating affiliate organizations such as our club with information and workshop materials, rewards, etc.

Please share this information and URL link with family and friends who may be interested in learning more about astronomy.


_______________________________________________________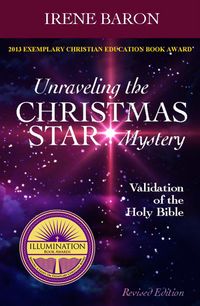 THE CHRISTMAS STAR HAS BEEN IDENTIFIED
Unraveling the Christmas Star Mystery 
by Irene Baron
The Zanesville Astronomy Club founder was sent 68 unannounced astronomy programs by NASA JPL. She used these programs to identify the Christmas star. Her book explains her research that took place daily over several years. Note the gold medal on the lower left of the cover.  The book was awarded the First Place Gold Medal as The Exemplary Christian Education Book in 2013.  Http://cutt.ly/we5mqvt 
Bring your book to any club event to have it autographed by the author.
_____________________________________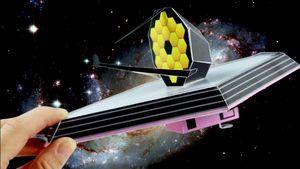 Make paper model patterns of space vehicles, instruments, telescopes, link etc. 
When you print them, I recommend cardstock paper, although plain paper will work. Some of the patterns are in color. They also print well as black and white.
Recommended for ages 9 and up. The difficulty is listed for each from easy to moderately difficult.
Provided on each pattern is usually the history of the space object and additional information.  The image to the left is the completed model of the James Webb Space Telescope.  Some of the patterns are in color. They will make a beautiful educational addition to any art shelf and become a conversation starter for all ages.
This is a wonderful way to teach astronomy to children who share the model building with a parent. From experience,  I recommended that 2 patterns be printed out in case a mistake is made on the first construction attempt.  :-)
The link to paper model patterns:
https://irenebaron.com/irene-baron-blog/blog/space-instrument-models-to-print-build
---

---
OTHER NEWS:
The John McIntire Public Library has two telescopes to let you check out with your library card.  Try each and see which you like best before you buy one.  Stop at our events to look through all the telescopes people bring. Be sure to thank them when you're finished looking through their scopes.
__________________
During an earlier workshop at the John McIntire Public Library, information about winter constellations was well received. The images are Irene baron at the beginning, the T-shirt door prize, and some of the audience.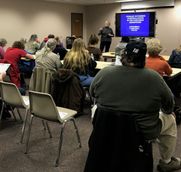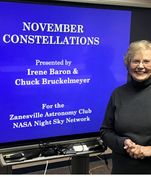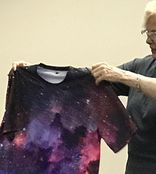 An earlier presentation at the public library using the NASA Night Sky Network kit, "Glass & Mirrors - An Inside Look At Telescopes," was well received. The images below show presenter Chuck Bruckelmeyer discussing his Dobsonian telescope with a few of the participants. The picture to the right is Astronomy Club member, Greg, creating a refracting telescope model using two convex lenses. The lenses had to be adjusted by each viewer to create clear magnification of a distant object.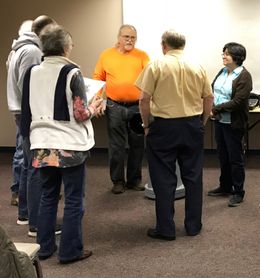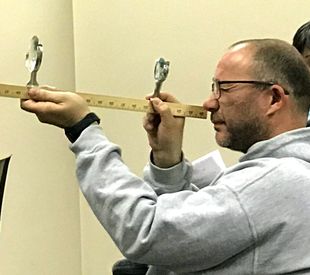 The 11-inch Celestron telescope donated by Dr. Hudnell Lewis is available for our use.
---
Check out this NASA map for the 8 April 2024 TOTAL SOLAR ECLIPSE. Most members of our club will live within 60-miles of totality!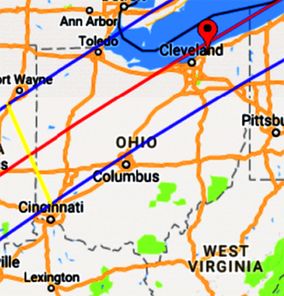 Time will go fast, so plan way ahead to visit an eclipse area during the mid-day eclipse. The red line shows the area of the longest and greatest totality. If you are within the blue lines, you will see totality, but not as long of a time as you will within the red line. Cleveland will be the major eclipse city in Ohio. I imagine they will be making preparations for quite a while.
Meanwhile, plan way ahead for this. Arrange family time or time with friends to visit the nearest point you wish to visit that day.  Your current eclipse glasses will not be good at that eclipse as the material evidently can be used for only 3-years if it has no fingerprints or scratches. Mine aren't very pristine after the last eclipse. The newer ones will most likely be better anyway.
We will receive new sun viewers, but a totally new style and shape. 
Irene Baron and Chuck Bruckelmeyer of the Zanesville Astronomy Club made a presentation to over 500 attendees in Elson Hall at Ohio University Zanesville on 17 August 2017. If you were there, you saw it was standing room only with more people waiting in the hallways.
During the events leading up to the eclipse, 500-eclipse safety shades donated by Google & Berkeley University of California were distributed during the August club meeting and during the OUZ presentation.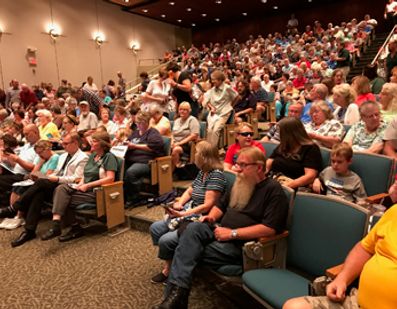 During the presentation activities, persons signed in at the main desk, Many signed up to become a club member from New Straitsville, Newark, Baltimore, Norwich, Quaker City, Glenford, Shawnee, Nashport, Frazeysburg, East Fultonham, Dresden, Adamsville, Minerva, New Concord, Roseville, Westerville, and Zanesville. That geographic distribution shows how important Zanesville has become in astronomy family education.

Our club membership is currently over 300 and growing.
We would like to thank the Muskingum County community and surrounding areas for their enthusiastic support of astronomy and the Lewis Observatory. To have Ohio University Zanesville support us and provide access to the observatory is deeply appreciated. Persons associated with the University have been active with working behind the scenes, including the facilities department who provides the Campus Center rooms for our use and turns off the lights surrounding the observatory. Thanks to our members who may not arrive for all meetings, but keep their interest.
PHOTO HIGHLIGHTS OF SELECTED PAST MEETINGS
Click here for link.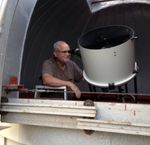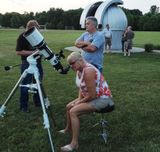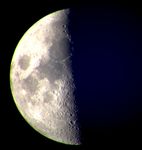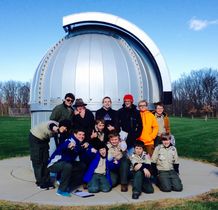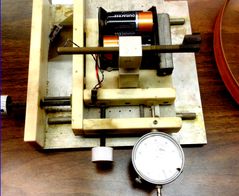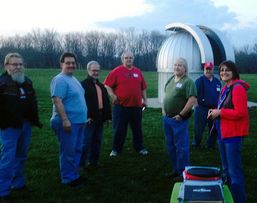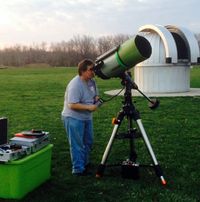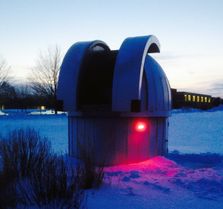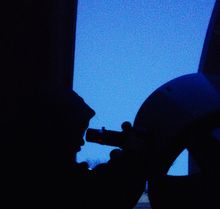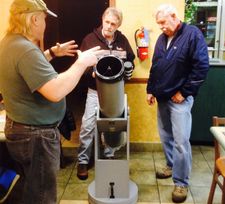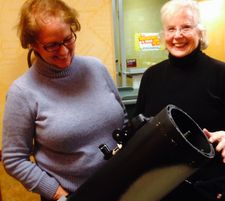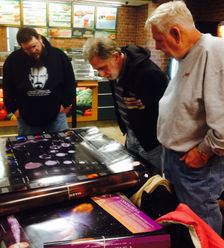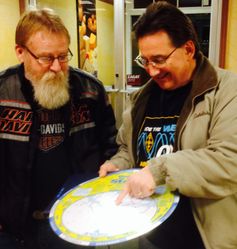 The Zanesville Astronomy Club is an affiliate member of the NASA Night Sky Network!  
Visits from around the world.
A Top Author Website of 2017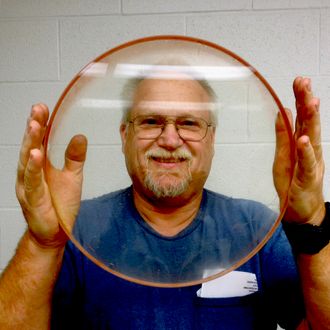 MIRROR GRINDING INSTRUCTION
One of numerous workshops
Coordinator Chuck Bruckelmeyer presented a workshop at OUZ about making a telescope. He has constructed several by grinding his own concave mirror surfaces by hand. He is an expert at helping club members put together their new telescopes, help in repairing them and using his laser calibration system to align the mirrors correctly. Discuss your needs with him at monthly events. In this photo, Chuck holds one of the mirrors on which he is currently working. We are very fortunate to have him as a member and active coordinator.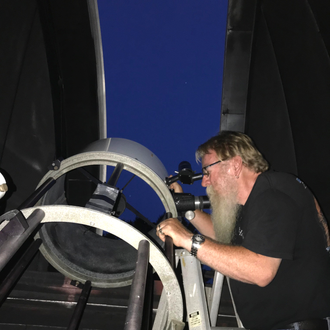 Coordinator John Bolen w/Lewis Telescope
Aligning telescope to nebula
John Bolen is a ZAC Coordinator who, with Chuck Bruckelmeyer, will be hosting your viewing through the Lewis Telescope. In this image, John is setting up the telescope for a distant object through the dome opening of the observatory. John also brings his Dobsonian telescope to most events. For viewing solar eclipses and sunspots, he has special solar filters. It is quite astonishing to safely look at the sun through his telescope with solar shields. Thank you John for all your work with our organization.