Next Astronomy Event
 The next free public event is on 10 JUNE 2023 beginning at 9:00 PM at the Lewis Observatory on OUZ campus. Come join us with your friends and/or families for a fun and educational adventure.
The search is on for volunteers to work with the Astronomical Society of the Pacific to locate amateur astronomers and undergraduate students in any major to become Eclipse Ambassadors in their region for the 8 April 2024 Total Solar Eclipse which will move from SW Ohio through the middle of Cleveland. It will not be far from any Ohioan to see.      
If you would be interested to help make presentations to schools and organizations, please go to the site below and find the details. Undergraduate students will receive a $100 stipend for their volunteer work.https://astrosociety.org/education-outreach/amateur-astronomers/eclipse-ambassadors/program.html
ASTRONOMY EVENTS JUNE 2023     
EVENTS:     Jupiter still remains low in the east in the morning, and although Saturn is higher up, it still remains visible only in the wee hours of the morning. Mars and Venus are well-placed in the western sky after sunset.  Venus is at greatest eastern elongation from the Sun (45.4 degrees) on June 4. Look for it low in the western sky after sunset.  As the sky darkens, you might spot the planet Mars to the east. At the beginning of the month, Mars will be extremely close to the Beehive Cluster and look great with binoculars. The summer solstice falls on 21 June. 
On June 3, the Moon and Antares, the red supergiant star in Scorpious, will be roughly 2 degrees apart; this happens again on the night of June 30. The Moon will also swing by Saturn in the early morning of 9 and 10 June. The waning crescent Moon joins Jupiter low in the east at dawn on 14 June.
For a special treat, on 21 June, look to the west. The Moon will join Venus and Mars near the horizon in the evening twilight - a splendid sight in binoculars.
HIGHLIGHTS:  Cassiopeia is now seen as the "W" in the northern sky and the nearby double cluster (NGC 869 and NGC 884) is due north but low on the horizon with the Heart Nebula (IC 1805) AND THE sOULD nEBULA (ic 1848),  A pair of binoculars will reveal many open star clusters n Cassiopeia, including the Dragonfly Cluster (NGC 457). The constellation is a wonderful region to explore with binoculars or telescope. The faint constellation Cameloparalis (the Giraffe) can also be found near Cassiopeia.
Cygnus (the Swan) is now clearly visible in the northwestern sky, as is Lyra (the Lyre) and Aquilia (the Eagle). The brightest stars in this trio of constellations make up the Summer Triangle: Deneb in Cygnus, Vega in Lyra, and Altair in Aquila.
You can also see Lacerta (the lizard), a small, kite-like constellation near the "tail" of Cygnus.  It has a beautiful open cluster, NGC 7243, which you can see in binoculars and small telescopes.
June is a great month to observe noctilucent clouds that form high in the atmosphere in the n\Northern Hemisphere. They consist of ice crystals high up in our atmosphere. 
 
METEOR SHOWER:     
Normal meteor sightings of several per hour will occur, but no major meteor shower is in June this year.     

CALENDAR OF EVENTS:
02     Beehive 0.1 degree S of Mars
03     Antares 1.6 degrees S of Moon
04     Full Moon; Venus 45.4 degrees E of Sun
06     Moon at Perigee: 226,738 miles
09     Saturn 3 degrees N of Moon
10     Last quarter of the Moon
11     Pleiades 6.2 degrees NW of Mercury
13     Behive Cluster 0.5 degrees N of Venus
14     Jupiter is 1.6 degrees S of Moon
16     Pleiades is 2 degrees N of Moon
18     New Moon
21     Beehive 4 degrees S of Moon
22     Venus 4.1 degrees E of Moon;  Mars 4.2 degrees S of Moon;  Moon at apogee - 251.904 miles
26     First Quarter of the Moon
MOON:
4TH     FULL MOON    
10TH  LAST QUARTER MOON
18TH  NEW MOON
26TH  FIRST QUARTER MOON
Lyra (the Lyre) is in the NW. That constellation is easy to find because of its brightest star, Vega. It is the 5th brightest star in the night sky and close to us at 25 light years away. (About 7 trillion miles in a light year). In about 14,000 years, it will replace Polaris as the North Star.
THE MAY MOON
5 Full Moon  
12 Last Quarter Moon  
19 New Moon  
27 First Quarter Moon
MAY
8 Pollux is 5 degrees south of Mars&
11 Moon at perigee (229.472 miles)
13 Saturn is 3.3 degrees north of Moon
13 There is a conjunction of the Moon and Saturn at the beginning of dawn
17 Jupiter 6.2 degrees north of Mercury, Jupiter 0.8 degrees S of Moon
18 Mercury 3.8 degrees S of Moon
22-23 You can enjoy a conjunction of a crescent Moon and Venus. They will be 6-8 degrees apart.
23 Venus 2.4 degrees S of Moon
24 Pollux 1.7 degrees N of Moon, Mars 4.2 degrees S of Moon.
24 The Moon and Mars will appear to be 4-6 degrees apart
26 Moon at apogee (251,345 miles)
29 Mercury 24.9 degrees W of Sun, Pollux 4 degrees S of Venus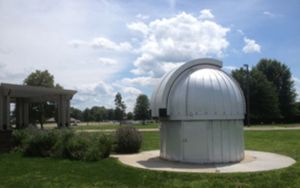 If you have been loaned a telescope by our astronomy club to use at our events, we would appreciate seeing you and the telescope to share with others on clear nights. 
If you would like to borrow a telescope to bring and share with others during our events, please let Irene Baron know to be placed on the waiting list. Thanks to all who are sharing telescopes! Please be aware you can check telescopes out of our local John McIntire Public Library as easy as checking out a book. 
If you wish to receive the Zanesville Astronomy Club newsletter, send an email to: irenebaron@irenebaron.com. Enter the word ASTRONOMY as the subject matter. In the message include your full name, street address, city & state.  Anyone may bring a telescope to  learn how to use it and to share. 
Please share this information and URL link with family and friends who may be interested in learning more about astronomy.


_______________________________________________________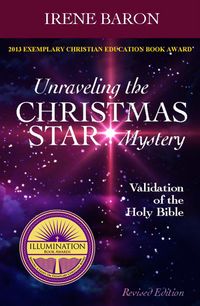 THE CHRISTMAS STAR HAS BEEN IDENTIFIED
Unraveling the Christmas Star Mystery 
by Irene Baron
The Zanesville Astronomy Club founder was sent 68 unannounced astronomy programs by NASA JPL. She used these programs to identify the Christmas star. Her book explains her research that took place daily over several years. Note thegold medal on the lower left of the cover.  The book was awarded the First Place Gold Medal as The Exemplary Christian Education Book in 2013.  Http://cutt.ly/we5mqvt 
Bring your book to any club event to have it autographed by the author.
_____________________________________
 The Zanesville Astronomy Club is an affiliate member of the NASA Night Sky Network!  
Visits from around the world.
A Top Author Website of 2017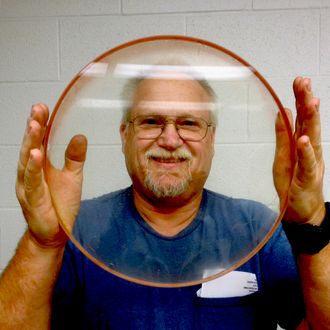 MIRROR GRINDING INSTRUCTION
One of numerous workshops
Coordinator Chuck Bruckelmeyer presented a workshop at OUZ about making a telescope. He has constructed several by grinding his own concave mirror surfaces by hand. He is an expert at helping club members put together their new telescopes, help in repairing them and using his laser calibration system to align the mirrors correctly. Discuss your needs with him at monthly events. In this photo, Chuck holds one of the mirrors on which he is currently working. We are very fortunate to have him as a member and active coordinator.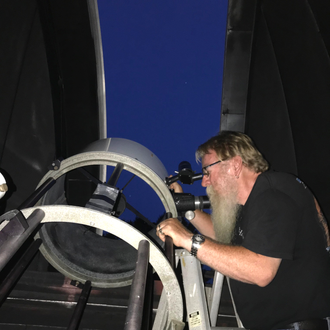 Coordinator John Bolen w/Lewis Telescope
Aligning telescope to nebula
John Bolen is a ZAC Coordinator who, with Chuck Bruckelmeyer, will be hosting your viewing through the Lewis Telescope. In this image, John is setting up the telescope for a distant object through the dome opening of the observatory. John also brings his Dobsonian telescope to most events. For viewing solar eclipses and sunspots, he has special solar filters. It is quite astonishing to safely look at the sun through his telescope with solar shields. Thank you John for all your work with our organization.