Next Astronomy Event
ZANESVILLE ASTRONOMY CLUB
Affiliate of the NASA Night Sky Network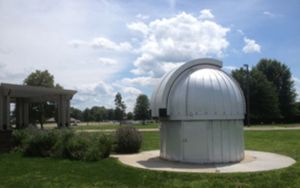 The May observing event of Saturday, 14 May has been cancelled due to weather.
Monthly events are open to the public and free of charge.
They are scheduled for the 2nd Saturday evening each month beginning at sunset on the Ohio University Zanesville campus
at the Lewis Observatory  located north of the main university parking lot. Look for the domed observatory as pictured to the left. State COVID regulations are in effect. 
If you wish to receive the Zanesville Astronomy Club newsletter, send an email to: irenebaron@irenebaron.com. Enter the word ASTRONOMY as the subject matter. In the message include your full name, street address, city & state.  Anyone may bring a telescope to  learn how to use it and to share. 
Contact Irene if you have a Boy Scout, Girl Scout, or church youth group who would like to visit the Lewis Observatory and learn how the telescope works . Scouts working on their Astronomy Badge can ask for help.

MAY NIGHT SKY EVENTS
Members of two local girl scout troops will be at the 14 May observing event with their parents. 
Venus, in Pisces, moves closer to the Sun this month.
 
May 5   The Moon is at apogee or 405,285 km away
May 6   Moon is 2.1 degree south of Pollux
May 6    Aquariid meteor shower is at maximum. Begin looking to the east about 3:30 AM. They should peak at 4 AM
May 8    Comet Pan-STARRS (C/2021 O3), discovered only last July, will make its closest approach to Earth (56 million miles). It's possible that it could brighten enough to be visible through binoculars and, just maybe, the naked eye, according to Sky & Telescope magazine.
May 9    Moon is at First Quarter and is 5.1 degrees north of Regulus in the Constellation of Leo
May 13  Moon is 5.1 degrees north of Spica in the constellation Virgo.
 May 14

 

Zanesville Astronomy Club viewing event has been cancelled due to rain.
May  15-16  Full Moon or Flower Moon will have a lunar eclipse. Anyone on the dark side of Earth can see it. The eclipse begins at 9:32 pm. The total full eclipse begins about 11:29 PM. That's when the Moon will be fully in the Earth's shadow and appear reddish in color due to pollution in the Earth's atmosphere.
May 22   Last Quarter Moon is 4.5 degrees south of Saturn. 
May 24   Mars is almost 3 degrees north of the Moon
May 25   Jupiter is 3.3 degrees north of the Moon
May 27   Venus is 0.2 degrees north of the Moon
May 29   Mars is 0.6 degrees south of Jupiter
May 29   Mercury is 3.7 degrees south of the Moon
May 30-31   New Moon.

COMET DEBRIS MAY TRIGGER A METEOR STORM.

Sky & Telescope magazine reports, 

"May's wild card event is a literal shot in the dark. Should it occur, however, you'll likely remember it for the rest of your life. 

On May 30-31, the Earth will pass through debris left behind by Comet 73P/Schwassmann-Wachmann (aka SW3). This periodic comet, discovered in 1930, orbits the sun every 5.4 years and, of greatest interest to us, has slowly been breaking apart with each successive pass since 1995. According to EarthSky, which offers an in-depth look at this fascinating object, the comet has since fragmented into at least 68 pieces—and counting.2

This month, Earth will pass particularly close to the main trails from SW3 and could spark not just a meteor shower, but a bonafide storm. It's a potential event that astronomers have been talking about since 2006. If it happens, and EarthSky is clear there are a lot of things that need to go just right, it would offer an intense display of shooting stars—from several dozen to hundreds—across the night sky.

So when should you get out the blankets and look up? East-coast skywatchers should plan for the Earth to enter the densest part of the debris stream between 12:55 a.m. to 1:17 a.m. Look to the radiant, the spot in the sky where the meteors appear to come from, near the bright star Arcturus. A new moon will help keep skies dark so that even the faintest shooting stars can be traced. This is a potential short-lived outburst of shooting stars, so don't be late to the party!"

**********
THANKS TO
ZANESVILLE POLICE DEPARTMENT -  The Zanesville Police Department will have their patrol officer include the Lewis Observatory on their schedule of places to visit. Please thank the officer if they have time to stop and invite them to use our telescopes.
ZANESVILLE TIME RECORDER – Reporters of the newsroom, thank you for posting our events for the community. You are always welcome to join us.  
NASA NIGHT SKY NETWORK - Dave & Vivian, thank you for updating affiliate organizations such as our club with information and workshop materials, rewards, etc.

Please share this information and URL link with family and friends who may be interested in learning more about astronomy.


_______________________________________________________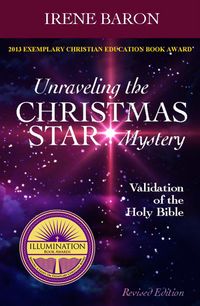 THE CHRISTMAS STAR HAS BEEN IDENTIFIED
Unraveling the Christmas Star Mystery
The Zanesville Astronomy Club founder was sent 68 unannounced astronomy programs by NASA JPL. She used these programs to identify the Christmas star. Her book explains her research that took place daily over several years. Note the gold medal on the lower left of the cover.  The book was awarded the First Place Gold Medal as The Exemplary Christian Education Book in 2013.  Http://cutt.ly/we5mqvt 
_____________________________________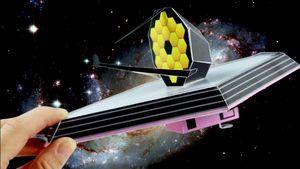 Make paper model patterns of space vehicles, instruments, telescopes, link etc. 
When you print them, I recommend the more sturdy cardstock paper, although plain paper will work. Some of the patterns are in color. They also print well as black and white.
The patterns may be printed, cut out and assembled by persons ages 9 and up. The difficulty is listed for each from easy to moderately difficult.
Provided on each pattern is usually the history of the space object and additional information.  The image to the left is the completed model of the James Webb Space Telescope.  Some of the patterns are in color. They will make a beautiful educational addition to any art shelf and become a conversation starter for all ages.
This is a wonderful way to teach astronomy to children who share the model building with a parent. From experience,  I recommended that 2 patterns be printed out in case a mistake is made on the first construction attempt.  :-)
The link to paper model patterns:
https://irenebaron.com/irene-baron-blog/blog/space-instrument-models-to-print-build
---

---
OTHER NEWS:
During an earlier workshop at the John McIntire Public Library, information about winter constellations was well received. The images are Irene baron at the beginning, the T-shirt door prize, and some of the audience.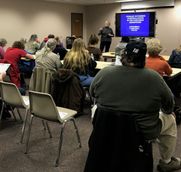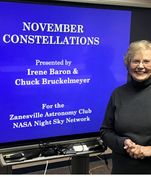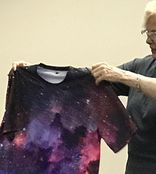 An earlier presentation at the public library using the NASA Night Sky Network kit, "Glass & Mirrors - An Inside Look At Telescopes," was well received. The images below show presenter Chuck Bruckelmeyer discussing his Dobsonian telescope with a few of the participants. The picture to the right is Astronomy Club member, Greg, creating a refracting telescope model using two convex lenses. The lenses had to be adjusted by each viewer to create clear magnification of a distant object.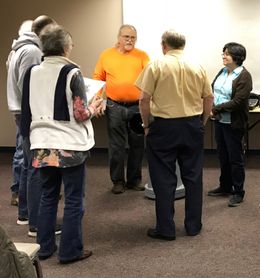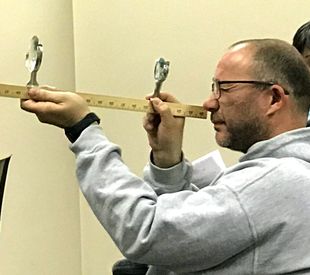 The table top-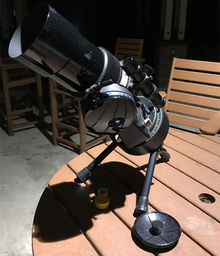 Celestron telescope with clock drive, donated by club member Carl Matesich of Newark, may be borrowed for home use by club members for 1-2 months at a time. It will be on loan until May and available for another user at our May meeting.. If you wish to borrow that telescope in 2018 for a month or two, arrange to schedule the time with Irene (irenebaron@irenebaron.com ) That telescope is easy to carry and is supplied with a variety of lenses. When you see Carl, thank him for the donation. The telescope is pictured to the left.

The 11-inch Celestron telescope donated by Dr. Hudnell Lewis is available for our use.
---
Check out this NASA map for the 8 April 2024 TOTAL SOLAR ECLIPSE. Most members of our club will live within 60-miles of totality!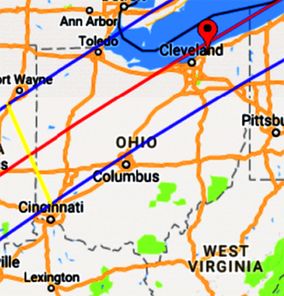 Time will go fast, so plan way ahead to visit an eclipse area during the mid-day eclipse. The red line shows the area of the longest and greatest totality. If you are within the blue lines, you will see totality, but not as long of a time as you will within the red line. Cleveland will be the major eclipse city in Ohio. I imagine they will be making preparations for quite a while.
Meanwhile, plan way ahead for this. Arrange family time or time with friends to visit the nearest point you wish to visit that day.  Your current eclipse glasses will not be good at that eclipse as the material evidently can be used for only 3-years if it has no fingerprints or scratches. Mine aren't very pristine after the last eclipse. The newer ones will most likely be better anyway.
I hope the NASA NIght Sky Network gives us free ones again.
Irene Baron and Chuck Bruckelmeyer of the Zanesville Astronomy Club made a presentation to over 500 attendees in Elson Hall at Ohio University Zanesville on 17 August 2017. If you were there, you saw it was standing room only with more people waiting in the hallways.
During the events leading up to the eclipse, 500-eclipse safety shades donated by Google & Berkeley University of California were distributed during the August club meeting and during the OUZ presentation.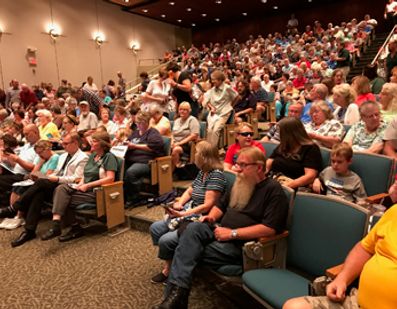 During the presentation activities, persons signed in at the main desk, Many signed up to become a club member. They were from New Straitsville, Newark, Baltimore, Norwich, Quaker City, Glenford, Shawnee, Nashport, Frazeysburg, East Fultonham, Dresden, Adamsville, Minerva, New Concord, Roseville, Westerville and Zanesville. That geographic distribution shows how important Zanesville has become in astronomy family education.

Our club membership is currently 238. Not too bad after only 4-years of existence. 
We would like to thank the Muskingum County community and surrounding areas for their enthusiastic support of astronomy and the Lewis Observatory. To have Ohio University Zanesville support us and provide access to the observatory is deeply appreciated. Persons associated with the University have been active with working behind the scenes, including the facilities department who provides the Campus Center rooms for our use and turns off the lights surrounding the observatory. Thanks to our members who may not arrive for all meetings, but keep their interest.
PHOTO HIGHLIGHTS OF SELECTED PAST MEETINGS
Click here for link.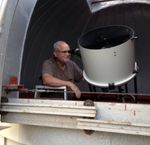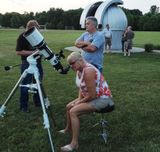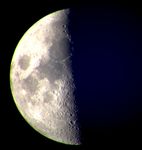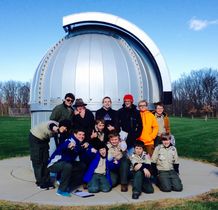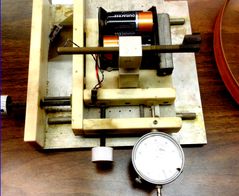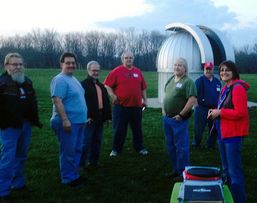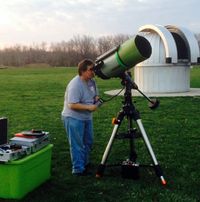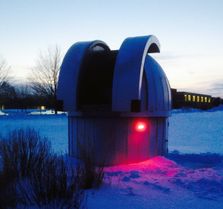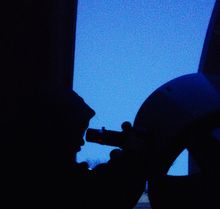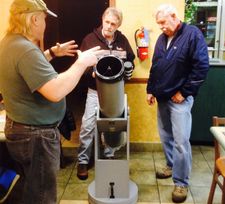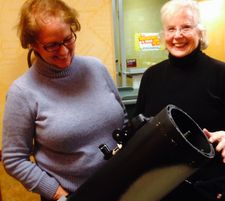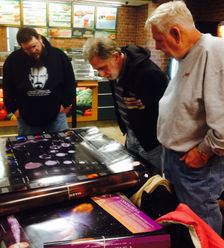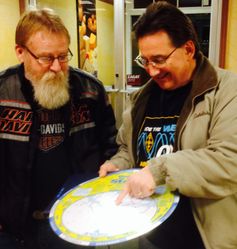 The Zanesville Astronomy Club is an affiliate member of the NASA Night Sky Network!  
Visits from around the world.
A Top Author Website of 2017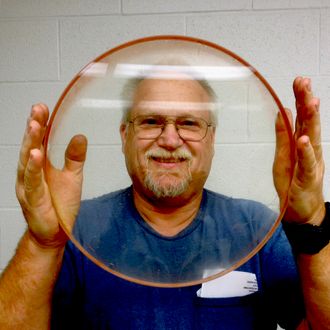 MIRROR GRINDING INSTRUCTION
One of numerous workshops
Coordinator Chuck Bruckelmeyer presented a workshop at OUZ about making a telescope. He has constructed several by grinding his own concave mirror surfaces by hand. He is an expert at helping club members put together their new telescopes, help in repairing them and using his laser calibration system to align the mirrors correctly. Discuss your needs with him at monthly events. In this photo, Chuck holds one of the mirrors on which he is currently working. We are very fortunate to have him as a member and active coordinator.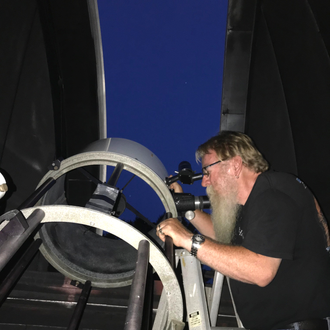 Coordinator John Bolen w/Lewis Telescope
Aligning telescope to nebula
John Bolen is a ZAC Coordinator who, with Chuck Bruckelmeyer, will be hosting your viewing through the Lewis Telescope. In this image, John is setting up the telescope for a distant object through the dome opening of the observatory. John also brings his Dobsonian telescope to most events. For viewing solar eclipses and sunspots, he has special solar filters. It is quite astonishing to safely look at the sun through his telescope with solar shields. Thank you John for all your work with our organization.