Next Astronomy Event
The next public event is 11 at 6:30 PM 
 at the Lewis Observatory on the OUZ campus.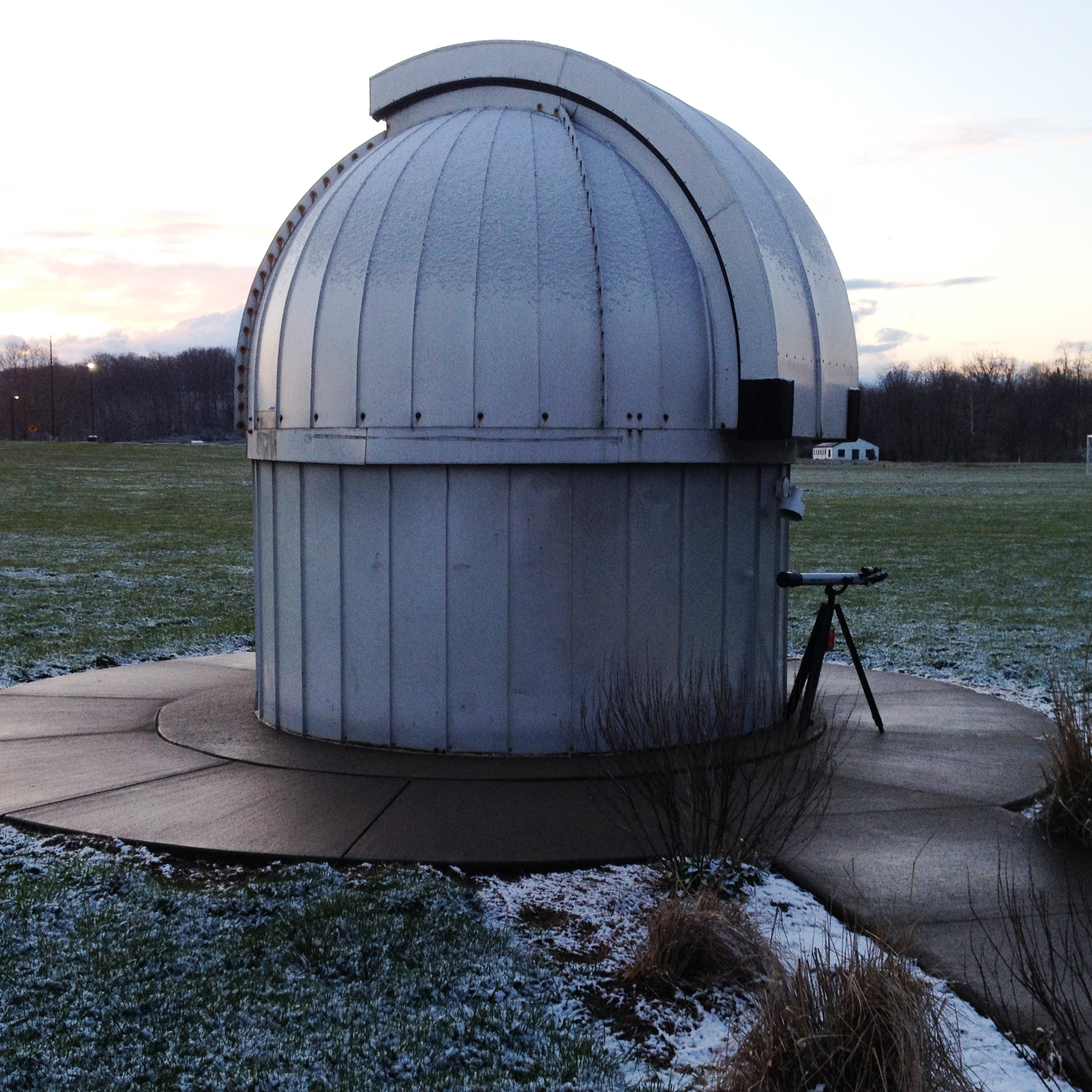 Dress for the weather. Many have asked to see the comet. We'll use the large Lewis Telescope to try to get it in view. It hasn't been here in 50,000 years.
FEBRUARY   2023
METEOR SHOWER-visible in southern hemisphere only
Two minute video about the February meteor shower, the Alpha-Centaurids. Meteor shower peaks 8 February. 
https://starwalk.space/en/news/february-meteor-shower-alpha-centaurids
COMET-should be visible in binoculars 
Comet C/2022 E3 (ZTF) is making its closest pass by Earth, and you can watch it pass by for free without even stepping outside.
On Wednesday (Feb. 1), the comet will reach its closest point to Earth, known as perigee. Comet C/2022 E3 (ZTF) hasn't been this close in 50,000 years and according to some predictions, it may never be seen again. That makes the close pass this week even more significant, as it could be our last chance to witness this "messenger from the outermost reaches of our solar system." 
short video about the comet:
https://www.space.com/comet-c2022-e3-ztf-perigee-feb-1-2023-webcast
PLANETS
JUPITER is high overhead with a magnitude of -2.0 is in the southwest in Pisces. On 22nd, it will disappear behind the Moon in an occultation.
MARS is in the east in Taurus. Its apparent magnitude drops from -0.3 to 0.4 this month as it dims.
MERCURY with a magnitude of -0.3 begins February low in the east before sunrise in Sagittarius
SATURN in the southwest
VENUS in the southwest in the constellation Aquarius first and then moves to Pisces.
18-24  Watch as Venus crosses paths with Saturn about 45 minutes after sunset. They will appear closest together on 22nd as they will be 1/3 a degree apart. Good photo opportunity. On the 23rd, they will be joined by a
MOON
5 Full Snow, Storm, Wolf, or Hunger Moon
15 New Moon
EVENTS
STAR STUDDED MONTH: A few hours after sunset you will see constellations Orion, Canis Major, Canis Minor, Taurus, Gemini
2  Moon and Mars high in the southeast after sunset in a grouping with the Pleiades Cluster and the star Aldebaran

12  MORNING SKY - Closest approach to our Sun by comet  C/2022 E3(ZTF) is now passing through our solar system. May be visible with binoculars. It passes closest to Earth on 2 February and may be visible without binoculars. 
18-24  Watch as Venus crosses paths with Saturn about 45 minutes after sunset. They will appear closest together on 22nd as they will be 1/3 a degree apart. Good photo opportunity. On the  23rd, they will be joined by a slim Crescent Moon       
25 30-40 minutes after sunset, look high above Venus & Saturn to find the Moon 1-degree from Jupiter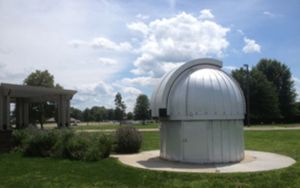 If you have been loaned a telescope by our astronomy club to use at our events, we would appreciate seeing you and the telescope to share with others on clear nights. 
If you would like to borrow a telescope to bring and share with others during our events, please let Irene Baron know to be placed on the waiting list. Thanks to all who are sharing telescopes! 

If you wish to receive the Zanesville Astronomy Club newsletter, send an email to: irenebaron@irenebaron.com. Enter the word ASTRONOMY as the subject matter. In the message include your full name, street address, city & state.  Anyone may bring a telescope to  learn how to use it and to share. 
Please share this information and URL link with family and friends who may be interested in learning more about astronomy.


_______________________________________________________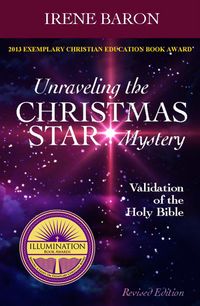 THE CHRISTMAS STAR HAS BEEN IDENTIFIED
Unraveling the Christmas Star Mystery 
by Irene Baron
The Zanesville Astronomy Club founder was sent 68 unannounced astronomy programs by NASA JPL. She used these programs to identify the Christmas star. Her book explains her research that took place daily over several years. Note thegold medal on the lower left of the cover.  The book was awarded the First Place Gold Medal as The Exemplary Christian Education Book in 2013.  Http://cutt.ly/we5mqvt 
Bring your book to any club event to have it autographed by the author.
_____________________________________
 The Zanesville Astronomy Club is an affiliate member of the NASA Night Sky Network!  
Visits from around the world.
A Top Author Website of 2017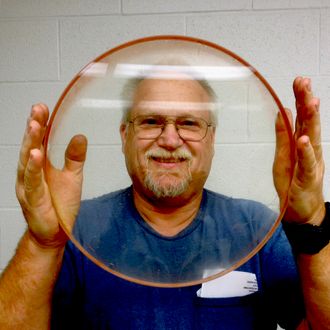 MIRROR GRINDING INSTRUCTION
One of numerous workshops
Coordinator Chuck Bruckelmeyer presented a workshop at OUZ about making a telescope. He has constructed several by grinding his own concave mirror surfaces by hand. He is an expert at helping club members put together their new telescopes, help in repairing them and using his laser calibration system to align the mirrors correctly. Discuss your needs with him at monthly events. In this photo, Chuck holds one of the mirrors on which he is currently working. We are very fortunate to have him as a member and active coordinator.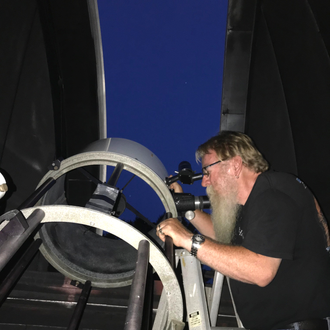 Coordinator John Bolen w/Lewis Telescope
Aligning telescope to nebula
John Bolen is a ZAC Coordinator who, with Chuck Bruckelmeyer, will be hosting your viewing through the Lewis Telescope. In this image, John is setting up the telescope for a distant object through the dome opening of the observatory. John also brings his Dobsonian telescope to most events. For viewing solar eclipses and sunspots, he has special solar filters. It is quite astonishing to safely look at the sun through his telescope with solar shields. Thank you John for all your work with our organization.