MINDREACHER PRESS RELEASE
The Mindreacher series of international thrillers creates a world that does not exist according to our "current knowledge of reality." Such speculative fiction changes over time as knowledge and technology change. This style of writing may be a precursor to future facts. 

Can intuition and telepathy be used as a resource to keep us safe? Can telepaths identify terrorists determined to destroy the United States with nuclear weapons before it's too late?  The United States government and military keep an open mind as to what people are capable of in this world. If people with remarkable abilities do exist, must they be identified, studied, and prevented from working against our national security interests? 
Irene Baron is the author of Mindreacher, a geopolitical sci-fi thriller that blends current and future technology with paranormal activity and examines how telepathy could be used in future combat situations. 
"I wanted to write something that would not only bring people joy and pleasure but also stimulate conversation about ideas rarely considered before," said Baron. 
She began her career as an Information Specialist under contract to the Office of the Secretary of Defense, Advanced Research Projects Agency, Research & Development Center - Thailand where she worked during the Vietnam War. It was through this experience that she began collecting the data and information to develop what would become Mindreacher. 
"Mindreacher is a work of speculative fiction but the science is comprehensive.  I simply fictionalized it to get the information out there," explains Baron. "You won't be able to tell if it's fact or fiction. /readers will wonder, 'Is this really going on or not?'" 
According to the author, several governments are doing research right now on psychic abilities. She said, "The next book in the series, Mindreacher-The Galapagos Incident, involves the United States Navy in another action-packed and thought-proving thriller." 
The international and multicultural aspects of the novels heighten reader awareness of existing countries, cultures, religions, people and technology. New York Gotham Writer participants and others have compared Mindreacher to a cross between the genres of Clive Cussler and Indiana Jones.  
For more information, visit https://mindreacher.net/ and https://irenebaron.com 
Irene Baron 
Email: irenebaron@irenebaron.com
Visit on social media: 
FACEBOOK: https://www.facebook.com/IreneWorthingtonBaron/ 
                        https://www.facebook.com/mindreacher1/ 
 
READER COMMENTS: 
... intense sci-fi thriller! ... I was swept off my feet by a far more complex scenario.  ... what startled me about this story was just how different a path it took. It is loaded with psychological and scientific intricacies that really make you wonder. For instance, if a group of children are telepathic, what would that mean for their learning capabilities? Their emotional and intellectual growth? Their behavior? Would they even bother to speak verbally? These questions are within the first few chapters and they don't stop as the story picks up pace and asks even deeper questions while dodging assassins.  It's a bit like Jurassic Park, but instead of dinosaurs, its psychics. The science is dense and the ethical complications are thought-provoking. This book will change everything you think you know about psychics. I highly suggest this to anyone who loves science fiction or is interested in psychics.  Author: Theophoanes Avery 
Mindreacher is a top-notch geopolitical sci-fi thriller that is epic in scope, truly original and encyclopedic in its details. Irene imbues the novel with ideas that only someone with her amazing personal biography could bring to a novel of this kind. This is the second book of Irene's I've read and this one, like her Mary KNew, is written with such clarity that even the most complex concepts are very easy to grasp. In Mindreacher the United States faces nuclear destruction by terrorists unless a mindreacher - a person with telepathic power - can be found to assist in locating the terrorists. Enter a U.S. Marine who adds dash and heroism to the story that expands the globe. ... at the back of the novel is a detailed glossary and five pages of references. (Did I mention the novel is filled with facts?) I highly recommend this book.  Author: Steve Carr 
A great summer read. I think this story was unique in that it portrayed a character with extraordinary mental capabilities who embarked on a worldwide adventure to find others with similar capabilities in order to combat terrorists. I highly recommend this book.   J. Worthington 
Time for another indie book review and let me tell you this one was mind-blowing! This intense science fiction thriller will make you question everything you thought you knew about psychic ability all while taking you along to thwart terrorist attacks with the power of the mind. Extremely thought-provoking. Will make any sci-fi thriller junkie jump with glee. Theophanes Avery 
The mindreacher concept is novel and refreshing. The action doesn't stop.  Justine Wittich, Editor  
It was difficult to differentiate between fact and fiction. A good read. Vicki Whitacre, M.D.  Beta Reader 
This novel reads like a blend of Clive Cussler and Indiana Jones. Full of excitement! Sandy Wickersham McWhorter, Editor 
I was fascinated to learn so much about the human mind. I didn't want it to end. Kathy Brantley, Reader 
Once I started reading, I couldn't put it down. Catherine Frompovich, Editor  
You are like Michael Crichton reborn! J. Kern, Reader 
_________________________________________________________________
SNIPER RIFLES: In Mindreacher, a 50-caliber ROBAR rifle is used by a Sri Lanka sniper. Irene practiced with the ROBAR and other rifles using a one-inch thick steel target 500-yards distant to experience the feel of the weapon.  She said, "What an experience!  I love the ROBAR! So smooth. No recoil."  She added that she couldn't see bullets hit the target, but "you could hear the impact as they hit the bullseye."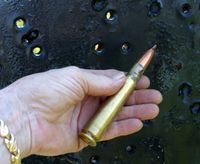 Irene followed the USMC instructor manual used to teach Marines how to become snipers. She stated, "You have to write about something you know.  I needed to know what it was like to fire large caliber rifles and see how difficult it is to pinpoint your shot. After reading that section of MINDREACHER, my readers will know what it feels like to use a sniper rifle." Readers can learn more about Robar services and products at: https://robarguns.com/place-an-order/precision-rifles/50-bmg/.  
Irene Baron sincerely thanks members of the U.S. Marine Corps (retired) that provided many different caliber rifles, pistols and other firearms with ammunition. Over a period of several years, she used their remote, outdoor firing range. She became proficient with the Robar hitting the steel bull's eye at 500-yards! 
MINDREACHER Facebook:  https://www.facebook.com/pg/mindreacher1/ 
Cover artist Leon Alegria: https://www.deviantart.com/leonalegria 
Order Book https://cutt.ly/de5nMaM