GIGANTIC-GREEN-BEAN-GROWN-FROM-NASA-SEED? 
www.irenebaron.com 
BACKGROUND: In 1983 teachers throughout the United States were given the offer to receive seeds that had been in space for student experiments. The seeds were exposed to cosmic rays. The experiment was to learn how seed exposure in space changed plant growth patterns.
The formal name of the "Get Away Special" venture was "Small, Self-Contained Payloads."  During this program individuals and businesses were invited by NASA to pay for having experiments placed on a space shuttle flight.  Park Seed assistant vice president, George Park Jr., recognized this opportunity as one of adventure. He realized the future of humans in space required food. He reasoned that since actual food was too bulky, seeds were the way to take food into space. He arranged to send 25-pounds of seeds into space. The Park Seed Company is now a division of Jackson & Perkins Park Acquisitions. They sell seed from Park Seed, Jackson & Perkins, and Wayside Gardens. You can read more about this space seed program at: http://parkseed.com/seeds-in-space/a/13/.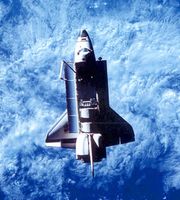 The Challenger space shuttle launch of 4 April 1983 for Mission STS-6 carried the seed payload comprised of 40-different varieties of common fruits and vegetables.  George Park wanted his company's researchers to study the effects of radiation and extreme temperature changes on the seeds.  They reported later that the seeds did NOT appear to have been negatively affected by being in space.
On 4 July 2006 the Park Seed company again worked with NASA in the SEEDS in space program. SEEDS stands for Space Exposed Experiment Developed for Students. It gives students around the world an opportunity to learn about plant growth of cinnamon basil seeds.
MY STORY: In 1983 when science teachers were offered packages of these space seeds for experimental purposes, I ordered a set. I was sent two sets, one of tomatoes. They arrived in the spring and were grown in the classroom. I borrowed worn, currently unused and dusty growing lights from the agriculture department at my school, West Muskingum High School, in Muskingum County, Ohio. After a thorough cleaning, I set up a four-tier growing set with the Ag teacher's advice. I had to purchase new fluorescent type bulbs. Four long, germinating, grow pans were filled with topsoil. Each student in science class, having a designated section of a growing pan for their class seeds, was required to document daily progress. The plants that grew were carefully measured, leaf counts made, and plants studied/discussed at the beginning of class prior to the day's lessons. Students took turns completing measurements and evaluations for their class.
Alas, there was not enough time in the school year for the plants to fully grow. During the last week of classes students were given the opportunity to take plants and left over seeds home to their gardens to continue the experiments.  With few takers I was unable to distribute all the plants and seeds I had.

My fun-loving Great Uncle Ralph Mohr always had a perfectly maintained, annual vegetable garden.  I told him about the left over seeds and asked if he wanted any. He had previously experimented with atomic radiated seeds and thought space exposed seeds would be a new opportunity. He jumped at the chance. I gave him vegetable seeds I had left and planted some of the exposed tomato seeds in my back yard. None of my seeds germinated.
One late summer evening I was visiting my parents and heard the back door bell. Upon answering the door, I saw my Uncle Ralph standing there with a huge smile. He carried two bean seed pods, one under each arm. Each green bean pod was about two-feet long and over 3-inches in diameter at the center. We were so surprised. The heavy, large beans created great laughter. Ralph said he had only one plant that produced such giants. He wanted to share the bounty with us. I remember feeling them. The outer skin felt thick and fleshy instead of hard like normal green been pods. If slightly squeezed,  an impression remained on the pod.
The next day my Mother invited my 7-year old daughter and myself for fried pork chops and bean. The succulent seeds removed from the pod were tender and appeared no different from their smaller relatives.  One bean made a full meal for us. The pork and bean dinner was delicious and enjoyed with laughter.  It was amusing to know we were feeding everyone with one bean. The second bean was eaten by my parents later in the week.
When my Mother related to customers in her store (Worthington's Interior Decorating Service) that she had pork and bean for dinner the previous night, they corrected her by saying, "You mean beans." She laughed and replied, emphasizing the singular. "No. One bean!"  To their amazement she explained what had happened. We talked about Uncle Ralph's giant beans for a long time.
During summers I volunteered many places teaching swimming for the YMCA and American Red Cross. I also taught first aid. Therefore free time was limited. Since my Uncle's gardening was not regulated in any way, I didn't have documentation for the giant bean growth except for the two beans he gave my parents. He said they were grown from space seed I had given him.
This is a true story. It has not been shared outside of friends and family until now. A blog makes for an easy way to share. I can still picture Uncle Ralph on the other side of the screen door, a giant bean under each arm, smoking pipe sticking out of his shirt pocket,  and a huge smile on his face.
In my opinion, research should continue with vegetable seeds exposed to outer space and atomic radiation.  I have no doubt that gigantic plants will be grown again one day. I am sorry that I never took the time to report that unusual growth.  I liken the neglect to when I see extraordinary sights. I don't think to take a documentation photo for I am too busy looking!  
In conclusion, giant vegetables are possible. With the International Space Station perhaps more seeds may be exposed to space and studied to create space food. A passing neutrino might just do the job!
Your comments will be appreciated.