MONARCH-BUTTERFLIES-HOW-TO-FEED-THEM
http://www.irenebaron.com/irene_baron_blog1/monarch_butterflies_how_to_feed_them
Irene Baron: www.irenebaron.com
The monarch butterflies arrived in my back yard on 18 April 2016.  They live at the top of one of my white pine trees and ignore the numerous red (Virginia) pines. When I moved here in 1981 there would be 30-40 monarchs nesting and flitting about the yard all summer. The last several years their population has steadily declined. Last year I estimate there were only 8-10. I miss the abundance of them.
To identify the monarch caterpillar , look for the distinctive black and yellow stripes. The actual butterfly is distinctive with the yellow or orange wings highlighted with black.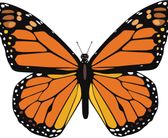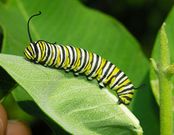 Monarchs are known to eat the milkweed plant which does not survive in my yard. They do eat the celeriac leaves. The hollow stems can be cut into straws for sipping vegetable juices or bloody Mary's to impart a celery flavor.
Being concerned about how to help the monarchs survive, I created a small recipe card for you to print, cut out and keep in your file. Make feeding monarchs a new hobby for adults and children in the family.
If you use the sponge method, I suggest hanging it from small branches to discourage squirrels from reaching it. Smaller branches won't support the weight of squirrels. If placed above flowers, suspend the sponge about 12-inches above the higher flowers. The sponge solution can also be used in hummingbird feeders allowing you to feed two species with one recipe! One of the sites I used to find recipes is: http://www.treehugger.com/lawn-garden/make-food-struggling-monarch-butterflies-recipes-your-leftovers.html.