HUMMINGBIRDS      
www.irenebaron.com 
I love to see and hear hummingbirds and have fed them many summers. I enjoy their shy antics. If you measure intelligence by the "encephalization quotient," the brain-to-body ratio, the hummingbird appears to be the most intelligent of all animals, including us!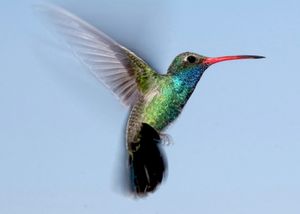 Hummingbirds are in the biological family of Trochilidae. They rank as the smallest birds with an average length of 3-5 inches. The smallest is the bee hummingbird that weighs 2 grams, the equivalent of two paperclips. The largest hummingbird is the giant hummingbird which weighs about 24 grams. 
When they hover in the air, the wings of a large hummingbird are beating 12 times per second. The smaller hummingbird wings are beating more than 80 times per second. The high frequency of the beating wings makes sound humans can hear. It sounds like a hum. Wings of hummingbirds can move in a figure-eight pattern. That allows them to hover or fly backward. That makes them a marvel to watch in acrobatic flight.   
When fighting over food rights, they can whiz by you at almost 50 miles per hour. Imagine the amount of food they need to feed the amount of energy expended to go that fast? To survive normal hummingbird life, they must eat up to five times their own weight in nectar every day. There are some people who have multiple feeders in their yard to feed them all.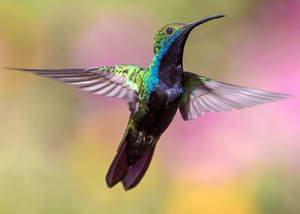 To conserve energy when food is scarce or when sleeping, they go into what is called a "torpor" where their metabolic rate drops to 1/15th of their normal rate. It is similar to going into hibernation. At the torpor stage, their heart only beats about 50 times per minute. At normal rest, the hummingbird heart beats about 250 times per minute. When in normal flight, their heart beats about 1,260 times per minute. I have no idea how fast their heart beats when flying at high speeds. It must be phenomenally fast. 
The hummingbird songs go into the ultrasonic range or very high-frequency range, similar to dolphins.  Much of what is sung by them is not in the audible range humans can hear. When you do hear a hummingbird, could it perhaps be meant for you to hear, such as when the feeder needs replenished or to warn you of their presence or pleasure? I have several which make short tweets after every swallow of nourishment at the feeder.
Studies of hummingbirds show they may visit up to 1000 flowers per day. They know how long the nectar takes to replenish in each flower. They revisit flowers when the nectar has returned to it. That they keep that data in their mind shows how intelligent they are. 
This little bird is known to have a hot temper when it comes to territorial rights, especially near a food supply. The fights may be fast and furious and decided within seconds. It is believed their thoughts are lightning-swift, much faster than human minds. They could out-think us in a millisecond of awareness. 
Hummingbird feeders often have red on them as the birds are attracted to red. Do NOT use red dye in their nectar. Red dye is dangerous for the birds.  A leaking feeder will attract bees and wasps. Wasps will often build nests near your feeders. Keep an eye out for wasp nests. The last one I had in August 2020 was in my kitchen stove vent pipe. The exterminator put in a powder of some kind that eliminated the wasps.  I closed and sealed the vent on the outside until the nest can be removed. 
Store-bought hummingbird food often has red dye or preservatives which could harm the birds. 
You can easily make hummingbird nectar with two ingredients, sugar and water. If you make too much, store it in a glass jar in the refrigerator to later refill the feeder. The ratio is usually 4:1. Four cups of water to 1 cup of sugar. You can break that down into smaller amounts. \ 
I heat the water in the microwave and add the sugar after it boils. Stir to dissolve the sugar and let cool.  Often, I will use less water and when cooling, add ice cubes to make up the missing water.  When the hummingbirds are getting ready to migrate, they will need more energy. It is advised by bird lovers to change the ratio to 3:1 in late August or early September. 

Hummingbird feeders are sold at many hardware or general stores in the spring and summer. I have had experiences of several types.  I learned not to use hot water when cleaning the feeders with a red film over the glass. They have a clear red synthetic material covering the glass to make them red. Be aware that it disintegrates in hot water to a soft film and comes off the glass. 
Hummingbird feeders must be cleaned between each feeding. There is a fungus that grows on the inside of the feeders.  It is recommended to NOT use soap, but just cool water and a brush. I purchased some washable straws this year. The package had a brush with which to wash the inside of the straws.  I found that brush so soft on the thin wire that it would penetrate the miniature holes on the hummingbird Feeders. That effectively cleaned away any fungus inside the feeder holes. Another brush and cloth cleaned the rest of the feeders. 
If you fed the hummingbirds one year, they will expect you to feed them again and will show up to be fed the next spring. They will hover where the feeder was last year and tweet to you. If you move around in your home, they will follow you window to window to get your attention. They will undoubtedly be disappointed if you don't follow through each year after the first year of feeding them. 
They are beautiful and iridescent. They are intelligent and may interact with you when the feeder is in need of nectar. They are a delight to watch. Enjoy the many YouTube videos about hummingbirds on the internet. A pair of binoculars as you sit watching them makes it much more fun. 
http://www.birdminds.com/Hummingbird.php