CYBERWAR:  PART 1-INTRODUCTION 
by Irene Baron   www.irenebaron.com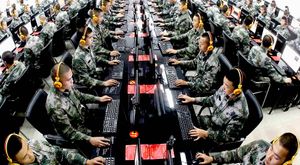 Stories about China invading other countries electronically has been the norm since their military began studying digital warfare in the 1990s. Once they witnessed the high technology used by the United States during the Gulf  War and operations in Kosovo, Afghanistan, and Iraq, Chinese leaders realized they couldn't defend their nation from such technology. They wanted to learn this new high technology to begin preparing for cyber warfare. Pictured to the left is one of the rooms where Chinese militia practices their cyber techniques.
The Chinese electronic giant, the Huawei corporation,  inserted an almost nanosized spy component into every computer component used in the industry. Their company evidently was the major manufacturer of the part.  The spyware component could be remotely turned on to listen and spy on users of the product. It is alleged that the Huawei corporation took part in the Chinese goal to spy and obtain government and business secrets from other countries. Huawei is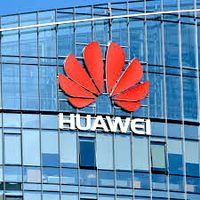 widely considered a danger to the national security of other countries.   
Because the spy chip was so invasive in electronic products, the U.S. diplomatically requested other nations to ban anything from the telecom giant Huawei. So far, Australia, New Zealand, Vietnam, and Japan have positively responded.  When Australia announced their decision, within 24-hours that country was attacked via cyber warriors. According to news reports, their high technology infrastructure is being attacked  Tech-savvy persons are waiting to see which country is next. The U.S. stated that any ally opting for Huawei will compromise vital intelligence sharing in the future. In other words, it would be advisable for other countries to eliminate them from sharing intelligence. 
In the everyday real world, there are crimes committed by humans. In cyberwar, there are botnets or robot type warriors that infiltrate the virtual world. The botnets may be constructed by just a few persons compared to the number of persons involved in organized crime. Controlled bots infect computers across the globe. 
WHAT ARE CYBERCRIME OR CYBERATTACKS?
The United Nations states that cybercrime and cyberattacks typically cluster around the following categories: 
          A) offenses against the confidentiality, integrity, and availability of computer data and systems 
          B) computer-related offenses 
          C) content-related offenses 
          D) offenses related to infringements of copyright and related rights.
            https://www.unodc.org/unodc/en/cybercrime/global-programme-cybercrime.html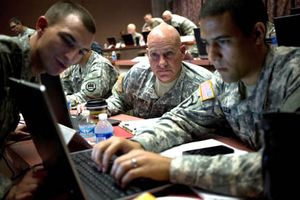 Nations have begun to realize they could spend billions of dollars on military equipment, airplanes, and ships, only to have them totally disabled in an instant through cyberattacks. The cyber playing field doesn't require huge expenditures. It requires a few trained persons knowing how to maneuver in the digital sphere around the Earth. 
The types of crimes that are now occurring in Australia, allegedly from China, are the creation and deployment of malware and attacks on that country. It may include attacking the electronic infrastructure that includes all energy producers, websites, government offices, militaries, utilities, research, healthcare, banking industry, telephones, message systems, scams, financial & stock market frauds, etcetera. If not defended, their data is erased. Chaos occurs. 
It is expected that during election years in over 80 nations there will be numerous attacks of "Deepfakes." Dictionary.com defines "deepfake" as photos or videos in which the face and/or voice of a person, usually a public figure, has been manipulated using artificial intelligence software in a way that makes the altered video look authentic and to be intentionally misleading. They make people, especially politicians, look like they said something they didn't. 
The citizens, media, and governments won't know what to believe as Deepfake bots spread their warfare to every sector of international economies and news outlets. Don't let yourself be led into believing deepfake data. How can you tell if it's fake? 
Do some investigating yourself. I have been caught by deepfake news and believed it. Until the error was pointed out to me, I thought it was true. The artist made it so true to life. I have tried to be cautious since. Now when I see videos or images, I have become skeptical and search to see if it's true if I am interested in the subject. 
The United Nations announced there has been increasing involvement of organized crime groups in cybercrime. They want countries to design and share countering-responses to organized cybercrime. 
Blockchain or computer-generated funding transfers are expected to be used more often. Blockchain originated when the public was told they didn't need a safety net when transferring funds with Blockchain. We know now that Blockchain has been infiltrated by cybercriminals. They make, receive, and record blockchain payments. They turn to markets that offer several ways to facilitate transactions. It is no longer the safest way to transfer funds. 
A Trend Micro Inc. publication published, "The future is complex, exposed, misconfigured, and defensible." They suggested those being attacked try to find the attacker's motivation, the attacker's technological development, and the intelligence they have accumulated to orchestrate the attack. Once that data is known, the defense may be targeted more accurately. 
At the national level, such as Australia this last week, there will be long term responses to cybercrime. The government offices and militaries coordinate, collect/secure their data, and have responses ready to deter offenders. Australia has requested China to stop the cyber attacks. China denies they are involved in the situation.
Globally, nations attacked look to developing nations for assistance. With increased communication between nations and their ruling parties, there should be cooperation to help one another counter-attacking cyber armies. 
Australia, the United States, and other nations have been anticipating and preparing for cybercrime. Predictors warn that what has happened in the past is nothing to what is going to happen in the future beginning in 2020.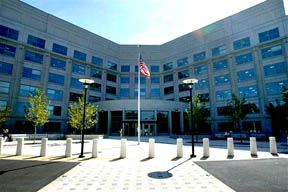 A memo from the Office of the Director of National Intelligence explains the "key concepts the US Intelligence Community (IC) uses to identify the perpetrators of malicious cyber activities. Rep. John Ratcliff of Texas was confirmed as National Intelligence Director on 21 May 2020. Majority Leader Mitch McConnell said prior to the vote that Ratcliff will lead the intelligence community in countering threats from great powers, rogue nations, and terrorists and will ensure that work is untainted by political bias. The headquarters of the National Intelligence Agency is pictured to the left  The memo can be found at: .https://www.dni.gov/files/CTIIC/documents/ODNI_A_Guide_to_Cyber_Attribution.pdf 
The primary reference in this introductory blog is the book Battlefield of the Future, 21st Century Warfare Issues. The Air War College Study is in National Security was established as a forum for research on topics that influence the national security of the United States. They continue to contribute with issues of PARAMETERS, published by the Government Printing Office as a quarterly. Dr. Barry R. Schneider is the Director of USAF Counter Proliferationcenter (CPC) at Maxwell Air Force Base and Professor of International Relations the Air War College. 
REFERENCES: 
Jinghua, Lyu.  IBI Global Observatory. What Are China's Global Capabilities and Intentions? 
22 March 2019. Accessed 22 June 2020. 
 https://theglobalobservatory.org/2019/03/what-are-chinas-cyber-capabilities-intentions/ 
Kindt.Michael. Post. Gerald., Schneider. Barry R. The Worlds Most Threatening Terrorist Networks and Criminal Gangs. Palgrave MacMillan. New York. 2009. 
Schneider. Barry R., Grinter. Lawrence E.  Battlefield of the Future, 21ST Century Warfare Issues Air War College. Studies in National Security No. 3. Air University Press. Maxwell Air Force Base. Alabama 
TREND MICRO. The New Norm. Trend Micro Security Prediction for 2020. Accessed 23 June 2020. 
https://documents.trendmicro.com/assets/rpt/rpt-the-new-norm-trend-micro-security-predictions-for-2020.pdf 
United Nations. Office on Drugs and Crime. CYBERCRIME. Accessed 22 June 2020 https://www.unodc.org/unodc/en/cybercrime/global-programme-cybercrime.html. Assessed 22 June 2020. 
Office of the Director of National Intelligence. A guide for Cyber Attribution, Leading Intelligence Integration. 14 September 2018. Accessed 22 June 2020. https://www.dni.gov/files/CTIIC/documents/ODNI_A_Guide_to_Cyber_Attribution.pdf
Next Blog: CYBERWAR:  PART 2 Advice from the War College