BEST HOLSTERS IN USA? 
www.irenebaron.com 8 December 2020 
Two different gun manufacturer representatives told me that 3iHOLSTERS were known in the gun industry as making the best holsters in the United States! What a recommendation!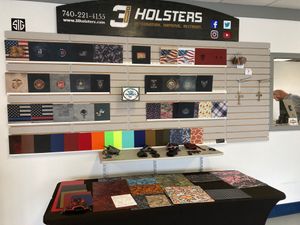 I mentioned this to Scott Frank, owner of 3iHOLSTERS in Zanesville, Ohio and he laughed. I repeated what I was told about his accolades and who, when and were they were said. To have the nation's top ranked firearm holster manufacturing company in my home town of Zanesville, Ohio is quite an honor. 
A while ago, I mentioned on my personal Facebook page that I needed experience shooting a SigSauer P226 firearm to finish the first book in my thriller MINDREACHER series. Devan Phillis, a former high school science student of mine, offered to take me to a nearby firing range, Briar Rabbit, and practice with that Sig. He would provide the pistol and ammunition.  I jumped at the chance. Devan is the 3iHOLSTERS Webmaster and "IT Guru". He sometimes works there in sales and customer service. 
When I showed up at Briar Rabbit shooting range, Devan and his gracious wife had a 15 firearm display of different pistols for me to try. The Glock he had borrowed from Frank. It was Devan who originally told me about 3iHOLSTERS and part owner, Josh Weaver. Josh has been in charge of marketing and sales. That's how I learned about the local holster business.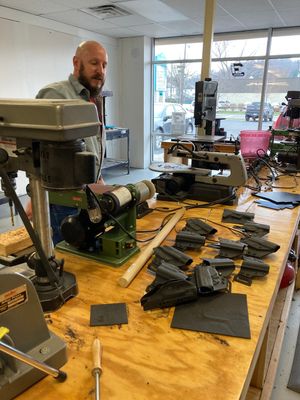 Scott Frank apprenticed holster making with the original owner before buying the  business. After enlarging the manufacturing of quality designed and hand built holsters, within a few years his company became one of the most recognized holster manufacturer names nationally. Some of his orders are international, but most originate within the United States. Scott is an honorably discharged member of the U.S. Marine Corps. 
With his professional team of holster craftsmen, Scott now builds customer orders for the Navy Seals Support Group of retired SEALs for their private fundraising for warrior & family support of SEALS. One of his specialties is to construct memorial holsters. For example, citizens and law enforcement professions from Westerville, Ohio continue to order memorial holsters to commemorate and honor the two policemen who were ambushed and murdered in 2018. Called to a domestic disturbance, the canine officer left the dog in his car, not thinking he'd need the dog. When he and another officer  were murdered, his dog nearly tore up the inside of the car trying to get to him. The officer numbers, 467 and 509 are included on the commemorative holsters.  
His wall rack of leather and composite supplies include colors and patterns. Ladies and gentlemen wanting concealed carry holsters will find multiple styles to choose from. Ladies will appreciate the different locations in which to wear their holsters. Female friends of mine use shoulder holsters,between/under breast, around ankle, hip and thigh.  Scott will walk customers through the different types of holsters and discuss the advantages of each. You can special order or purchase ready made. He has hard mock ups of many firearms to let you practice using the holster. He keeps no firearms on the premises.  
His store has the manufacturing rooms in the side and back of the building. He also sells gear related to firearms, appropriate clothing, straps, firearm carrying apparatus, patches of all types and various associated products.
When in his facility this week, while masked up, I watched Scott work on an AR Magazine carrier. Several of his team were busy producing product.  All products are signed by the craftsman. Scott stated one out of state customer complained when the craftsman forgot to sign the holster. It was sent back for the signature.  That hasn't happened since. Buyers love the signatures on a great product.
Scott has not changed the name of the company from the original owner. The "3i" in the company name stands for Integration, Improve, and Instruct. The integration is to adapt & integrate new ideas into holsters. Scott stated he may soon change the "integration" to "integrity."

EXAMPLES OF 3iHOLSTERS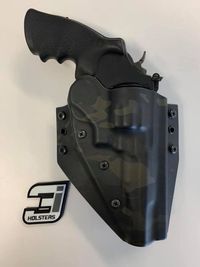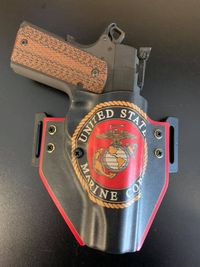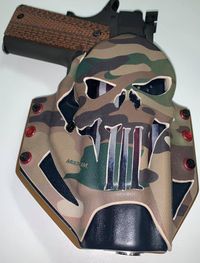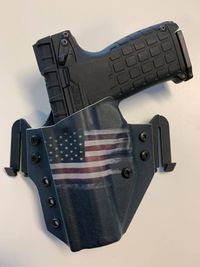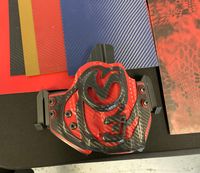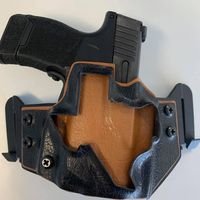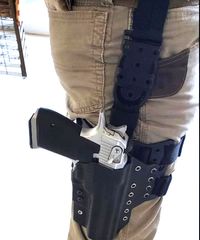 3i HOLSTERS 
Telephone: 1-740-297-7331 
URL:   www.3iholsters.com 
Email: sfrank@3iholsters.com 
Facebook: 
923 Putnam Avenue, Zanesville, OH 43701