30th ANNUAL WOMEN OF ACHIEVEMENT AWARDS   
www.irenebaron.com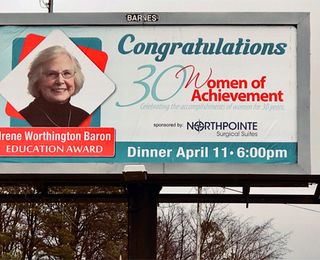 It is a special honor to be recognized by friends and others in the community for volunteer and professional work accomplished while living in Zanesville, my home town.
It was with a sense of wonder that I saw a huge billboard with my picture and information about the 2018 Women of Achievement award notification.

The billboard was placed on the National Road #40 on the west side of Zanesville, Ohio. The school where I taught 24-years is several miles further west. The placement site, therefore, is quite appropriate.
I was informed about the site location and wanted to wait for a sunny day to visit and take a picture of the billboard. Unfortunately, it had been raining a week with more rain forecast. I thought I had better visit the site and take a picture before they replace the image. It was so wet in the grass near the billboard, it felt like I was walking on a bog. 
The Zanesville Times Recorder newspaper article about the awardees states:
"Irene Worthington Baron's impact is not only found in Muskingum County but stretches across the United States and beyond our borders." 

I taught high school science in West Muskingum and Zanesville City schools which included Chemistry, Earth Science, Geology, Astronomy, and Physical Science.
Ruth Ann Coulson wrote in her recommendation for my award, "My daughter Catherine was a student of Irene's for eighth grade science, Even today, Catherine tells how much she admires and respects Mrs. Baron for her leadership that year. Mrs. Baron originated a Science Club and created a love of science with my daughter."

Coulson also mentioned the impact of Baron's organization of Marine Biology trips to the Bahamas for students from local high schools and in association with Hocking College for more than 20-years.

Irene started the Zanesville Astronomy Club in 2013. It has grown to more than 300 members. In addition to monthly meetings, she has hosted a number of special programs. In 2017, she organized a presentation about the 2018 total solar eclipse which included the distribution of eclipse glasses at no cost to attendees. Over 500 persons attended in a standing room only auditorium on the Ohio University campus.The door had to be closed to hundreds of others waiting in the halls.
"With her love for Astronomy and the Earth Sciences, she has been an inspiration," Coulson said. "She has taught many to appreciate these fields."
A SINCERE THANK YOU!
I sincerely thank those who nominated my name for inclusion in such a prodigious award. It has been an honor to be so recognized.
In the newspaper comments, I would like to mention that the free eclipse lenses passed out prior to the eclipse were sent to me by the NASA Night Sky Network. The lenses were provided by Google and other organizations. When over 500 persons showed up at Ohio University Zanesville for my hour long presentation, the university organizers were amazed. They had never had such a crowd for a local university event. They told me the phone had been ringing off the hook with persons calling for more information the week prior to the presentation. Thanks to the NASA Night Sky Network for all their additional resources for this community-wide astronomy event.
The Marine Biology events Ruth Ann Coulson mentioned involved students from all area high schools in SE Ohio taking my evening class for one semester.  I then escorted them to the Forfar Research Station on Andros Island to resume studies on site. The research station is managed by Ohio's Hocking College in SE Ohio.
Students were on the ocean most days at different cays and islands to study various geological sites. The flora changed with each site. The Bahamians were extremely helpful to ensure the meals were excellent. Students bunked in coral and hard pine cottages and used the research lodge for their meeting places, meals, library and research in the laboratory. The staff was made up primarily of students working on their MA or Ph.D. in some area of Marine Biology. Excellent programs are available there all year for high school and college-level classes.
During the 2018 awards ceremony on 11 April at Ohio University Zanesville, award recipients were given a short time to talk about one aspect of their volunteer work. I volunteered in many capacities during my life. The longest time I volunteered with one specific organization was volunteering 14-years with the American Red Cross. I cannot always afford to donate money, but can donate my time.
I trained with the Red Cross to teach standard and advanced First Aid and taught classes throughout Muskingum County. When my students in Newark, Ohio had completed their required work, their last 6-weeks were used to teach them Standard First Aid.  A completion certificate was earned by almost every student.
As a member of the National Ski Patrol, I provided instruction for Ohio members for their renewal course in Advanced First Aid every year. They were easy to teach as they were adults and anxious to excel in their life saving skills.
The Red Cross also trained me as a Water Safety Instructor (WSI). As a WSI my specific field was "Handicapped Swim Instructor." I specialized in teaching blind and students with physical handicaps, such as missing limbs. The city of Zanesville had a municipal swimming pool at that time. The Red Cross sponsored a "Learn To Swim" program where over 600 citizens of all ages were taught to swim within a 2-week period. I was assigned as Water Safety Director for Muskingum County for several years before the program was discontinued when the city demolished the pool. The City Council stated they would build a new city outdoor pool, but never did. We have several generations of citizens grow up who have never learned to swim.

It has been rewarding to teach swimming. I taught classes and individuals from beginners to life saving classes. The most fun class was for Frazysburg, Ohio for adults who were afraid of the water and afraid to swim. I called the class, "Super Chickens!" It was a delight to see so many senior citizens astounded they could float. I had to remind them they grew a little more buoyant fat on themselves since they were children or teens and would float. They laughed at being able to bob on top of the water with no effort!

If YOU have always wanted to volunteer someplace, I suggest the American Red Cross. They need volunteers across the United States in many capacities including:

Disaster Action Team Members -Volunteers who answer the call after someone in the community loses their home to a house fire.
Special Event Volunteers - Helping plan special events such as our "Power of the Purse and Hometown Heroes fundraisers.
Blood Donors -Take an hour out of your day, roll up your sleeve and give the gift of life.
Office Help - Anyone who can answer the phone and do a little data entry on a computer. 
Smoke Alarm Installs - Help canvas neighborhoods that are most at risk for home fires and help install up to three free smoke alarms. This year, since January, our local Red Cross has installed 930 free smoke alarms.
Pillow Case Project Presenter - A new program serving 3rd, 4th and 5th-grade students in learning to prepare in case of power outages, tornadoes, snowstorms or home evacuations. This project is sponsored by Disney and would be perfect for a retired teacher to take one.

All volunteers must register through the website: www.RedCross.org/volunteer.