MARY KNEW  
A Biography of Mary From Ancient Scriptures   
www.irenebaron.com     https://irenebaron.com/irene-baron-blog/blog/mary-knew-a-biography-of-mary-from-ancient-scriptures
Available in eBook and paperback format.
Buy now:https://www.amazon.com/Mary-Knew-Biography-Ancient-Scriptures/dp/1723233471
This book was written in answer to a popular song asking if Mary knew what was going to happen to her.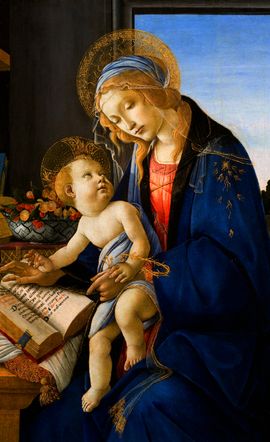 Yes, she knew!
God named, blessed, and ordained Mary to be the mother of Jesus, Immanuel before her conception.

This book contains biographical information about the tribulations of Mary's parents, Mary's birth and early life, her vow to God, reluctant Joseph, and the birth of Jesus Immanuel, Savior of the world.
The book is a compilation of traditions and history from ancient scriptures not found in the New Testament because they are about Mary, not Jesus. When the addition of books about Jesus to the New Testament was discussed, ancient scriptures about Mary were not included.
Documents placed in the New Testament were about Jesus. The sacred texts primarily used in Mary's biography were about Mary. Consequently, they were NOT used in the New Testament.
---
The Old Testament is the basis of the Jewish religion. The New Testament is the basis of Christianity. Each contains documents that tell the history of the founders of the religion and about their beliefs. When gathering for worship, the first Christians discussed what they knew about Jesus, Immanuel. That included information about his virgin mother, Mary.
The narratives they told were remembered and passed down from storyteller to storyteller. Stories were memorized or known so well, memorization wasn't needed. New converts learned the history of Christians from those stories told. Eventually, it was deemed appropriate to write the stories down before they were forgotten in order to teach new converts about Jesus Christ. For several hundreds of years after the death of Christ, those stories included the history of Mary, the mother of Jesus and her family. Her story remained popular because it also is one full of angels and miracles.
The primary document about Mary was written by Apostle James, the youngest son of Joseph and stepbrother of Lord Jesus. James lived in his father's home for a while and accompanied Mary and Joseph to Bethlehem along with two of his brothers. He was an eye witness for all that happened during Mary's pregnancy and the events surrounding the virgin birth of Jesus, Immanuel. James and under his direction,  scribes wrote his story. James left a signed written document verifying his testimony. The main book he authored was the Protevangelion, a historical account of the Virgin Mary and the birth of Christ. 
---
SIGNED TESTIMONY OF JAMES: "I James wrote this History in Jerusalem; and when the disturbance was, I retired into a desert place until the death of Herod. And the disturbance ceased at Jerusalem. That which remains is, that I glorify God that he hath given me such wisdom to write unto you who are spiritual, and who love God; to whom there be glory and dominion for ever and ever, Amen."
---
 James became a chief Apostle and the first Bishop of the Christians in Jerusalem. His documents and others about Mary and Jesus Christ were used in the early Christian churches for hundreds of years.   
BIBLICAL PROPHECIES PREDICTING JESUS
 Daniel 7:13-14
Deuteronomy 18: 15
Deuteronomy 18: 18
Isaiah 7:14
Isaiah 9:6-7 
Isaiah 53
Isaiah 55:3-4
Jeremiah 31:31
Micah 5:2-5
Psalm 2: 6-8
Psalm 2:11-12
Psalm 22
Psalm 45:1-7
2 Samuel 7:12-13  
2 Samuel 7:16   
Wisdom 2:12-20
Zechariah 9:9
Zechariah 12:10
Note:
The image above was painted by Sandro Botticelli in 1483. It is considered PUBLIC DOMAIN. The book, MARY KNEW, has public domain documentation for the image.