IAOTP PRESS RELEASE FOR IRENE BARON
Irene Baron selected as 2020
Top Female Writer of the Year by the International Association of Top Professionals (IAOTP)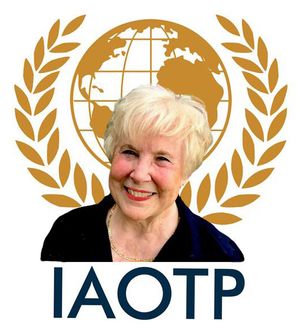 Irene Baron, Educator, Author, Speaker and Aerial Photographer was recently selected as Top Female Writer of the Year for 2020 by the International Association of Top Professionals (IAOTP), for her outstanding leadership and commitment to the industry.    
While inclusion with the International Association of Top Professionals is an honor in itself, only a few members in each discipline are chosen for this outstanding distinction. These special honorees are distinguished based on their professional accomplishments, academic achievements, leadership abilities, longevity in the field, other affiliations and contributions to their communities.  All honorees are invited to attend the IAOTP's annual award gala at the end of this year for a night to honor their achievements.   
With over 45 years of professional experience as a seasoned Science Educator and Writer, Ms. Baron has certainly proven herself as an accomplished professional and expert in many fields.  As a dynamic, results-driven leader, Irene has demonstrated success not only with her teaching career, but also through her literary works and as a Speaker and Aerial Photographer. 
Her impressive repertoire of prior roles includes serving as Board Certified Teacher in all Sciences for grades 7-12. She is certified as Assistant Superintendent in the State of Ohio and served 20 years as Administrator and Instructor of the International Marine & Insular Biology which she taught at the Forfar Research station in the Bahamas for SE Ohio High Schools. 
When Ms. Baron began her writing career, she worked as an Information Specialist for the Battelle Memorial Institute in Bangkok, Thailand. She was assigned to the Office of the Secretary of Defense, Advanced Research Project Agency, Research & Development Center – Thailand. She authored the geology and hydrology sections of the Top Secret Mekong River Project and wrote the Operational Procedures Manual for ARPA Thailand. Irene directed aerial photography along the Mekong River bordering Thailand, Laos and Cambodia. Her aerial photography was awarded First-Place recognition in the Americana Category by Smithsonian Magazine in 2004 during their first photography contest.   
After working with the military and the government, Irene used her research and materials for the creation of the psychological and geopolitical MINDREACHER thriller series. The second MINDREACHER book is scheduled to be published in 2021. 
Previously, Ms. Baron authored and illustrated "Unraveling the Christmas Star Mystery" which was awarded the First Place Gold Medal as the best Christian Education Book of the year in 2014. She next wrote a biography titled "MARY KNEW-The Biography of Mary from Ancient Scriptures." MARY KNEW was awarded the Third Place Bronze Medal in 2019 as the year's exemplary Christian Biography. 
Ms. Baron earned her Bachelor's Degree from Hiram College and her Master of Arts in Education Administration from Ohio University. She successfully completed the National Science Foundation Fellowships at Texas A&M University, Portland State University and the University of Missouri/Columbia graduate schools. 
The President of IAOTP, Stephanie Cirami, stated "Choosing Irene for this award was an easy decision for our panel to make. She is talented, creative and brilliant at what she does.  We felt she would make an amazing asset to our organization. We are looking forward to meeting her at the Annual Awards Gala being held at The Plaza Hotel in New York City later this year." 
Throughout her illustrious career, Ms. Baron has received awards, accolades and has been recognized worldwide for her outstanding leadership and commitment to the profession. This year she is being considered for a Front-Cover feature in TIP (Top Industry Professional) Magazine by the International Association of Top Professionals (IAOTP). For 2021 she will be considered for IAOTP's Lifetime Achievement Award. Irene was recognized with a Hiram College Alumni Award for Achievement and honored as an Acker Outstanding Teacher. She was awarded an AT&T Ohio Science Teacher of the Year Award and a Tandy Technology Award. Ms. Baron has also been listed in many editions of Who's Who in America, Who's Who in American Education and Who's Who of American Women. She was awarded the 2020 Marquis Outstanding Lifetime Achievement recognition for her professional work and continuing accomplishments in her community. 
Ms. Baron has been active within her community. As the American Red Cross Director of Water Safety, she volunteered over 14-years directing and instructing all levels of swim classes which included Handicapped Swimming, Kayaking and Canoeing. Irene volunteered with the local and National Ski Patrol 5 years. As a sought-after public speaker, Ms. Baron has presented workshops for the Science Education Council of Ohio, Ohio Earth Science Teachers, as well as associations, state and regional organizations. As a high school student, she helped her mother train Dale Carnegie Speakers. She has been editor of numerous professional publications including the Ohio Earth Science Teachers Newsletter. She has authored numerous education articles. She has led art classes for the Zanesville Museum of Art. She founded the Zanesville Astronomy Club in 2013 which currently serves over 300 members.
Irene attributes her success to having an exploratory nature, her perseverance and passion for all her endeavors.  She enjoys reading, writing and travelling.  In the future, she will continue to express her uniqueness through writing and will continue to educate people in various ways. She said most of her social media is informational. 
For more information on Irene Baron please visit:  www. irenebaron.com 
About IAOTP  
The International Association of Top Professionals (IAOTP) is an international boutique networking organization who handpicks the world's finest, most prestigious top professionals from different industries.  These top professionals are given an opportunity to collaborate, share their ideas, be keynote speakers and to help influence others in their fields. This organization is not a membership that anyone can join.  You have to be asked by the President or be nominated by a distinguished honorary member after a brief interview.   
IAOTP's experts have given thousands of top prestigious professionals around the world, the recognition and credibility that they deserve and have helped in building their branding empires.  IAOTP prides itself to be a one of a kind boutique networking organization that hand picks only the best of the best and creates a networking platform that connects and brings these top professionals to one place.  
For More Information on IAOTP please visit: www.iaotp.com