AMERICAN CUTCO VS GERMAN HENCKEL KNIVES
     By Irene Baron     www.irenebaron.com 
My father always said a sharp knife was a safer knife.  He took great care with our cooking knives. At least once a year he would moisten a large whetstone and sharpen his favorite knives.  He did it methodically and with care. Good knives were hard to come by. 
During my last year at Hiram College in Hiram, Ohio, I took a cooking class. The class had an Organic Chemistry prerequisite. Only students who had passed Organic Chemistry were allowed to take the class. Consequently, enrollment was heavily populated with male students from the school's prestigious science department.  
My major was General Science. Having the Chairman of the Chemistry Department, as my advisor, my 4-year college schedule was heavy in Chemistry coursework. I took Organic Chemistry my junior year at Hiram. It remains the hardest course I have ever taken. 
The cooking class was not how to cook, but "what happens to food when you cook." Being walking famines, the fellows in the class were excited to learn as much as they could to become proficient to cook for themselves or entertain after graduation.  The professor was a beautiful and intelligent lady imported from Kent State University for this one time class. Lecture hours were 9 am to 12 pm Monday through Friday. The laboratory sessions were after lunch until we finished.
Each intensive class at Hiram was 8 weeks in length. For a college to have each class scheduled for an intensive 8 weeks was rare in the United States. The success of such a schedule proved itself with the Graduate Record Exam (GRE) scores. This was the test required for graduate work. Over 60% of Hiram students continued their education for their Masters and/or Doctorate degrees. Hiram students normally tested in the 90% achievement rate nationally.  The course was the first cooking class taught at the college. All the equipment, including the knives, was new.
We were taught about knives by a representative of Cutco Corporation during one of our morning sessions. 
---
AMERICAN MADE CUTCO KNIVES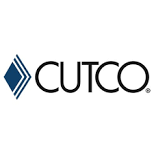 The Cutco representative told us their knives and implements for cooking have a lifetime guarantee. The company will sharpen their knives and refurbish them free of charge. The service is rarely used as the knives rarely dull. 
After graduation, I bought a set of knives and utensils for my home in Zanesville, Ohio. They were used by my parents when I toured the world and worked in Thailand and Germany. 
Some styles of the Cutco utensils and knives I own are no longer available for purchase.  The company has updated some products and discontinued others. 
Cutco advertises their knives are the best in the world. It is not false advertising. They outclass German knives due to the blades which never dull and the "fatigue-resistant" ergonomic handles fit for any size right or left hand. The thumb and forefinger lock into place for safety and control. The handle has the same composition as bowling balls. The blade extends the full length of the handle. 
My parents used the Cutco knives and utensils daily. Since they washed them in the dishwasher, the handles dulled over time. After the death of my parents, they were boxed up for a few years. When I moved back to Zanesville after working in the state of Delaware, I began using my Cutco knives again. I sent my 50+ year-old set to Cutco a few years ago to have the handles polished and knives sharpened as needed. Only one blade needed attention. When returned, the handles glistened like new. 
My only regret was the missing original paring knife which had a wide and curved short blade. Cutco replaced it with a new style paring knife. Because the new one had a longer and narrower blade, it would not fit into the wall unit and was more difficult to use for close work. I sent it back to have the blade shortened. I miss the original blade, but it was used so much over all those years, it began to dull. 
Anyone who loves to cook should use only CUTCO knives. Once you begin using them in food preparation, you will thank me for the recommendation. They will make your life so much easier. It's especially nice that they are American made.  There is no comparison between CUTCO and other knives. Others have not yet reached the quality found in the CUTCO brand.
Beware. These knives are known by fishermen and have a tendency to "disappear" from the kitchen. Keep them put away when guests arrive. Fishermen love the Trimmer knife. I have a friend who has had to replace several after over the years after fishermen and teenage boys visit the home.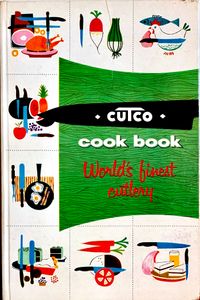 The "Cutco Cook Book" is excellent for recipes and additional information about cooking, especially for meats.  I bought two, one for my parents and one for me. The spaghetti sauce is the most used recipe. Dinner guests normally ask to take sauce home with them.  I put the recipe at the end of this blog for spaghetti lovers. :-)
The Cutco Corporation is a U.S. based company that sells knives predominantly through direct sales or multi-level marketing.  It is the parent company of CUTCO Cutlery Corp., Vector Marketing, Ka-Bar Knives, and Schilling Forge.  Its primary brand name is Cutco. If you find the knives too expensive, since they stay sharp and last forever, you can buy them used online at reduced prices. Read more about Cutco at  www.cutco.com
---
GERMAN MADE HENCKELS KNIVES 

When traveling internationally, I tried to learn what products each country was famous for. If I could afford the cost, I tried to purchase a product. Being a gourmet cook, it was exciting to learn I would be moving to Germany which was famous for knives. 
Before I moved to Germany, I learned about cutlery manufactured there.  The most famous names were Wusthof and Henckels. Wusthof is owned and run by the Wusthof family. Henckels, known now as Zwilling J.A. Henckels, is a conglomerate and owns a variety of companies. Their companies include Staub cast iron and Demeyere cookware in addition to the Zwilling J.A. Henckels. 
I lived in Kaiserslautern, West Germany for several years. Before I purchased any knives, my husband and I became friends with a butcher at the U.S. Army commissary. His knives were his living.  He had to have the best to be able to cut meat with one stroke. Knowing of my interest, he taught us about his knives.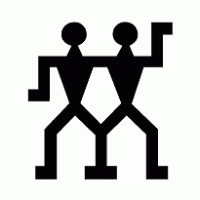 Most of the ones he used had the brand imprinted on the blade. That brand had the logo, as pictured to the left, and the word "friodur." Under friodur was "J.A. Henckels. To the left at a 90-degree angle were the words "Solingen" and  "Germany" for the city of origin and country. All his knives had light colored wood handles. As a gift of friendship, he gave us one of his oldest and most cherished carving knives. I keep it in my knife drawer and think of he and his wife every time I open the drawer.
The word, Friodur, on a blade means it went through a  four-step ice-hardening process to make an exceptionally hard, tough, sharp, corrosion-resistant blade with a  good edge retention. The blades, precision-forged from a single piece of high-carbon stainless steel, were frozen to -94o during the manufacturing process. 
Due to their cost, I could purchase only a few Henckel knives with black wood handles. I bought the Paring Chef's Knife, large Meat Fork, small Meat Fork, and a Carving Set of a knife, fork and 6-steak knives with carved stag handles.  They have been highly prized and used. 
I later bought a Henckel "Eversharp Pro 8" micro-serrated Bread Knife for under $20.00. Fabricated from high-quality stainless steel, they are lightweight with a triple-rivet manufactured handle. Dishwasher safe, this stamped line is manufactured in Thailand. 
I use all my knives but usually reach for the Cutco products.  They are always sharp. I continue to wash my cooking knives and utensils by hand.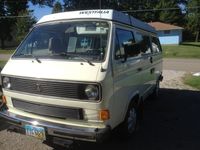 If you want to purchase the highest quality American made cooking knives, I highly recommend the Cutco brand.

Those of you who know me are familiar with my 35 years camping throughout the continental United States with my white VW Westfalia campers. In tight quarters, I learned I couldn't get along without the Cutco Trimmer and Turning Fork when cooking. Those two products could get me through any recipe using my two installed VW gas burners. They are also the two products used almost daily at home. 
---
The pictures below are some comparisons. The Henckel is above the Cutco. I can't use the Henckel as the blades are dull and I don't have time to sharpen them. The Cutco knives retain their sharpness which saves me time to do other projects. Henckel chef knives come in various sizes. Note the handles which fit the hand. The Henckel handles are getting worn. The wood on the paring knife has begun to break off. Henckel knives have always been hand-washed, yet the wood on each is showing age. 
The knives and forks pictured are, from the top, 1-Turning Forks, 2-Small Turning Forks, 3-French Chef Knives, 4-Paring Knife (top) and Trimmer Knife(bottom.)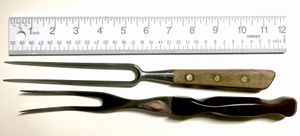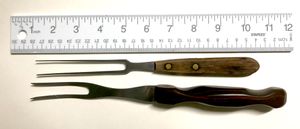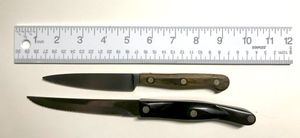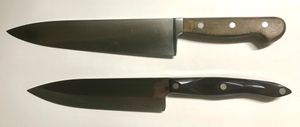 ---
SPAGHETTI WITH MEAT SAUCE    4 Servings   
4 TB butter or olive oil 
1 C chopped onion 
2 cloves garlic, finely minced 
1 C mushrooms, chopped 
1 pound ground beef 
½ C chopped celery 
3 TB flour 
½ C beef stock or one bouillon cube dissolved in ½ C hot water 
¼ C sour red wine 
½ can tomato paste 
1 No. 2 can tomatoes 
Salt, pepper 
1 TB parsley 
1 package fine spaghetti or macaroni
Parmesan cheese 
 Melt butter in a heavy/iron fry pan or Dutch Oven 
Saute' onion, garlic 5 minutes 
Add mushrooms, meat; brown lightly 
Add celery, flour, stock, wine, tomato paste, tomatoes, salt, pepper, parsley; mix thoroughly 
Cover; simmer 30-40 minutes; more wine and stock may be added if the sauce gets too thick. 
Boil spaghetti in salted water until tender; drain; rinse. 
Pile spaghetti on plates; top with sauce; serve with Parmesan cheese