AMERICAN-MILITARY-CEMETERIES  
by Irene Baron
www.irenebaron.com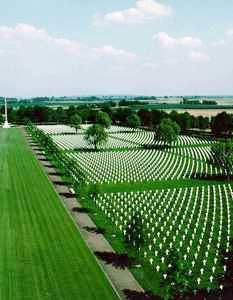 It is not often citizens of the United States are given an opportunity to visit American Military Cemeteries beyond our borders. I was fortunate to live in Europe several years which allowed time to visit American military cemeteries in France, Germany and the Netherlands.

The most memorable cemetery for me was in Lorraine , France  where over 10,000-honorable American soldiers are buried in over 110-acres. To solemnly stand and see grave sites in every direction for almost as far as you could see brought tears. It was hard to comprehend over 10,000 heroes were buried around me. The impact of that view will never leave my mind. If you walked around the grave sites you would find brothers bodies were brought to the cemetery from other areas to be buried together. Much care was taken to honor these heroes.
Grave markers with crosses or stars are connected underground by study metal pipes. The pipes secure them in place and keep them vertical. Before metal supports were installed, grave markers tipped or fell to create a look of chaos. Now they are uniform and beautiful.   
How can you thank these deceased heroes? Honor them by thanking soldiers still serving this country and those retired. God bless them all.
During most wars, only males able to pass standard intelligence tests were allowed to enlist. After the conflicts, many never returned. Think about that. Did you ever hear the term, 'dumbing down of America'? Some people believe wars caused a lowered IQ in the United States because the best and the brightest were selected to fight. Many of these intelligent and honorable soldiers gave their lives to ensure citizens remaining in the United States retained their freedom. 
While living in Europe in the 1970's I took 8mm movies of American Cemetery visits. The movies were stored in my Zanesville, Ohio home. I didn't think much about the movies until a relative, Ethel May Waxler Hill (May), came to visit. She's the daughter of my Grandmother's sister.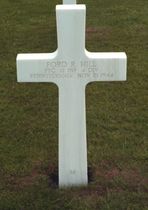 She was saddened when asked about her husband, Ford R. Hill (1919-1943). Her husband, Private First Class, Ford Raymond Hill was assigned to the 12th Infantry Regiment, 4th Infantry Division of Zweifall, Germany during World War II. Awarded the Purple Heart, Ford was killed in action near Zweifall on 21 November 1944 and later buried in the 66-acre, Netherlands American Cemetery and Memorial, Margraten, Limburg, Netherlands. As a medic, he had been lifting a wounded soldier when a bomb killed him. The image of his memorial grave marker to the left is courtesy of photographer Des Philippet.
May told me she couldn't afford to have his body returned to the United States. Every day since his death had brought her guilt that her husband was not buried in United States soil. I asked in what cemetery he was buried. The records originally said Germany and later the Netherlands. I showed her the 8mm movie I had of the cemetery. Having previously thought it was perhaps just a field of gravesites, she was very impressed with such magnificent architecture of the cemetery memorial building and the immaculate grounds containing thousands of white crosses and stars. She finally felt at peace knowing he was buried in a place of beauty. I guess we don't stop to think that 30+ years after a war hearts are still hurting. She had carried guilt long enough.

I called May this week to obtain permission to use her name and story. She said some of her friends several years ago traveled to the Netherlands and were kind enough to visit the grave site of her husband. They brought back many pictures of the Netherlands memorial cemetery for May.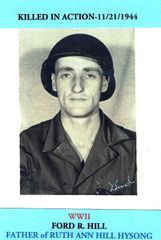 The Field of Honor database about Ford can be found at: http://www.fieldsofhonor-database.com/index.php/american-war-cemetery-margraten-h/63248-hill-ford-r
The American Battle Monuments Commission is at: https://www.abmc.gov/cemeteries-memorials/europe/netherlands-american-cemetery#.WKoG5oeQwdV 

______________________________________________
American Military Cemeteries in Europe
The number of buried American heroes at each site is in red.
 1. The American Cemetery at Aisne-Marne, France... A total of 2289   
2. The American Cemetery at Ardennes, Belgium... A total of 5329  
3. The American Cemetery at Brittany, France... A total of 4410  
4. Brookwood, England - American Cemetery... A total of 468  
5. Cambridge, England... A total of 3812  
6. Epinal, France - American Cemetery... A total of 5525  
7. Flanders Field, Belgium... A total of 368  
8. Florence, Italy... A total of 4402  
9. Henri-Chapelle, Belgium... A total of 7992  
10. Lorraine , France... A total of 10,489  
11 . Luxembourg, Luxembourg... A total of 5076  
12. Meuse-Argonne... A total of 14246  
13 . Netherlands, Netherlands... A total of 8301 
14. Normandy, France... A total of 9387  
15. Oise-Aisne, France... A total of 6012  
16. Rhone, France... A total of 861  
17. Sicily, Italy... A total of 7861  
18. Somme, France... A total of 1844  
19. St. Mihiel, France... A total of 4153  
20. Suresnes, France... A total of 1541 

____________________
Buy Irene's book, Unraveling the Christmas Star Mystery at:
https://www.amazon.com/Unraveling-Christmas-Star-Mystery-Illumination/dp/1477683976