This winter I've been spending time in the artist mode, creating some very enlarged banded agates.  Of course I use artistic license... :-)
Being the featured artist during March at the Zanesville Appalachian Art Project (ZAAP) in Zanesville, I decided to install half of the exhibit as banded agates and the other half as India ink drawings of circus clowns.  The banded agates pictured below are primarily water color, colored pencil and a mineral.  I adhere minerals such as pure gold leaf, biotite, or muscovite to the paintings to create interest and sparkle. 
                                                                                     So far,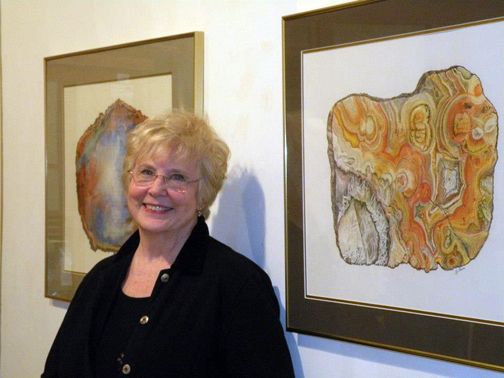 visitors to the gallery seem intrigued with the artwork. They evidently had never seen anything like it before.  Neither have I, to tell the truth.  That makes it more fun for everyone.  My goal is to create a set of 30-total and then have an exhibition at a major state gallery or  museum.  Wish me luck on that part. 
For the art base, I normally use 500-pound, Hot Press, Crescent board  capable of surviving liquid applications.  Since I can't find the board in this area, I order it from the Dick Blick art supply company.  Over the numerous years I have used them as materials supplier, they have always responded with the correct order in a timely manner. 
The opening night of the exhibition found many persons enjoying not only the art work, but the refreshments and camaraderie of the event.  It took place on the first Friday of the month.
Every month, the first Friday is the date for the monthly First Friday Art Walk.  All the galleries in the downtown area are open to the public.  The month of March the ZAAP gallery has been the featured gallery for the main art organization in the county, ART COZ.
This next photograph shows two other local artists, Mary Ann Bucci and Mike Seiler. Mike just finished renovating a downtown building which will become his new gallery.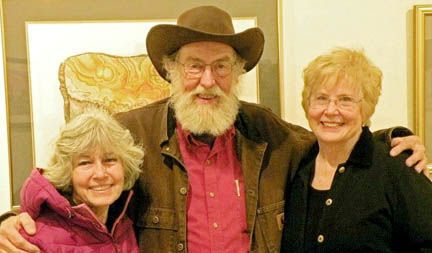 This last photo shows Mike Seiler taking a photograph of my art. It is very flattering when another significant artist captures images of your work.

Right now I am working on a turquoise agate piece. The color of the original mineral is phenomenal. It has many shades, hues and tones of turquoise which evolve into pure blues at the edges. It is a striking work of nature. I hope I can replicate it with enough artistic license to create a memorable and excellent work of art. I can already tell it's going to be one of my favorites.
Before applying any detail to the current piece, I'm using numerous washes to create depth in the background color. I want the light to refract and reflect through the different layers of wash. I am careful to use only transparent watercolor for I don't want to stain the white board.
I sometimes think the gift of art is inherited as both my parents were artists in their own right. My Mother was an interior designer and my father was an artisian with wood.
As a teacher of classical drawing, I know that anyone can learn to draw.  I once had a friend who said she couldn't draw. I told her I would teach her how in four one-hour lessons. When she admitted that she didn't believe me, we bet a can of Pepsi on the effort.  Of course I won.  After the third 1-hour lesson, she admitted that drawing was a logical progression.  Anyone knowing the basics can draw.  She eventually moved to Florida and continues to draw. I believe she has also learned to use watercolor.
My city of Zanesville has one of the best small art galleries. It's ranked in the top 25-small art galleries in the nation. How fortunate I have been to have had access to it for lessons beginning at age eight. Such extensive training has allowed me to expand my experiences into the field of fine art.