CERAMICS AT ZANESVILLE HIGH SCHOOL
by Irene Worthington Baron  www.irenebaron.com  

During my senior year, Zanesville High School in Ohio boasted "one of the few comprehensive ceramics courses offered in the U.S. by a school which is not on the college level." The story was printed in the 29 April 1956 Sunday Times Signal, Section Four, 73rd year No. 42. Images in this blog are courtesy of the Zanesville Times Recorder. Original images were not available. Reproduction of newspaper images may result in pixilation.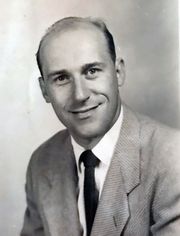 Ceramics students met with teacher Henry S. Paulin, PhD, during two class periods during the entire school year. Since my ceramics class took place the last two period of the school day, I was able to stay later when needed to finish up projects. I estimate I spent over 200-hours actual class hours learning clay techniques and creating pottery products.
Dr. Paulin received his degree in industrial arts from Kent State University. He was a professor of industrial arts at Ohio State and Kent State Universities and later Department Chairman at San Francisco State University. http://obits.cleveland.com/obituaries/cleveland/obituary.aspx?page=lifestory&pid=152615848
When I walked into the ceramics room my first day of class, Dr. Paulin greeted students with his famous smile. The high school facility housing the site was at one time a cafeteria and quite large. It was stocked with the latest equipment for pottery instruction. A row of 10'-high metal damp cabinets extended about 20' against the west wall. They were each 30-inches-wide and about 16-inches deep, shelved, and had metal doors which sealed the inside from evaporation. The damp cabinets were used for placement of ceramics which were incomplete and needed to be kept moist. We used wet cheesecloth over each unfinished work placed in the damp cabinet. If the work in progress was to be there over a weekend, more damp fabric was added to ensure it stayed moist and workable.
 The ceramics lab room had six-electric potters wheels and six-foot-powered potters wheels. Students could choose whichever they wished to create their pottery.  The foot-powered wheels required the students to use their feet to propel the wheel. The turning of the wheel could be very slow. At first students found it difficult to use their feet to work the wheel while at the same time use their upper body, arms and hands to work the clay centered on the wheel. Most students kicked the lower wheel to move it counter-clockwise. Their right foot would move outward to kick the lower wheel and their left foot would move the wheel toward their body. They could use both feet at once or one at a time to control the speed of the wheel. The potters wheel I used in the images below was an electric wheel. The pottery in the left image I began just before the reporter arrived. The next picture was taken 15-20 minutes later when the pot was nearing completion.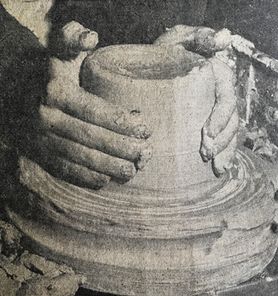 As you can see to the left, the clay was thrown on the surface of a circular work area inside a recessed area at the top of the wheel. The work area had a removable base for the work in progress. If the work was ready to store for the next day, the base platform could be lifted out of the wheel with the pottery still attached. It would then be carried to the damp cabinet for storage. If it was to be dried, it was removed from the base. In the greenware stage before the first firing, the pottery piece could be carved and decorated with tools. If the carvings were to be evenly around the outside, the wheel base was placed back on the potters wheel or another free spinning apparatus. Since the piece was already centered, with a light touch horizontal stripes or designs could be carved into it. Once designed, a damp sponge could be used to smooth the clay. If we wanted a ragged appearance, we could introduce silica sand into the clay. Rubbing across it created a rough feature as the protruding sand would rub against the clay to make irregular stripes/marks. Once fully dry, the piece could be fired. Any moisture inside would expand when fired so the piece, if not dry, it would crack, break or explode when fired. . The first time that happened to someone in class was enough warning to the rest of us to ensure the pottery was completely dry before the first firing.
There was a small kiln for glaze chips, a medium size kiln for pieces under 12-inches, and a walk in kiln for larger items.  The images to the left with the potters wheels are my hands at the beginning of the reporters' interview and toward the end where I worked at trimming my pot interior. The newspaper reporter misread Dr. Paulins' writing and printed my name as "June" instead of "Irene" in the article, but it's me. :-)
The first clay work each student was assigned at the beginning of the course was to roll out a chunk of prepared/ malleable clay, cut it into 1"-squares, number and initial each square on  the bottom, and fire them. We next learned how to use commercial glazes and how to mix our own glazes from chemicals provided. Chemicals were measured with triple beam balances. We tested our final glazes by placing a coat on the top of the white squares, one square per glaze, dutifully recording ID numbers and glaze formulae. After being fired, these were used as glaze references for the remainder of the school year. We continued to experiment making glazes. Some students were allowed to use only previously purchased professional glazes.
Dr. Paulin taught us how to make slab pottery, coil pottery, and how to throw clay to the wheel to use the potters wheels in creating our art pieces.  We used wire for statue bases and learned all the techniques to make wired pottery fire correctly. We were taught how to make one piece, two piece and three piece molds out of plaster of Paris to recreate our clay art by pouring slip (thick liquid clay) into the molds. Finishing molded work was easy and fun.  Knowing how to make molds helped me in teaching science later. I could make plaster of Paris copies of sea shells, globes, and other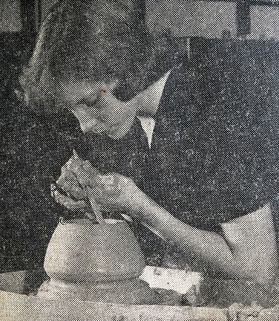 objects for individual student study by making molds and pouring slip.
Clay shaping tools included an 18" thin, steel wire with a small wooden handle attached at each end. We used the wire to cut clay, sometimes on the wheel. We also slid the wire under a finished pot to cut the clay neatly off its base or wheel.  We used many types of tools to carve and detail our art work. We had the option to buy our own tools or use those supplied by the school. I bought mine and would take work home over the weekend to enjoy.  
The newspaper image with Dr. Paulin and I shows some potter created first semester. Several were my early creations including the one I held.
Dr. Paulin asked me to apply for a Rockefeller Ceramic  Fellowship.  Entrants were required to design a ceramic piece to scale, create it exactly as designed, fire it, glaze it, fire it, and ship it out. I created my original design using blueprint paper. The designed clay piece was a streamlined pitcher. I created  it on an electric wheel. The handle was added later. When it was as perfect as I could make it, the pitcher was in the greenware stage where it was drying before the first firing. It was at this time, although on a very high shelf for safety purposes, it was picked up by a curious student who didn't understand the delicacy of green ware. Dr. Paulin was elsewhere in the room and not able to stop the boy. Being soft in the greenware stage, the piece broke.
When I walked into class later that day, Dr. Paulin came up to me and began crying. I had never seen a grown man crying and didn't know what had happened. Smoothing down his thin red hair, he finally managed to tell the story of my pottery. He was more upset than I for I didn't realize the possibilities that would have been available to me with such a prestigious fellowship. He kept lamenting, telling me I would have won the fellowship with my creativity, talent and workmanship. I was pleased with his assessment when he stated that many students at the college level could not accomplish in ceramics what I had as a high school student. It was too near the fellowship application cutoff date to start a second piece of pottery. The greenware time would have taken too long. We both knew the fellowship was a loss. I guess I should have made two pitchers. 
Dr. Paulin continued to advise me as to future opportunities in ceramics and tried to guide me to Brown University. I ended up going to a unique and excellent Ohio college. My parents had forbid me to study art in college and required my degree to be in math or science. I chose science and ended up still required to take 15-hours of math.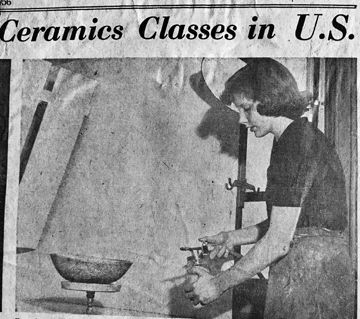 There were only two students who actually signed up for Dr. Paulins' ceramic classes, myself and another female student. Students Who had not requested the course were placed into his ceramics class instead of study halls to help fill the void.  Some of these assigned students were artistic and thrived with such extensive hands-on experiences. 
I always thought since the class was two blocks of time each day for the whole school year,  students working on credits to graduate may not have wanted to spend two periods a day on an art class, even if it was unique. Since the class was under used by students that first year, it was soon discontinued. I have no idea what happened to the new and beautiful equipment.  What a loss to the art community.
 I always felt fortunate to have had Dr. Paulin as my instructor. He gave us given access to all different types of clay and porcelain. Students had as much clay as they wanted or needed. We had expert instruction and any piece of equipment we would ever need to create and finish a piece of art.
I learned SO MUCH!
I have taken additional collegiate ceramic classes since then where extruders and slab rollers were available. I had one class at Ohio University Zanesville where much firing was Raku. Unfortunately, the instructor loaded up the propane Raku firing barrel with her large green ware pieces. There was not always room for all the student work. 
Enjoying metallics in Raku glazes and ordered copper powder from a chemical supply company. Teaching Physical Science and Chemistry at that time I had access to many science supply catalogs. I added copper powder to glazes or brushed it onto wet glaze. Results were unique and striking metallic turquoise, greens and blues. The glazes were gorgeous. With Raku you never knew what was going to happen to the glaze.  All of my copper glazes, but one, turned out great. All were eventually sold or given as gifts. One was entered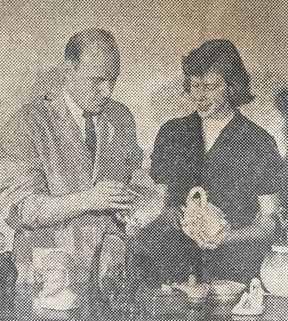 in The May Show, a juried art exhibition at the Zanesville Art Center. Director Dr. Charles Dietz stated the acceptance of the ceramic piece placed me in a unique position. No artist previously had had art accepted in every category for one May Show. That year I had six individual pieces accepted.
Being a pottery town, Zanesville currently has a group of artists trying to renew interest in the pottery field. I wish them luck and hope to use their clay and kilns one day. The recent article about a new kiln refreshed my memory of the ceramics classes I took in high school. What a blessing they were offered when I was in a position to take them.
Anyone who works with clay enjoys the process. I was fortunate when I moved to Zanesville in the 1980's and bought a house near a pottery lover. The lady of the house had a kiln she used several times a week. Since her husband had free gas, she rarely charged me a cent for firing my clayware. Another blessing. It was then that my daughter developed an interest in ceramics and utilized the kiln.
If you've read my blogs, you know many of my experiences have been unique. Learning about ceramics was one experience. I love this Earth and all it has to offer. What a magnificent planet!