CHILDREN BORN IN OHIO ARE EDUCATIONALLY DISADVANTAGED AT BIRTH. 
The Ohio Constitution, Article VI, Section II of the Ohio state constitution requires funding for a "thorough and efficient" system of common schools. 
However, Ohio's educational funding does not meet that standard. It doesn't provide for a thorough and efficient school system as defined over the years. What has happened to cause schools to become underfunded?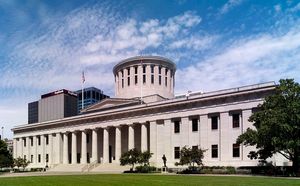 Ohio House Bill 920, 1976 
In 1976, House Bill 920 OH froze property taxes at their 1976 amounts. If a piece of property rose in value with inflation to improvements, the tax levied and given to schools remained at the previous1976 rate. In other states, as property taxes rose, so did school income. 
Ohio property taxes increased with inflation from 24.871 billion dollars in 1975 to 246 billion dollars in 2018, an increase of 222 billion dollars. Schools received none of that increase. The difference went to other sectors and organizations.    
The Ohio Supreme Court

Then, in 1977, the Ohio Supreme Court ruled that the State's system of funding public education based on property taxes was unconstitutional. They found that the State legislature needed to create a more equitable system. (DeRolph v. State of Ohio, 1997).The Ohio Supreme Court affirmed that ruling in 2000 and 2002. (DeRolph v. State of Ohio, 2000) (DeRolph v. State of Ohio, 2002)   
For the last 43 years, Ohio legislators have failed to comply with the judicial mandate and have completely ignored the Ohio Supreme Court ruling. If a private citizen ignored a court ruling they would most certainly face judicial action and be found in contempt of court.
The Ohio Statehouse is pictured to above left. Many politicians using those chambers count on the public's short term memory. Most Ohioans have long forgotten House Bill 920 and it's near demolition of our State educational system. Some Ohioans ask why their property taxes continue to increase while the school funding remains stagnant. They often misplace blame on our school administrators. 
Sorry, folks. The guilty party for this situation is Ohio's past elected legislators. 
Do you want to correct this injustice to our children?  If yes, demand action. 
School Levies
Many communities have tried to make up the difference by asking for much-needed tax levies. Between 2001-2015 there were 5,946 school tax levies in Ohio, more than any other state. School systems in poor communities face an uphill battle to pass levies. 
Additionally, textbooks in 1976 averaged a cost of about $5.00 each. That cost has now passed over $100.00 each. Imagine the other widespread cost increases over the last 43 year period on every line of our school budgets. Ohio schools are 43-years behind school systems in almost every other state. 
I personally returned to Zanesville, Ohio in 1981 after teaching in Minnesota (MN) where 3rd graders in nearby schools were learning how to program computers with 3-6 computers in every elementary classroom. When I returned to my Ohio home town, I found it had no computers in any school or school office. MN special needs students daily received an hour of 1-on-1 counseling and learned how to adapt and overcome their disability. Ohio special needs students, on the other hand, were placed together in classrooms and tutored. 
Personal Experience
My MN middle school science department received $10,000 per year for supplies and equipment for our 700 students. In my last Ohio high school science department, grades 9-12, received about $1,000 per year for 1,200 students. It was barely enough to cover the replacement of broken and consumable items. My MN school had an impressive supply room for almost anything we needed, computers, multiple types of printers, and printer aides to print what we needed. In ten years the science department had received $100,000 for supplies and equipment. In Ohio, we struggled to make do without basic equipment and wrote grants for supplies. The school administrators tried to do their best with Ohio's restricted and limited funding which affected every department. 
The MN schools had far superior food and professional cooks. Over 90% of the students there ate more healthy fresh lunches. Where I taught in Anoka Hennipen, every Friday our school lunches were international fare with different country celebrations each week. Everyone bought those lunches. Meanwhile, Ohio schools struggled to purchase fresh and health food for lunches and relied heavily on free federal food supplies. 
When I taught at Hancock Junior High School in Zanesville, I had to provide most of my room supplies and was limited to a small number of paper reams per semester. I personally paid for and amassed receipts for over $1,000 worth of classroom supplies almost every year I taught in Ohio. 
Thank your State legislators for placing Ohio students at a huge disadvantage and having them suffer from learning without needed equipment other American schools use as standard fare. After graduation, Ohio students have to compete with students from much better-funded schools from across the United States. 
My Ohio students had no idea what they were missing in classroom equipment. I used to borrow old university equipment, wrote grants for supplies and field trips. I tried. I depended on publically funded offices in Washington D.C. for classroom sets of free printed materials. 
Students often reported back to me from college to say they had no idea how badly supplied their high schools were. They found themselves competing with students from other states where legislators valued education and funded their schools adequately. Out of state students were much better prepared to take college classes.
Elected Representatives and Senators
I don't wish to be disrespectful, but why is it that over the last in 43 years not a single Ohio State legislator has addressed this issue? They seem to have bandaid patches here and there but have ignored HB 920. Why have our policy lawmakers ignored the 1977 Ohio Supreme Court ruling on school funding? Is it because they're indifferent? Do they have a lax attitude? Is it that they don't consider our schools and our children important? That they don't want to do the paperwork? Do they not know how to repeal or rescind HB 920? Are they ignoring the situation in hopes it will just go away until they retire? Are they ignorant of d the 1977 Supreme Court ruling? Do they think it will be another 43 years before anyone is held responsible? Do they not realize the condition of the Ohio public schools? Why have no steps been taken to improve education? Are they themselves victims of the Ohio schools that they can't understand the problem?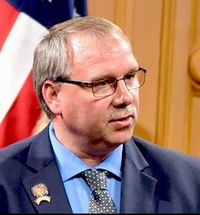 The Education Committees of both the Ohio House and Ohio Senate  have had 43 years to take action.
If you want to inquire about any progress in meeting the Ohio Supreme Court rulings, you may contact the Education Committees or your local representatives. 
Representative Don Jones(R) of the Ohio House Chairs the Primary and Secondary Education Committee. Representative Jones is pictured to the left.
Senator Peggy Lehner, pictured at the left, is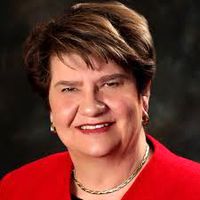 Chair of the Senate Education Committee. 
To leave a telephone message for any Ohio representative or senator, call the Ohio Legislative Information Hotline at 1-800-282-0253. Monday - Friday 8:30 a.m. - 5:00 p.m.
What do industry leaders think about this? Would they consider moving their business to Ohio where schools receive the same amount of funding today as they did 43 years ago? Ohio is 43 years behind the times in funding education. Imagine the lost tax revenue due to COVID-19. Add that to our state's 43 year deficit funding schools? 
Children born in Ohio are educationally disadvantaged at birth

REFERENCES: 
Crampton, F. (1990). Adequacy and stability in Oregon school finance. Journal of Education Finance, 15(3), 351-375. 
Crampton, F., Whitney, T. (1996). Principles of a sound state school finance system. Education Partner Project. Denver, CO: National Conference of State Legislatures. 
DeRolph v. State of Ohio, 78 Ohio St. 3d 193 (1997). 
DeRolph v. State of Ohio, 89 Ohio St.3d 1 (2000). 
DeRolph v. State of Ohio, 97 Ohio St.3d 434 (2002). 
Fleeter, H.B. Dr. Ohio Property Tax Trends 1975-2011. Education Tax Policy Institute. Ohio Resource for Reliable Data & Analysis.  https://www.ohioschoolboards.org/sites/default/files/ETPI-Ohio-Property-Tax-Trends-1975-2011-Final2.pdf 
Geneva, J. History of Ohio School Funding. Lay Finance Committee. 17 May 2016. https://www.chuh.org/HistoryofOhioSchoolFunding.aspx 
Johnson, Justin, Vesely, Randall. Equity & Adequacy in Ohio School Funding. https://files.eric.ed.gov/fulltext/EJ1160836.pdf