The paperback edition of the book, Unraveling the CHRISTMAS STAR Mystery, is now available from Amazon.com. The website address is:  
http://www.amazon.com/Unraveling-Christmas-Star-Mystery-Validation/dp/1477683976/ref=sr_1_2?s=books&ie=UTF8&qid=1347465021&sr=1-2&keywords=Unraveling+the+Christmas+star+mystery
Unraveling The Christmas Star Mystery: Validation of the Holy Bible
Authored by Ms. Irene Baron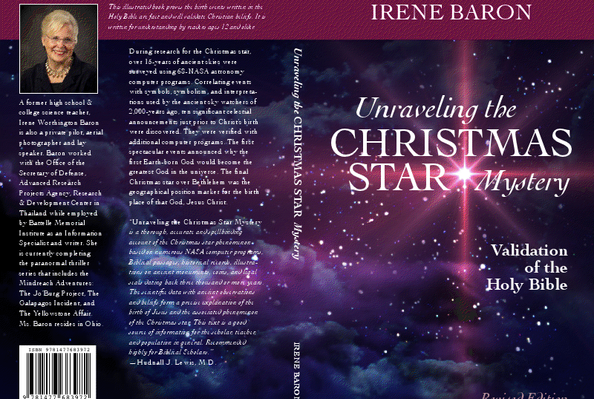 List Price: $12.99
5.5" x 8.5" (13.97 x 21.59 cm)
Black & White on White paper
162 pages
ISBN-13: 978-1477683972
ISBN-10: 1477683976
LCCN: 2012911227
BISAC: Religion / General
The Christmas star has been scientifically proven. During research to locate and prove the Christmas star, 15-years of ancient skies were surveyed using over 69-NASA astronomy computer programs. Correlating events with symbols, symbolism and interpretations used by the ancient sky watchers of 2,000-years ago, ten additional significant celestial birth announcements just prior to Christ's birth were discovered. They were verified with additional computer programs. The first spectacular celestial events announced why the first Earth-born God would become the greatest God in the universe. The final celestial event over Bethlehem was the geographical position marker for the birth place of that God, Jesus Christ.
REVIEW:
Unraveling the CHRISTMAS STAR Mystery is a thorough, accurate and spellbinding account of the Christmas star phenomenon based on numerous NASA computer programs, Biblical passages, historical records, illustrations on ancient monuments, coins, and legal seals dating back three thousand or more years.  The scientific data with ancient observations and beliefs form a precise explanation of the birth of Jesus and the associated phenomenon of the Christmas star.  This text is a good source of information for the scholar, teacher, and population in general. Recommended highly for Biblical Scholars. 
Hudnall J. Lewis, M.CD.