FAMOUS PEOPLE I'VE KNOWN  

by irenebaron.com
I was asked by Terry Ball, the daughter of a very dear friend, to list famous people with whom I had personally met and talked. 
I had to stop and think.  I remembered some and may remember more to later include.  I've listed them alphabetically by their last name. Each famous person appeared humble, sincere, kind and considerate. It would have been wonderful to know every single one of them better.  What blessings I have been given to experience such greatness in my life.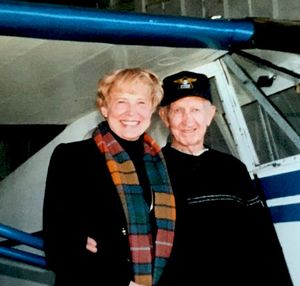 Capt. Ralph L. Charles at age 102 was the oldest living pilot in the world.  Ralph lived near by in Somerset, Ohio, 20 miles SE of my home. With friends, I would go to his home once a month for a concert by a renowned organist playing on a large church organ Ralph rebuilt in his rambling basement. About 150 persons would attend the potluck dinner after the concert. 
When our local Experimental Aircraft Association 425 (EAA) would have meetings at Riverside Airport in Zanesville, I would drive to Ralph's home to pick him up and bring him to Zanesville. He especially enjoyed the annual Hobo Stew Night when all the members during the day would add food to the huge black iron pot hanging from a steel tripod over a fire. During the drive back and forth, Ralph would regale me with stories as a "flyboy" in his youth. After the EAA event, I would drive him back to his home. He was honored throughout the United States, invited as an honored guest to NASA's Johnson Space Center and to other national aviation sites that thrilled and humbled him. He was taught how to fly by as associate of the Wright Brothers and had flight certification signed by one of the Wright Brothers. Ralph loved to fly but was required to have a flight lesson once every six weeks to continue flying. Terry Thompson was the only Ohio instructor who would take the job of working with a 102 year old pilot.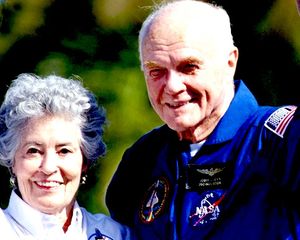 Senator & Mrs. John Glenn were met during political functions in my home town 15 miles from their original residence, now a museum. The Glenn's met with anyone after each meeting who wished to talk with them. They were very gracious and seemed to enjoy knowing everyone they met. 
Senator Glenn was always gracious to sign NASA supplied photographs pf himself for my students. Since he lived nearby, they often had chances to see him and hear him speak at local events. 
John Glenn was the only National Hero I ever met. When President Kennedy named him a National Hero, not wanting to lose him due to Glenn's public acclaim, he secretly demanded of NASA that Glenn not be permitted to go into space again. I understand that Senator Glenn was never told of that formal restriction until later in life. He did go into space later as an elderly adult. When he did, he was cheered by everyone who had known of President Kennedy's restriction to his space flights.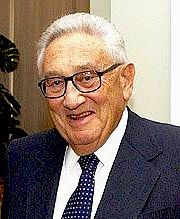 Dr. Henry Kissinger, former Secretary of State and National Security Advisor under President Richard Nixon. He continued as Secretary of State under Nixon's successor Gerald Ford.
My former husband, Jacques Baron, worked with the Minnesota Chamber of Commerce as Membership Director. It was his duty to make arrangements for the annual meeting of all chamber members.  In the past the attendance had been low with little participation.  He wanted to make the meeting as interesting as possible to entice everyone to attend. The State Chambers of Commerce offer so much to businesses, by attending the meeting members would interact, learn the newest information in oral format, and become better acquainted with other business leaders within the state.
As the organizer,  Jacques decided he wanted a speaker who would attract members throughout the state. He hired Henry Kissinger as a keynote speaker. Kissinger's $30.000 charge was paid via ticket price for the event. It ended up being standing room only! Best event the chamber ever had!
It was impressive to see Kissinger's retinue of security personnel and how he handled the crowd after his dynamic presentation. I enjoyed exchanging a few words afterward. He was a powerful genius.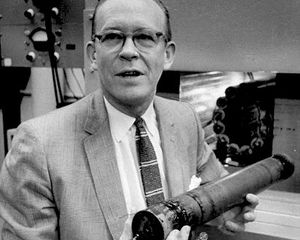 Dr. Willard Frank Libby (Nobel Prize winner) invented radioactive carbon dating. I was in his home in Los Angeles for coffee and discussion for several hours. He met with 7-8 science teachers to explain his work. I had known of the concept but didn't realize Libby was a Nobel Prize winner until later. He told us that the older the object is, the more accurate the radioactive carbon dating.  He said that if an object is under 10,000 years old, the radioactive carbon dating  may not be very accurate. I assume scientists have since tweaked his original equipment to make it more accurate for dating objects of all ages. .  
As a teacher for the Los Angeles Schools, I taught science. Teachers were required to attend a variety of workshops, meetings, and other affairs during the school year. Dr. Libby's home was near mine on the Esplanade of Redondo Beach.  It was easy for me to find his home and attend the informal gathering. I sincerely enjoyed getting to know Dr. Libby. He was a very brilliant and Impressive gentleman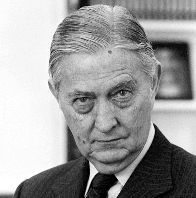 Mr. Graham Anderson Martin was an American diplomat and Ambassador to Thailand when I lived there. We met at the annual cocktail party hosted by the Marine Embassy Security Guards at the Guard's residence.
The occasion was a pre-celebration of the U.S. Marine Corps Birthday Ball that took place a week later. The Ambassador and I discussed many topics while enjoying hors d'oeuvres provided by the casually dressed Marine guards. Due to protocol, no one was allowed to leave the event until the Ambassador departed. Since I worked with the Office of the Secretary of Defense through Battelle Memorial Institute on a Top Secret Mekong River Project, we discussed unclassified subjects about Thailand and the Mekong River for over 30-minutes. That delighted the Marine guards who considered that created a successful event in the American community. 
Mr. & Mrs. Martin's daughter was in the United States and missed by the family.  They said I reminded them of their daughter. He and his wife placed me on an "inclusion" list for invitations to official receptions at their residence which was an honor. That meant I was in the group of persons invited to many functions at their official residence several days or weeks prior to everyone else receiving their invitations. Such a small thing meant a great deal in the Bangkok American and international community.  At all embassy events, official protocols were observed. I was unaware of such a list until later.
The Martins were exceptionally kind and gracious. They were the glue that held the American community together during the stressful times of the Vietnam War.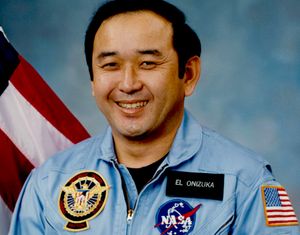 Colonel Ellison Onizuka was an American astronaut. At the NASA Glenn Research Center in Cleveland, Ohio, I was the "Teacher Advisor for a Student Experiment Submitted in the Space Shuttle Student Involvement Project 1984." Mrs. Tami Fitzgerald worked with a student. I took over when she experienced time limitations by helping edit, advise, and accompany the student to NASA. The program was sponsored by the National Science Teachers Association and the National Aeronautics & Space Administration. Astronaut Ellison Onizuka was there to meet and greet us for the whole time we were there. He made everyone feel like a personal friend.
My students and I were shocked at his death in the Challenger explosion. What a loss. He was a true role model for everyone. So pleasant to be around, he made sure students felt comfortable with him. They usually ended up chatting and laughing, enjoying his personality.  We all looked forward to seeing him succeed as an astronaut with many future flights. To know his life was cut short in a needless accident created a depression in many of us.  That flight was televised in schools around the world. The shockwave across the educational spectrum continues to reflect and rebound across the science curriculum. Since then I worry about space flights and how fragile they may be.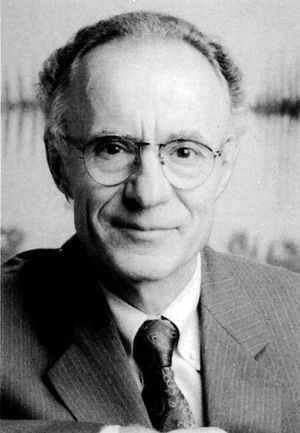 Dr. Arno Penzias (Nobel Prize winner) discovered background radiation of the universe. As a guest of AT&T, I visited/studied for a week at AT&T Laboratories, Inc., R&D Center in New York where he made his discovery and worked. A humble and kind gentleman, he autographed his book for me and spent a few hours with about 20 of us teachers selected as the top technology teacher in their state by their Governor. We toured the equipment he and Robert Wilson used to make their profound discovery. Of his discovery, he said, "The best data we have are exactly what I would have predicted, had I nothing to go on but the five books of Moses, the Psalms, the Bible as a whole." 
When giving the science teachers a tour of the "horn" which collected the background radiation, he stated it was found purely by accident. When they tried to find out from where the radiation was originating, he said they ruled out any Earthbound facility.  All that was left after their investigations was the universe itself. What they were listening to was radiation which originated with the Big Bang.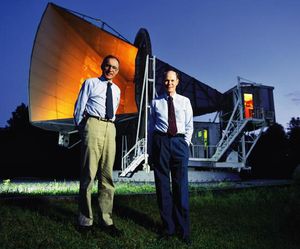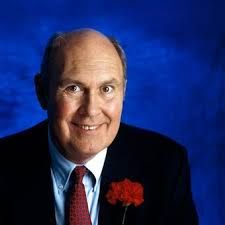 Willard Herman Scott, Jr. became famous an American weather presenter, author, television personality, actor, clown, comedian and radio personality, best known for his TV work on the Today show and as the creator and original portrayer of Ronald McDonald.[1]  I met Willard Scott when he and his film crew arrived in Somerset, Ohio to interview Capt. Ralph Charles for the Today show. At that time, Ralph was the oldest living pilot in the world. Ralph had let the EAA know what was going on at his home that day and invited us pilots down to his farm. It was enjoyable getting to know Scott and his team. He had a ready laugh and appreciated everyone. Very personable with perfect manners and a ready smile, it was interesting to see how he lined up Ralph with him for the video segments. The two men enjoyed bantering back and forth finding much to talk about.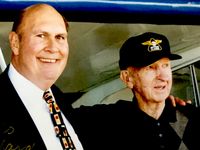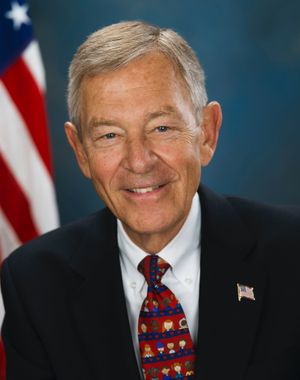 Senator George Voinovich, was Governor of Ohio and later an Ohio Senator in Washington, D.C. He honored me as the Governor's Fellow as Ohio's Outstanding Technology Teacher of the year. We met during a photo op, shook hands and briefly talked. Definitely a politician.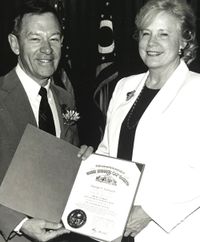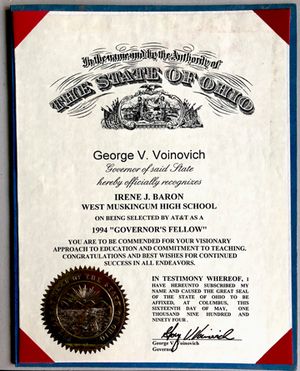 My daughter, Dominique Michelle Baron,  has also met and talked with famous people, including Nelson Mandela while she was on official business in Johannesburg, South Africa. She also met Paul David Hewson, known as Bono of the rock band U2, while on official business. I'll write those stories soon. 
******************************************************************************************
I am no poet. However, just for fun, I wrote a few lines about Ralph Charles and his FAA required flight instructor, Terry Thompson. Terry, who was also one of my flight instructors, became news when the release and death of his animals created an international uproar. Ralph was not allowed to pilot an airplane, according the the FAA, unless he had a test/instruction flight every 6-weeks with an FAA certified flight instructor. Terry Thompson was the only Ohio pilot who agreed to fly with a 102 year old pilot, the oldest active pilot in the world. Terry said Ralph taxied faster than anyone he knew and handled his airplane like the pro he was.
RALPH CHARLES & TERRY THOMPSON 
by Irene Baron 2001 
Ralph Charles 
At 102 flying, 
Terry keeps him there. 
Gives him wings to leave this earth 
And the confidence to soar. 
Thanks, Terry and 
Instructors all 
Who infuses skill and knowledge 
Of the flying craft - 
Knowledge of the avocation. 
Givers of spirit, 
Givers of laughter, 
Love of flight they offer. 
Why fly with Terry? It's fun. 
The exhilaration of it all! 
To fly with one born to be 
Behind the yoke and free, 
Who feels the plane from every pore 
An extension of his soul. 
Watch him excel. He loves it. 
He adores the sport. 
A life without flight - 
Is not conceivable. 
What fly boys – spirits soar. 
Watch Terry fly & you, flyboy.