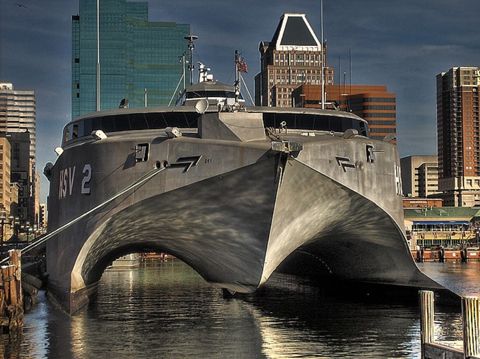 The HSV-2 Swift is the phenomenal U.S. Navy logistics ship that is being used to bring aid to the main characters in my second volume of the mindreacher trilogy, The Galapagos Incident. HSV stands for "High Speed Vessel." Note the central hull does not touch the water and therefore is not used for buoyancy. The minimum crew size is 35 as everything is run by computers. 
This ship is a hybrid catamaran as you can see in the picture.  About 320-feet long with an 11.15-foot draft, it can maneuver in 12-feet of water!  It will fly across the water at 52-mph but usually operates at 35-mph. It holds 615 tons and has also been used for humanitarian missions.  The armament is only .50 caliber M2 Browning machine gun mounts. It has a modular design which will allow it to be refit for specialized missions. 
The Swift does not have propellors or a rudder.  Instead, the propulsion is by directional water jets. The design and utility of this ship is being used to create a new class of combat ships.  I've completed a lot of research on this ship and would love to tour her.  She looks awesome to me!  Check her out on the Internet. 
The Galapagos Incident - A Paranormal Thriller takes place  in the Pacific Ocean 600-miles west of Ecuador.