I have always been amazed at the international publicity my national award winning photograph of 2004 has received. A section of the photograph makes up the banner on each of my web pages. This week the local newspaper published an article about the latest accolade.  Thanks to all those involved. Here's the press release.
Positive impact: Senior volunteer painter creates large wall murals
 5:51 AM, Sep 10, 2012 |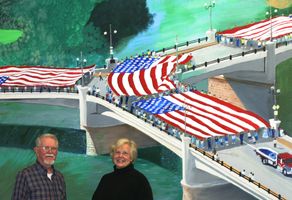 Positive Impact: Senior Center volunteer painter: Denver Barr and Bill Duff paint and draw murals of recognizable Zanesville pictures on a wall at the Senior Center. 
Written by Holly Richards Staff Writer  
Denver Barr, Bill Duff and other helpers painted a mural of the iconic National Flag photograph at the Muskingum County Center for Seniors. Barr did a majority of the mural and Duff worked on the vehicle and people. 
 The Times Recorder is profiling local people who make a difference in their communities through volunteer work. These features appear each Monday. The articles highlight people in Muskingum, Perry and Morgan counties who participate in volunteer efforts that are not part of their jobs. To submit suggestions for outstanding volunteers, email trnews@zanesvilletimes recorder.com.
 ZANESVILLE -- Denver Barr doesn't consider himself an artist, but with time, patience and attention to detail, he is working on turning a blank wall into a work of art. "I'm not creating the picture, I'm just painting the picture," he said. "We projected the picture on the wall, and it's like a paint by numbers, but without the numbers." Barr normally is at the Muskingum County Center for Seniors every day to participate in activities, lend a helping hand where needed, or work on his latest project. Over the past several months, Barr has volunteered most of his time meticulously working on a large-scale painting of a famous local photo.
The original photo, by Irene Baron, is an aerial view of massive American flags being carried on the Y Bridge during the Ohio Bicentennial Celebration in September 2003 in Zanesville. The photo is a national award winner and has become recognizable by its use on the Muskingum County Community Foundation's website and a cover of a Zanesville-Muskingum County Visitors Guide.
 "That's where I got the idea," Barr said. "I wanted the paintings to be something everyone can relate to. Eventually, I would like to have pictures all down the wall. My other ideas are three views from the Y Bridge." Barr's talent recently was discovered when he tried his hand at painting again for the first time in many years. "I have not done any painting or art since high school," he said. "Terry (Dunn, senior center executive director) goes to my church, Grace United Methodist Church. During a three- to four-year period, I painted murals in downstairs classrooms. He liked the idea. I know for a long time they've wanted to paint here. "I started this probably two years ago with a picture of the Lorena by Joe Clark," he said. "Then I started this one (of the Y Bridge) around wintertime. I've been at it for a few months, and we're almost done. We need to put the rest of the people in."
  Barr said he participates in regular art classes at the senior center and has learned by watching painter Bob Ross on his PBS show "The Joy of Painting." "His techniques work," he said. "I play around with those. I enjoy painting scenery." Barr said it's been tedious work to draw the people carrying the flags along the bridge, but he's enlisted the help of fellow artist Bill Duff. "I just started here about a month and a half ago," Duff said. "He (Barr) asked me to help. I did all the people and the truck. I trace them with colored pencil and he paints them. I told him I will help as long as I'm needed. I enjoy it." The men refer to zoomed-in sections of Baron's photo to get as much detail as they can into the 10-foot-by-7-foot mural near the rear left of the building's interior. Dunn said it's been an interesting process watching Barr transform the once empty wall into a colorful canvas.
  "I think it's great," he said. "I saw Denver's work before. It was a slow start, but it's been great to watch it come together. Every day he gets a few more people (in the painting). It's great to have him here working on it. I appreciate the time and effort he's putting into it. I wish everyone could take a close look at it and realize the hours he's putting in." Barr and Duff's work usually catches the eye of a few passers-by as they work each day. "A lot of people come by (to watch), and most all people say it's pretty," Barr said. "I think it's more interesting. People appreciate it. "And it gives me a purpose," he said. "I get up in the morning, I've got some place I'm going to go and going to do something. When I'm here, if I see something I can do, I do it. I help with donations and in the gift shop. I'm normally here every day, but this is only really the one thing I take credit for (with) volunteer time."
See the original article at:hrichards@zanesvilletimes recorder.com; 740-450-6772;
Twitter: @hmrtr <
http://www.zanesvilletimesrecorder.com/article/20120910/NEWS01/209100303/Positive-impact-Senior-volunteer-painter-creates-large-wall-murals