OLDEST-PILOT-RALPH-CHARLES   Ralph Charles 1899-2003
INFORMATION AND POEM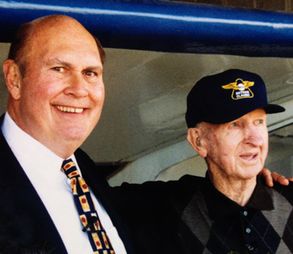 Ralph Charles, a friend of mine, was born 4-years before the Wright brothers flew their airplane at Kitty Hawk. I met Ralph at flying events when he was 101-years old. At that time he was considered to be the oldest active pilot in the world.

Ralph Charles grew up dreaming about flying and finally built his own airplane in 1922. He was proud that his first flight lessons were with pilots trained by the Wright brothers. Ralph became flight proficient while working as an airplane mechanic in Dayton, Ohio. He loved to fly. His wife, however, did not want him to fly during their marriage and asked him to stop. He honored her wishes. His promise to not fly ended at her death in 1995.
With much anticipation, Ralph applied to the FAA for renewal of his flight certification. His original airman's certification number was no longer available. It had been given to someone else. None of us local pilots even knew that the numbers were passed on to others. Because of Ralph's age, they told him the new number they assigned to him was a temporary number. 
After his flight exam, the Aviation Medical Examiner (AME) stated he was healthy and able to return to aviation as a pilot. When presented with this information, the FAA authorities hesitated in giving him permission to fly. Worried about his age, they informed Ralph he had to take a Flight Examination every 9-weeks. Take into consideration that other pilots have to pass only one flight physical examination at the end of their training and prior to obtaining their flight certification. It was difficult for Ralph to find a flight examiner. I personally think most were afraid to fly with him. They would have nothing to do with the elderly gentleman.  
Disappointed, Ralph spread the word he needed someone to give him a flight examination every 9-weeks. Only one flight instructor in the region responded and agreed to give Ralph Charles his continual 9-week practical flight examination. That instructor was Terry Thompson. Terry was one of our local, magnificent young men in a flying machine. A Zanesville, Ohio resident. Terry was reputed to have more flight ratings than any other pilot in the state of Ohio.
To fly any airplane, a person had to earn a rating for that airplane. The rating is earned through lessons using that airplane and examination by the flight instructor. I learned how to fly and earned my first rating using the 'Piper Cherokee P-28 140 Cruiser' owned by Joe McClelland. After flying a Piper Cherokee for several years, with additional training I received the rating to fly the complex engine Piper Arrow. The Arrow is an airplane that has retractable wheels and has higher cruising speed than the Cherokee.
Terry Thompson would fly one of his many airplanes to the Charles farm and land on the private, grass airstrip which consisted of the two ends on hill tops and a steep valley in between. Bush pilots of Ohio visiting Ralph would usually land at the top of the western hill, roll down and up the second hill to the east and use gravity to come to a stop on the short runway beside his home. It was one of the few runways in the state where if you were could taxi backwards. A heavy aircraft should not try to use the grass runways in the Appalachian foothills of southern Ohio.
Terry, who was also one of my flight instructors, told me what happened during a flight exam with Ralph at one of the larger, local private airports. Those airports included the Zanesville airport, PARR and Riverside since Ralph was used to landing on grass. Terry told me that when he first taxied with Ralph, the elderly airman moved down the taxi way at about 40-miles per hour. When asked why he was moving so fast, Ralph told him he had always taxied that fast. He added that since he was so old, he thought he better go as fast as he could to get in as much flying as possible before he died. After his laughing calmed, Terry told Ralph to slow down to the speed of a fast walk, the currently recognized safe taxiing speed.  
I had arranged one morning to fly back seat in a split-wing Bonanza with aircraft owner and pilot Art Moose. Sitting right seat was pilot Joe McClelland.  Art is rated in many airplanes, including a NAVY S-2 Tracker that was restored in Lancaster, Ohio by the Historical Aircraft Society and owner at that time, Dave Alton.  Many southeastern Ohio pilots would fly to the Fairfield County Airport to volunteer for the Historical Aircraft Society because they were so active in their restorations.
This particular day was sunny and beautiful. We flew around Buckeye Lake and moseyed around SE Ohio. Art practiced slow turns on a wing. That meant the wing tips were alternately closest to the ground and were pivot points as the airplane rotated around them, one at a time. We flew over the home of Ralph Charles who was already a legend to aviation buffs at the oldest pilot in the world! Ralph was mowing his airstrip on his tractor with a brush hog. He waved as we flew over. Art circled around to come in for a low fly-by at full throttle. Ralph stopped the tractor, stood up and waved with both arms as we went by with one quick rock of the wings to say, "Hello." Ralph most likely recognized the burnished, metal finish of the Bonanza as belonging to Art. Art usually flew with his wife, Dr. Vicki Whitacre Moose, M. D., a 3rd generation medical doctor. Flying constantly or spending time working in their hangers, local pilots recognized almost every low-altitude airplane that flew over.  We'd hear an airplane, look up, and know who was PIC, Pilot In Command.
I met Ralph Charles through the Experimental Aircraft Association 425 (EAA) in Zanesville, Ohio. He wanted to attend meetings but didn't drive. I would volunteer to pick him up from his home near Somerset, Ohio for EAA  meetings and later return him to his doorstep. Ralph was spry and enjoyed socializing with other pilots, especially during potlucks when refreshments were available. We enjoyed hearing stories about his flying lessons given by one of the Wright brothers trained pilots. Many Zanesville residents enjoy hearing about the Wright brothers for they have many distant relatives in our town, including myself.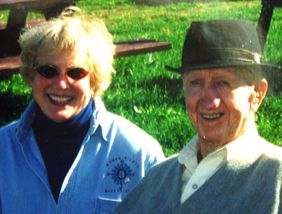 Ralph stated when he started flying as a boy that there were few airports. He usually followed roads to get where he was going. He tried to ensure he landed during daylight or feared having a crash landing. He related that he once tried to land in a field near a gas station in Indiana so he wouldn't have to walk very far to refill his gas tank. It was after twilight when night had settled. Low on fuel he had to land in what he hoped was a cornfield. He couldn't see the ground or which way the corn was planted. He said it a miracle that when he landed that his path was parallel to the corn rows.  He added in a soft voice, "If I'd landed crosswise to the rows of corn I wouldn't be here to talk about it."
Ralph regaled everyone about his barnstorming days when he would take passengers up in his airplane to raise money. He said he would fly up and down and all around a town to get everyone outside to look at one of the "newfangled airplanes." Then he would land in a nearby pasture and wait for them to arrive with coins in their pockets. He would give rides until the Sun set to earn money for food and fuel and sometimes the next morning too.
After he was married, one of the placed he and Leona lived was Zanesville, Ohio where he operated Wheeler Field, sold airplanes he built and gave flying lessons. Rides in his airplane at that time were $3 per person.
As a pilot, he met Charles Lindbergh and flew First Lady Eleanor Roosevelt. He had many jobs including being a pilot for foreign airlines. Eventually he returned to Ohio and bought a two-seat Aeronca Defender. It w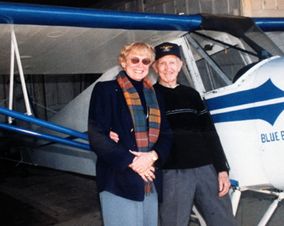 as in this type of airplane that he took his continual 9-week check rides. He named the airplane Blue Boy II. Not allowed to take passengers did not defeat him. Nor did the restriction to stay within 25-miles of his home while flying. He enjoyed being in the air no matter where he was. "I'm not allowed to take passengers and I can only fly 25 miles away from home," he said on his 100th birthday in 1999. "But I don't give a hoot. I just enjoy flying."
At home, Ralph's hobby was restoring old church organs. Although he played the organ, when one would be restored, he would ask a regional or famous concert organist to give a recital. Everyone in the community was invited to a large pot luck dinner and organ recital. People drove from all over while bush pilots flew in for such events
The picture at the upper left is Willard Scott with Ralph Charles beside his airplane in the open air hanger/barn on the Charles property during one of the concert events. He arrived to help create one of the TODAY SHOW segments about the oldest pilot on earth.  Willard Herman Scott, Jr. is an American weather presenter, author, television personality and occasional actor, best known for his TV work on the Today show and as the creator and original portrayer of Ronald McDonald.
Pilots supported Ralph Charles and enjoyed being with him. He was honored by numerous pilot organizations world wide as the oldest, flying pilot in the world. He was also hosted by NASA to tour the JPL facility and escorted to Shuttle launches. Anyone who knew Ralph Charles usually has a story to tell of when they were together. All the stories are good, if not rollicking in humor.
I know I'm not good at writing poems. However, I tried writing some verses. One  was about Ralph Charles and Terry Thompson, two highly respected pilots in the aviation industry. 
:
---
RALPH CHARLES & TERRY THOMPSON
By Irene Baron    www.irenebaron.com
Ralph Charles at age 102 flies.
Terry keeps him there,
Giving confidence to leave this earth
And wings to enter air.
 
Thanks Terry and Instructors all
Infusing knowledge and skill,
Enough of aviation craft
To land on Ralph's mowed hill.
 
Why fly with Terry?
Giver of laughter and flight
With exhilaration of it all,
He teaches precision day & night.
 
To fly with one born to be
Behind the yoke and free,
He feels his spirit soar,
Flight pad on his knee.
 
Life without flight for those two
Would be a sad existence.
True fly boys, they adore the sport,
Always going the distance!
 
Rest in Peace
---
Read more about:
Flight Examiners: http://fsims.faa.gov/wdocs/orders/8900_2.htm
Airmen Certification: https://www.faa.gov/licenses_certificates/airmen_certification/
Piper Cherokee: http://www.risingup.com/planespecs/info/airplane438.shtml
Piper Arrow: http://www.risingup.com/planespecs/info/airplane423.shtml
Aeronca Defender:  http://www.pilotfriend.com/aircraft%20performance/aeronca/aeronca.htm
Lost Angeles Times, Obituary Ralph Charles: http://articles.latimes.com/2003/feb/08/local/me-charles8