MICROSCOPIC PLASTICS IN YOUR WATER
www.irenebaron.com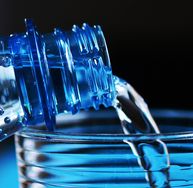 Orb Media is a nonprofit journalism organization based in Washington, D.C.
I recently read a report from Orb Media that discusses bottled water tests they contracted at the State University of New York in Fredonia, New York. During those tests, microscopic pieces of plastic were found in commercially prepared bottled water.  https://orbmedia.org/stories/plus-plastic 
The test results show a single bottle of water can hold dozens or thousands of microscopic plastic particles. The university tested more than 250-bottles of water from 11-brands. Plastic particles found included polypropylene, nylon and polyethylene terephthalate (PET).  Plastic compounds were confirmed through infrared technology. Researchers at the university stated there were additional smaller particles within the water samples that are most likely plastic but were not included in the larger test sizes. The average number of particles larger than the width of a human hair per liter of water was ten. 
If you drink commercially prepared bottled water, you should be concerned about the microscopic pieces of plastic you consume. The pieces are so small, they will move through your intestinal system and find their way into the rest of your body. You will, perhaps, eventually find them in your organs, brain and blood. Guess what damage they can do?
 I prepared a basic chart of the university results to the left. Do you drink the water bottled by any of these brands? If so, you may want to reconsider your options.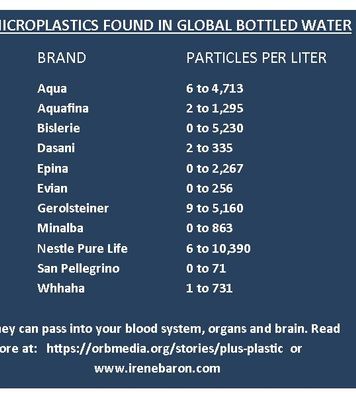 It was reported by BBC that companies state their bottling plants were operated to the highest standards. http://www.bbc.com/news/science-environment-43388870
 Read the full PDF scientific report at: /news.bbc.co.uk/2/shared/bsp/hi/pdfs/14_03_13_finalbottled.pdf

WOULD YOU LIKE TO OWN A SIMPLE WAY TO REMOVE PARTICULATES OF PLASTIC WITH ONE PASS THROUGH A FILTER?
The last blog I wrote for my website introduced a material created by CSIRO scientists of Australia. Using a form of Graphene, Graphair, they created an inexpensive water filter of previously unknown capabilities. This filter can replace complex purification systems with a single step. In the future, with mass production, you will see inexpensive applications of water filtration systems. It will filter out 99% of all contaminates, including the salt molecules in sea water, with one pass through the filter. Read that blog at: https://irenebaron.com/irene-baron-blog/blog/clean-water-worldwide
Let us hope this new invention using the Graphair filter will be mass-produced ASAP!
NOTE: My community of Zanesville, Ohio had the highest, nationally reported cancer rate in the United States at one time. I hypothesized at the time that impure water was the cancer cause. In the 1990s when I taught Earth Science at the high school level, I copied maps and papers from the U.S. Government which showed 146-leaking, underground gasoline tanks in my county. That was an eye-opener. Ever since I have been cautious about drinking water wherever I am. I try to never drink any of the brands of water discussed in this blog. I usually drink steam-distilled water and brought my child up on distilled water. I have a 3-gallon, refillable container with a spigot in my kitchen for our water use. I can buy gallons of distilled water at grocery stores for under a dollar a gallon.
Imagine how much plastic will be in a child's blood and body systems by the time they become a teenager!
What can YOU do about it? Think "distilled water" or use a Graphair filter once they are manufactured.