PLUTO-INTERNAL-HEAT 
Irene Baron: www.irenebaron.com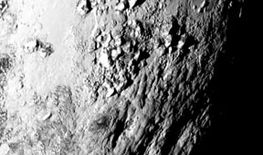 Pluto and Charon have few craters yet visible. The interpretation may be that Pluto and Charon have more recent surface changes which have obliterated craters created by space objects. The question is, how did that happen?
Over the billions of years since the beginning of their existence, planetary geologists have hypothesized the planets had either cooled in space or are in the process of cooling.  That assumption is based upon what about 50% of Earth geologists believe when using Earth as a model. They believe planets were molten at one time and have been in the process of cooling from the outside to the center. Because they are spherical tells us they were molten before they formed into spheres.
Due to their sizes and distance from the Sun, one would expect their cooling to have taken place more rapidly and that their surface was more stable. That is NOT the case. If Pluto and Charon were more stable and not geologically active, the presence of craters would be visible. So, what is creating this heat? Why haven't these outer space objects cool more quickly? I think many observers expected them to be more like our Moon with many craters and more solid core.
Earth's Moon, according to data received from seismographs left on the surface by astronauts, has been seismically active. The seismographs recorded continual activity between 1969 to 1977. Granted, some of the seismicity may have been created by impacts of objects striking the Moon.
 On the NASA website http://www.nasa.gov/connect/chat/moon_core_chat.html we find: "The team's findings suggest the moon possesses a solid, iron-rich inner core with a radius of nearly 150 miles and a fluid, primarily liquid-iron outer core with a radius of roughly 205 miles. Where it differs from Earth is a partially molten boundary layer around the core estimated to have a radius of nearly 300 miles. The research indicates the core contains a small percentage of light elements such as sulfur, echoing new seismology research on Earth that suggests the presence of light elements - such as sulfur and oxygen - in a layer around our own core."
This tells us the Moon contains molten material but, according to Renee Weber, not enough for internal convection to take place as it does within the Earth's mantle
Just how hot is our Moon internally? Suggestions as to the internal lunar temperatures from http://www.infoplease.com/encyclopedia/science/moon-physical-characteristics.html tell us: "The internal temperature decreases from 830°C (1,530°F) at the center to 170°C (340°F) near the surface. The heat traveling outward near the lunar surface is about half that of the earth but still twice that predicted by current theory." This last statement, that the heat traveling outward near the lunar surface is TWICE THAT PREDICTED BY CURRENT THEORY makes one wonder how the theories went wrong.
It appears that Pluto and Charon, as evidenced by their surfaces, are also experiencing internal heat in greater quantities than expected. If the surfaces of these two objects are changing due to geologic phenomenon, they have to be internally hot. Or are they heating up?
 Could there be a double process going on here? Could the bodies be cooling from the original molten state and yet have radioactivity and heat increasing, thereby contradicting the cooling? The increase in radioactivity or radioactive decay would cause more heat. It may be to the point in their evolution that more heat is being generated by their growing internal radioactivity than that existing heat which now remains after the space objects have  naturally cooled from the molten state over the past billions of years. Kind of a complex sentence, but you can see where I am going with this.
Or, what other cause may there be that has not been suggested?
There has been much argument over the last several decades as to the cause of temperature within Earth.. Years ago when listening to debates in geology classes about the Earth's internal temperature and what was happening, our class was told that 50% of the geologists believed the Earth was heating up while the other 50% believed the Earth was cooling down. Planetary geologists and physicists will have to revisit their theories on whether the planetary bodies are cooling down or heating up and why. What mechanisms may be taking place that would keep Pluto and Sharon seismically active which we have not examined? Perhaps we need to think outside the box of past theories.
According to the article from Physics World of http://physicsworld.com/cws/article/news/2011/jul/19/radioactive-decay-accounts-for-half-of-earths-heat , "About 50% of the heat given off by the Earth is generated by the radioactive decay of elements such as uranium and thorium, and their decay products. That is the conclusion of an international team of physicists that has used the KamLAND detector in Japan to measure the flux of antineutrinos emanating from deep within the Earth. The result, which agrees with previous calculations of the radioactive heating, should help physicists to improve models of how heat is generated in the Earth. Geophysicists believe that heat flows from Earth's interior into space at a rate of about 44 × 1012 W (TW). What is not clear, however, is how much of this heat is primordial – left over from the formation of the Earth – and how much is generated by radioactive decay."
Pluto and Sharon have opened a mass of questions. The answers, which will be applicable to all space bodies, will let us rethink what has been happening.
HEAT! Why are Pluto and Sharon not cold/colder internally? What is the origin of all that heat?
If the statement "The heat traveling outward near the lunar surface is about half that of the earth but still twice that predicted by current theory" was made many years ago, has anyone completed a hypothesis as to the cause? Perhaps the explanation will be the same for our Moon, Pluto and Sharon. And what other Solar System objects?
During this next year, as data from the NASA spacecraft New Horizon is analyzed, answers about the internal heat of space objects may begin to emerge. Jim, a member of the Zanesville Astronomy Club which I founded, sent this message: "Could Pluto (or any planet) be creating heat due to magnetic/electromagnetic properties in conjunction to the content of the planet's core? Electrical induction can cause heating, why not at a planetary scale? This finding really dispels the question I heard Tom Burns speak of some 15 years ago...Is Pluto a dirty ice-ball or an icy dirt-ball. Neither!?!?" That question may still be relevant!  :-)
The author asks, could the "heart" have been caused by the heat of a double impact? Could that partially explain the internal heat and resulting seismic activities? It would be interesting to take drill samples from selected areas around Pluto.
How exciting to be living at such a time in history where such space exploration has taken place. Beginning with Sputnik in 1957, look how much we have learned!
I thank the NASA administration for approving the various space probes and providing the scientists who carried out the probe creations. We are truly living in an "information age."
My wish? That NASA could put an object in orbit around Pluto to continually give us data on surface features and changes.