PUFF PASTRY PIZZA
 by Irene Baron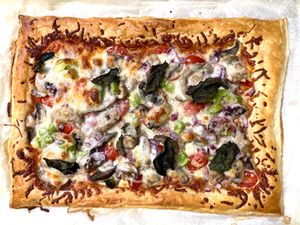 Serves 2-4   Preheat oven to 415 degrees Fahrenheit.
Cooks in 15 minutes. 
Add left over condiments to lettuce for a side salad if you wish. 
TEENAGERS LOVE TO MAKE THIS.
My daughter, Dominique, taught me how to make this simple recipe.  It was so delicious, I have made it often since. The easiest puff pastry is NOT frozen.  I buy mine in Walmart in the same section where you buy crescent rolls, pizza dough, etc. Keep a few packages in the fridge to use often. Puff pastry recipes are found everywhere with the resulting food item looking like took hours to make, when in reality, it is only minutes. 
You will make variations of this often. It is so easy.
INGREDIENTS with which to experiment. Make it different each time. 
1 sheet of puff pastry 
Olive oil or vegetable oil for brushing on to the dough
1-1/2 cup mozzarella cheese, (or cheese of your choice) grated or shredded
Condiments of your choice (what's on hand?) Use as much as you desire. Suggestions include: 
            8-10 whole or halved cherry tomatoes 
            8 oz canned mushrooms 
            1 cup or more of shredded Cheddar cheese 
Meat (choose 1 or more)
            Dry salami (I cut mine into smaller  pieces) 
            Pepperoni 
            Ham, hot dogs etc. cut to the size your want 
            Cooked shredded/canned/grilled chicken cut into smaller pieces 
Vegetables cut up, choose one or more - 
           Broccoli, onion, spinach, larger tomato slices if small tomatoes not available 
Chives, basil cut up or 10-leaves, parsley 
Goat cheese 1-2 TB optional 
Salt & pepper to taste 
 DIRECTIONS 
Cover the cooking area of a large cookie/baking pan with parchment paper ($1 at Dollar Tree) or a baking mat. 

Unroll the pizza carefully and place pastry sheet on the parchment paper. Adjust as desired. 

Sprinkle some oil into the center of the pastry. With a pastry brush or clean fingers or back of a spoon, spread the oil evenly on the sheet leaving a ½ inch border at the edge.  Let no oil go on the outer edges of what will be the pizza crust. The oil will stop the center of the puff pastry from rising. 

Evenly sprinkle 1/2 Cup mozzarella cheese on the oil. Leave dry edges of the pastry empty. 

Add your condiments. If you use spinach or basil, use them last after the final cheese covering OR after it is cooked. 

Add the cheddar or other type of cheese to cover the condiments.  

Place the pan in the oven and bake 15 minutes. Check in 12-13 minutes to ensure the crust is not burning. You want it a golden brown. 

Remove from oven. If the puff pastry air bubbles rise in the center, stick it gently with a knife in the air puff and it will collapse to become flat. 

Sprinkle goat cheese over the surface to melt a little if you wish. 

Slice & serve. 

Add left over condiments to lettuce for a side salad.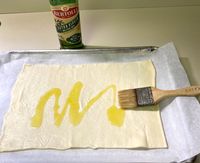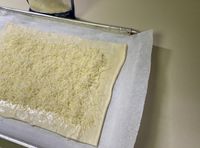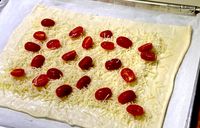 Oil spread to within   1/2 C cheese to         Cherry tomatoes
1/2" from edges         1/2" from edge          cut in half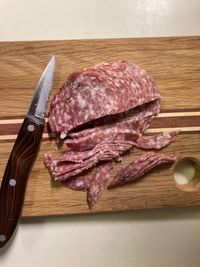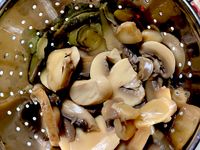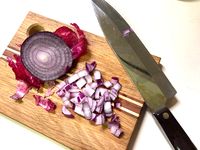 Mushrooms              Red onion
 Dry Salami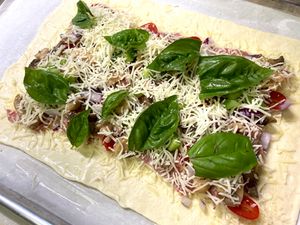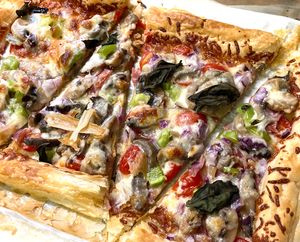 Basil from the garden on top                            Cut it anyway you wish. Be innovative! 
Please let me know how you like the pizza.