ALL LINKS FOR MY ART WORK HAVE BEEN REMOVED AT THIS TIME TO OPTIMIZE THE SITE FOR WRITING BOOKS. CONTACT ME IF YOU WANT TO LEARN MORE.
PHONE: 740-487-3002
EMAIL:  irenebaron@irenebaron.com using as subject "art info"
URL:  www.irenebaron.com
Many people over the years who have asked about placing my original or reproduced art on the Internet for sale.  I decided to do that on this site, beginning with the Circus Clown Alphabet. The India ink freehand prints are for sale at the 10" X 12" size using a PayPal account.
If you click on the individual images they will be enlarged for you. Please note: the images do not include the empty space of the borders.
CIRCUS CLOWN ART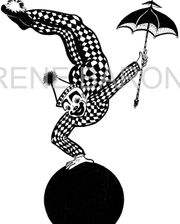 This set of drawings was completed in black India Ink as original hand drawings. No computers or computer graphics were used to create the images. They were primarily created with Speedball ink pens using permanent India ink. Circus clown prints are now available in the 10" X 12" size.  To purchase your prints, click on this site:  http://www.irenebaron.com/circus_clown_art
You may see more at: http://www.irenebaron.com/the_art_baron__irene_baron/
 ANGEL ALPHABET ICON  ART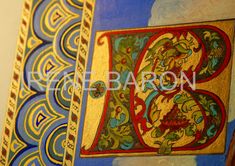 I am still constructing the site for the Angel Icon Alphabet set of paintings. As they are professionally photographed by a local studio, they will be added to the site. In the meantime, I will add snapshots taken in my studio. There will be 27-total when finished. They are in many different states of completion. The actual letters are finished for each painting and has been painted within the individual designs. To the left is the one for Balaam.
The composition of each painting also took much consideration. I used artistic license to base the total picture incorporating my creativity and historical methods of design. There is not one area of historical icons available to the public, to my knowledge, which I have not researched in determining how best to incorporate the historic techniques of over 4000-years of art. I used ancient Babylonian, Roman, and other mosaics for ideas on ancient dress of individuals of different time periods. I did that as most mosaics were created for homes or buildings using modes of dress worn during their construction. I could not count on later artists to be correct as to style and type of dress. Who knows where they obtained their information?  Therefore I had to use my best artistic judgment.
Some of the intriguing aspects were to study the designs of jewelry used in ancient history. It has been interesting to see the Biblical archeology texts and artifacts dug up from ancient sites.  One of the hardest studies was of the Ephod, exactly how it was constructed, and how the jewels representing each tribe were imbedded within it.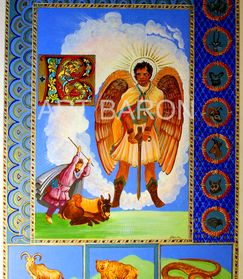 As to what angels wear, I have been extravagant. I guess I have been influenced by historical artists. For example, to the left is a snapshot of the work I titled "Balaam." I had a personal experience during my teenage years with an angel who was very tall. I therefore don't worry about the size, for there are instances in the Bible where they also appear human size.  
I love to paint and be creative, not thinking about the time involved in the work. One art teacher, after viewing the alphabet letters, commented, "Bet these took a lot of time. How long have you been working on them?" I had to answer, "Over a year," not having thought about it before. But it was worth it. I'm including one of the alphabet letters for you to see, the "B." They rest on a metallic gold background which is difficult to render in a photograph.  I am having the finished paintings professionally photographed so that prints can be made available for sale on my web site for interested persons. I'm sure many people will want one of each for their collection.
The actual letters of the alphabet were not my original design. I was given access to a black and white royalty-free design which sparked my interest. I thought that design would easily be incorporated into my work. I'm glad to have used that design. I decided to make it intricate, colorful, and used much metallic gold. The metallic gold was created by mixing gold powder into the paint (made from gold or bronze) or with gold leaf obtained from a chemical supply company. 
Each painting is totally different from the others. There are no two similar in any way except for the overall size and the style of the alphabet letters. They were created on 400-pound, hot-press, illustration board obtained from the Dick Blick company. Since the icons I studied during my research were so different in their technique and style, I didn't feel I had to keep my art using any strict method or style. For example, the Balaam painting incorporated many animals mentioned in the Bible which had names beginning with "B." Other paintings do not have the animals.
Before I could begin each painting, I had many steps to address. They included:
A.  What process and materials would be used to create the paintings.
B.  Research to determine which angels would be used in the book
C.  Check my facts to be used in the painting by comparing different Bible publications
D.  Determine the basic icon design
E.  Paint the alphabet letter (acrylic, watercolor, ink, gold leaf, powdered gold)
F.  Complete the composition of each
G.  Paint!  :-) 
Setting up PayPal was easy with their technical support team efficiently answering any questions I had. My web-hosting company, Hostbaby, has always been easy to connect with and their teams have been anxious to help me answer my web site construction questions. At times they have had to walk me through processes.  When I first started with HostBaby I had a vertical learning curve, but have greatly improved.