WATER FILTER PERFECTION WITH CSIRO
AUSTRALIA'S QUEST FOR WORLDWIDE CLEAN WATER    
by Irene Baron      www.irenebaron.com     https://irenebaron.com/irene-baron-blog/blog/water-filter-perfection-with-csiro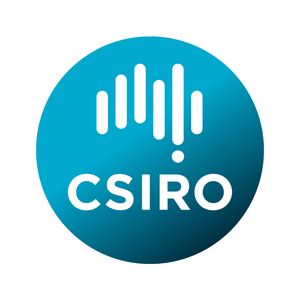 The CSIRO logo to the left, is a copyrighted and registered trademark. It represents the abbreviation for the Commonwealth Scientific & Industrial Research Organization.
CSIRO is an Australian government agency engaging in scientific research to improve the economic and social performances of the industry for the benefit of the community.  Headquartered in Canberra, Australia, CSIRO works with leading research organizations around the globe.

They have been previously recognized for their invention of atomic absorption spectroscopy, essential components of Wi-Fi technology, the insect repellent Aerogard, and the first commercially successful polymer banknote. The image of the copyrighted SIRO logo is seen to the left.  © Copyright CSIRO Australia.

CSIRO is searching for industry partners to scale up production and trial the technology overseas.
If you are or your company is interested in partnering with CSIRO please get in touch with them.

The following information will help CSIRO assess your interest: They will want to know:

1. Background to your organization and the nature of your interest as a partner e.g. technical/investment/both. 
2. Your organization's experience in developing and bringing technology to the market in this space. We would love to hear about your case studies.
3. If appropriate: Use cases that you have in mind for graphene and membrane filtration.

CONTACT:
Marcel Bick PhD, GDM (AGSM) GAICD
Business Manager, CSIRO Manufacturing 
Email: marcel.bick@csiro.au
Phone: +61 2 9413 7473, Mobile: +61 459 842 651

Justine and Alicia (contact details below) are supporting the partner engagement process:

Miss Alicia Black - Administration Officer, Manufacturing
Email: Alicia.Black@csiro.au

Miss Justine Sau - Industrial Trainee, Business Development & Commercial
Phone: +61 3 9545 2519
Email: Justine.Sau@csiro.au
Contact CSIRO | Privacy Statement | Legal Notices | www.csiro.au  
                                                                       GRAPHAIR WATER FILTER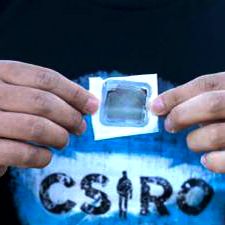 In the future, I believe CSIRO will be famous for developing the GraphAir filtration membrane which makes water over 99% pure with one pass.
Graphair membranes, as shown to the left, are created with Graphene, a form of carbon which is one atom thick.
The graphene research team "recently produced very clean drinking water from Sydney Harbour water by infusing a small strip of GraphAir with "nano-channels" big enough to let water molecules through, but small enough to block salt, detergent, oil compounds or other pollutants, yet still keeping the nano-channels clear. This means a GraphAir filtration system could be used for longer before being replaced, and contaminants would not have to be extracted before purification.

The team is also trialing the technology on water from mines, factories and contaminated sites.

Applications could range from industrial-scale desalination and wastewater treatment to household water purifiers for Third World families.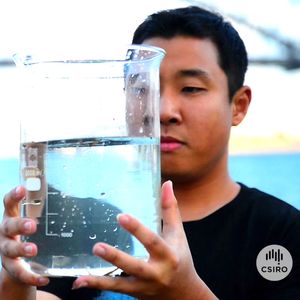 The water purification research also involved scientists from Sydney and Victoria universities, Queensland University of Technology, University of Technology Sydney, the National Measurement Institute in Sydney and Nanyang Technological University in Singapore."

The research paper, "Anti-fouling graphene-based membranes for effective water desalination" (Nature Communications) is available at the following web-link: https://www.nature.com/articles/s41467-018-02871-3.
I suggest that anyone financing the trials and manufacturing of Graphair would become famous around the world as the person who provided clean water to mankind.
In the process of manufacturing something everyone on Earth would want, that person or corporation would become more wealthy than thought possible. If that financier were truly interested in the betterment of mankind, as a philanthropist, they may wish to offer the GraphAir water filter to individuals at cost.
Can you imagine the boon to mankind? Never before in history has the potential for having drinking water over 99% pure occurred. Pure water will be available everywhere, even from sewage!
This Graphair invention by CSIRO will be directly responsible for helping wipe out many diseases originating in contaminated water.
NOTE: CSIRO has recently updated their site. Not all links may work correctly.