MITCH BENSEL - PART I
Author, Poet, & Healer
Mitch Bensel was considered to be a holy baby when born.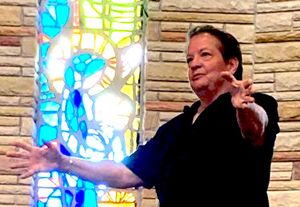 A personality developing on the national scene is Louisville, KY resident, Mitch Bensel. In the near future, the United States will be impacted by his gentle thoughts, manners, deeds of compassion, and healing of others through his initiation of God's healing light through the Holy Spirit.
When Mitch Bensel was born, the birthing room suddenly had the aroma of roses.  Christians believe that to perceive the scent of roses when no flowers are present at a birth of a child, called Clairalience clear smelling, is the sign of a holy child and the presence of holiness. It is also called the "odor of sanctity" and a sign that a blessing from God is imminent.  
What is unusual is that healer Mitch Bensel was unaware of his birth phenomenon until  November 2021. He had mentioned to his sister that he would refresh his healing mission in Zanesville, Ohio during a visit there for a healing presentation at Coburn UM Church on Wednesday,.29 December, 2021 beginning at 7PM. 
She replied, "It's about time!." 
When he questioned what she meant, she told him about his birth event, the smell of roses which permeated the room, and that he was considered to be a holy child at birth. He had never been told about his birth. 
He actually began his healing prayers as a preschool child for those who were ill, especially for those in ambulances that would pass by him with sirens blazing as they rushed ill people to the hospital.  
In September of 2021 he traveled to Zanesville at the request of the adult VEP Sunday School class of  Coburn UM Church to present a healing service. Two members of the class had earlier been miraculously healed by the Mitch Bensel's YouTube healing audio, "Three Healings." At least four others in that city experienced and testified of God's miraculous healings from that audio presentation.  
Since Bensel can heal others, but not himself, Pastor Anthony Thomas of Coburn Church called the audience forward after Bensel's presentation for a hands-on healing of the healer. Mitch said that as the healing began, he closed his eyes and felt the presence of The Holy Spirit personify the Pastor. It radiated through him and from him in a vibrant yet calming energy. He knew then that Pastor Thomas was truly a man of God. God's healing energy was felt by all those connected by the touching. Some had their body physically moved as the energy passed through them.  
That the future will know of Mitch Bensel was suggested by Irene Baron. When Mitch had a medical issue and all assumed it to be cancer, during her prayers for his after surgery recovery, she heard a male voice answer her prayer. The voice, in a calm, clear,  loud, and sincere manner, said, "HE IS NEEDED IN THE FUTURE." She knew then that he would survive.  
The question is, what is going to happen that Mitch Bensel is going to be needed?  
"Three Healings"audio: https://www.youtube.com/watch?v=7nEw1I62t5k  
Learn Religions: https://www.learnreligions.com/rose-miracles-and-angel-signs-3973503  
Apostle Paul: https://www.learnreligions.com/all-about-apostle-paul-701056  
Christianity: https://www.learnreligions.com/christianity-4684897  
The Holy Spirit: https://www.learnreligions.com/who-is-the-holy-spirit-701504  
Coburn UM Church Facebook: https://www.facebook.com/coburnunitedmethodistchurch/?comment_id=Y29tbWVudDozMDQxOTIzODQ1ODIzMDQxXzMwNDI0MTIxMzU3NzQyMTI%3D  
Apostle Paul wrote in Corinthians 2:14 that God "uses us to spread the aroma of the knowledge of him everywhere." The "odor of holiness" comes from the Holy Spirit's presence in situations where people experience it.