USMC SCOUT/SNIPER TRAINING MANUAL  
by Irene Baron      www.irenebaron.com
THE SNIPER MANUAL
A Marksman is a qualified Specialist who operates alone, in a pair, or with a sniper team to maintain close visual contact with the enemy and shoot enemies from concealed positions or distances exceeding the detection capabilities of enemy personnel.
The U.S. Marine training Manual was the first source I studied before practice firing 50-caliber sniper firearms like the ROBAR. U.S Marine Corps Scout Sniper Training Manual. Scout/Sniper Instructor School. Marksmanship Training Unit, Weapons training Battalion. Marine Corps Development and Education Command. Quanticco, VA. Lancer Militaria. 1989.
THE ROBAR SNIPER RIFLE


I called a friend who is a member of the USMC, retired.  I asked his advice about snipers and firing sniper rifles before I attempted to write about that section in the first Mindreacher book, the first of the Mindreacher series. My friend asked if I'd like to read the sniper training manual. With an affirmative answer, he loaned it to me.  I studied it and went to return it.  He said to keep it.  He next asked if I'd ever fired a sniper rifle.  When I said, "No," he offered to give me time in the field with some 50 caliber rifles.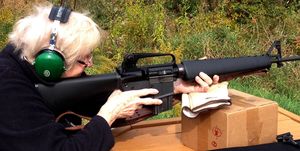 Within a week, several Marines gathered ammunition and rifles and transported me to a private firing range in SE Ohio within an hour from my home.  The farmland was being productively used for growing crops. Scattered within the farm were several shooting ranges. 
The one for the sniper rifles had a heavy wooden table upon which rested several plastic-covered sand field bags which could be arranged however you wanted them. The target, 500 yards distant, was a one-inch thick steel target about 3.5 X 3.5-feet square.  In the center was a white circle with an inner diameter of 10-inches. The white painted bullseye circle line was 1-inch wide. The steel target had a few holes in it from past practice sessions.  It was changed with a new steel target as needed.  The target was braced tightly between two beams no higher than the target. When I walked to the target, the bullseye was head high.
I was one of those girls during college whose boyfriend decided to play a gun prank. He gave me a shotgun and didn't explain recoil at a shooting range on a farm. I damaged my shoulder as he damaged our friendship. I had fired pistols and enjoyed shooting them. I didn't suspect recoil like that of a shotgun. Since the college escapade, I was overly cautious about firing the ROBAR.
When I sat at the table to use the 50-caliber rifles they brought, the Marines explained how each one worked. They took each partially apart and discussed the parts, how to load it, hold it and prepare the shot.
The first rifle I used was the ROBAR. It was a long rifle. The scope had a sweet spot where the focus at 500-feet was perfect.  I had to try several times to be able to find the sweet spot when I went to use the scope.  I knew the more I used it the more used to it I would become. 
That is the sweetest rifle I ever handled. No recoil at all. I had it jammed into my shoulder just in case, but I didn't need that. The rifle felt so smooth when I glided my hand over it. It was beautiful.  I had never used such a sweet firearm in my life.  I later thought about buying one until I saw the price was in the $7,000 range. 
The steel target was so distant, you couldn't see the bullet hit it. You waited for the sound bouncing back to you. I hit the target each time, usually within the bullseye. That target was so distant, we motored over to it to see the holes in the steel.  I looked around for bent ammunition, but couldn't find any.
Friends with whom I go shooting are always amazed at my skill zeroing in on the bullseyes.  With smaller ammunition and more shots, I may have an array in one area of the target which I can correct quickly. The ammunition was all loaded by the Marines.  I felt guilty using their time, equipment and ammunition. They were extremely professional in teaching me about the ROBAR and 223 rifles.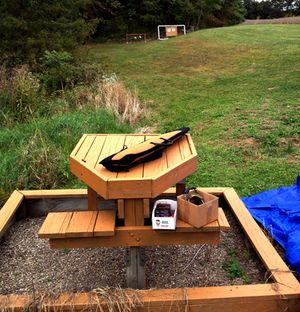 We used the 500-yard target before moving to a new site with a 200-yard target. We put a blue tarp on the ground to catch the cartridges for reuse. That hanging target base was wooden upon which we posted paper targets. After a round of shots, we would walk up to it to see how we did, walk back, make corrections and shoot a set again. I used the 200-yard target, pictured to the left, different days with different rifles. I became, I thought, quite proficient.  I always appreciated having experts with me to remind me of all the correct procedures. 
THE ROBAR COMPANY
The Robar company in Arizona, from what I can tell, is no longer a full-service company. According to the site data, you need to contact them via email for the limited work they now offer.
A Wikipedia article states:, "The RC-50 is based on it with the factory's SR-60D development, it is specifically for the special forces set up manual sniper rifle. Like many anti-materiél rifles, the RC-50 can be used to perform anti-sniper missions, destroy enemy light vehicles, radar, aircraft, and annihilate enemy personnel. The sniper rifle is available in two versions, the standard and RC-50F with a foldable buttstock, which is folded left and made of fiberglass.
In order to reduce the recoil, the RC-50 is equipped with a muzzle brake, with a cushioning stock. It is equipped with a bipod. The rifle's detachable magazines have a capacity of five rounds of .50 BMG. The RC-50's bolt is similar to the Remington 700 long action but scaled up to use the larger cartridge. Users can also choose their own preferences to rifle color or coating, the current optional black, gray and camouflage. The RC-50 and its special accessories are housed in a fiberglass case for easy carrying. The dedicated sight is a 16x optical sight, mounted through a bracket at the top of the rifle casing.[1] And taking into account the different operational needs, this gun can also use another sight" https://en.wikipedia.org/wiki/Robar_RC-50 
The RC-50 is currently being used by special forces in countries such as Australia, New Zealand, Saudi Arabia, United Kingdom and the United States. It has been deployed in Afghanistan and Iraq.
The Robar rife is redefining precision in rifles.  Watch this podcast to learn more about it: https://www.youtube.com/watch?v=ZjcFQizEaoA.  
MINDREACHER, thriller series
In writing the first two exciting paranormal and psychological thriller novels, I had to do some research. having taught science and forensics gave me much experience. I wove much of it throughout my books. Readers will find it very difficult to tell fact from fiction throughout the series.  Men who are extremely intelligent admit they couldn't tell fact from fiction. 
I want to thank readers for the emails they have sent with their own experiences.  I enjoy hearing from you.