CINNAMON HELPS STOP INFLUENZA 
Cinnamomum zeylanicum 
Cinnamon Lauraceae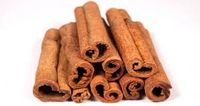 I never had a cold or flu until I was about 20 years old. Everyone in our family was healthy.  I always thought it was just all the milk we drank and the great meals my parents prepared. Could our good health be attributed to all the cinnamon we consumed? 
Many mornings our toast had butter sprinkled with a sugar-cinnamon mix. Kept in a shaker like salt, we sprinkled cinnamon on hot cereals.  If food tasted better with cinnamon, we added that spice. I use it almost daily in my coffee. 
I never thought much about cinnamon being a health supplement until a few years ago. I read a news article concerning citizens working in a cinnamon factory in Indonesia.  Although Indonesia had a horrible killing flu that year, NOT ONE OF 278 EMPLOYEES IN THE CINNAMON FACTORY CONTRACTED THE FLU. That opened my eyes. 
WHAT IS CINNAMON?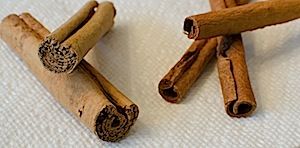 Cinnamon, from the bark of plants in the Laurel family, has been used for thousands of years and was once a gift for kings.
The highest quality of the spice is Ceylon cinnamon. 
You can tell the difference between Ceylon cinnamon and other varieties when you look at the inside of the quills. The Ceylon cinnamon looks like layers of paper. Other cinnamons are empty on the inside as shown to the left.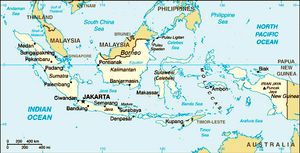 Ceylon cinnamon is grown in the Spice Islands, often called Indonesia. The group of islands making up Indonesia is pictured on the CIA map to the left. 
I visited the Spice Islands when I lived in SE Asia when on my honeymoon. Staying in Penang for over a week, we toured the island to see the different regions of growing spices. Our driver explained each spice and how it was treated for export as we stopped to view and handle the raw products. It was a fascinating excursion. 
 
PROPERTIES OF CINNAMON
Cinnamon contains 'cinnamaldehyde' which may be responsible for the health benefits.
 Fox News reported, "Researchers evaluated the extracts against Phi X, a virus that infects bacteria and shares various similarities to viruses that infect animals and humans. After 24 hours of incubation, an extract with 10 percent cinnamon deactivated 99.9 percent to 100 percent of the virus following only 10 minutes of intermittent mixing, according to the news release. 
Schiffenbauer said in the news release that his colleagues' findings suggest that cinnamon extract has the power to damage the structure of the PhiX virus. 
"The results validates (sic) our belief that a diet that includes a tablespoon of cinnamon once or twice a day can be effective in eliminating or preventing viruses from infecting humans and causing sickness, such as colds, flu, and even herpes," he said." https://www.foxnews.com/health/cinnamon-may-protect-against-infection-study-findsPublished: Jan./Jun., 1999
Joe Leech, MS, included in a HEALTHLINE ARTICLE some properties of cinnamon as a health spice. https://www.healthline.com/nutrition/10-proven-benefits-of-cinnamon#section6  His information included:
Anti-diabetic effects 
Anti-inflammatory 
Antioxidant   
Antiseptic 
Antiviral 
Astringent 
Decreases blood pressure in animals 
Decreases blood sugar levels 
Decreases cholesterol 
Decreases insulin resistance 
Increases "good" HDL cholesterol levels 
Inhibits buildup of tau protein in the brain (hallmark of Alzheimer's disease) 
In mice helped protect neurons & improved motor function 
In mice reduced growth of cancer cells, the formation of blood vessels in tumors, 
In mice, appears to be toxic to cancer cells, causing cell death 
Relieves diarrhea 
Relieves flatulence 
Relieves nausea 
Stimulant 
Used to treat circulation (may lower risk of heart disease) 
Used to treat coughs 
Used to treat digestion 
Used to treat exhaustion 
Warming agent 
In a study of 26 spices, "…cinnamon wound up as the clear winner, even outranking "superfoods" like garlic and oregano. In fact, it is so powerful that cinnamon can be used as a natural food preservative." https://www.healthline.com/nutrition/10-proven-benefits-of-cinnamon#section2 
 
CINNAMONS I USE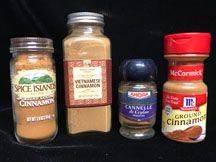 As mentioned, the Ceylon cinnamon is the only one you should purchase. I have these bottles in my kitchen cupboard. I keep the Ceylon cinnamon on the same shelf as my coffees. That way I remember to add a shake or two to my beverage. 
Ceylon Cinnamon, grown in Ceylon and India, is from a fir tree that grows over 50-feet tall. The cultivated ones have many shoots coming up from the base of a short trunk pruned to 8-feet tall. The bark is removed from the shoots during the monsoon season. The rain keeps the bark pliable and easy to work with. If you cannot find the higher quality Ceylon cinnamon in the grocery, it can be purchased online. 
The Batavia Cassia is grown in Indonesia. These are the ones usually sold as Cinnamon sticks you find in the stores. It is cheaper and therefore more popular.
Saigon Cassia, originally found in China, has what the Spice Islands cookbook calls a "warm, bitter-sweet and aromatic taste."  Cassia has been found to cause health problems in large doses due to the coumarin content. 
Selective uses of Cinnamon include it in baked cookies and sweets, puddings, cooked fruit, fish, honey, meats, mulled red wine, pickling liquids and punch drinks. Seeds are used in potpourri and seed oils in perfumes. 
 
DANGERS OF CINNAMON USE 

NOTE: Like many spices, INHALED DRY CINNAMON CAN BE DANGEROUS. If inhaled, dry cinnamon can cause choking or gagging, irritate your throat, and can permanently damage your lungs. Lungs cannot break down spice fibers. Keep all spices safe from children. 
Dangers of cinnamon use are discussed by Ryan Raman, MS, RD in his article, "6 Side Effects of Too Much Cinnamon," found in the online Healthline. He states it is safe to eat, but too much of the spice can damage your liver, cause mouth sores or cancer and lower blood sugar. As mentioned earlier, Raman states if inhaled, it can cause damage to your lungs and breathing problems.  https://www.healthline.com/nutrition/side-effects-of-cinnamon#1 
__________________
REFERENCES:

Bremness. Lesley. The Complete Book of HERBS; A practical guide to growing & using herbs. Viking Studio Books. Penguin Books. Hudson Street. New York. 1988. 
Leech.Joe.MS. 10 Evidence-Based Health Benefits of Cinnamon. HEALTHLINE. https://www.healthline.com/nutrition/10-proven-benefits-of-cinnamon#section6. 5 July 2018. Used 13 March 2020. 
Raman.Ryan.MS.RD. 5 Side Effects of Too Much Cinnamon. HEALTHLINE. https://www.healthline.com/nutrition/side-effects-of-cinnamon#1. 26 September 2019. Accessed 13 March 2020. 
Spice Islands Home Economics Staff, The Spice Islands Cook Book: How to cook with Spices, Herbs and Seasoning., Lane Books. Menlo Park. CA.1965. 
ADDITIONAL LINKS FOR INFORMATION 
Atlantic: https://www.theatlantic.com/health/archive/2013/04/how-deadly-is-a-spoonful-of-cinnamon/275191/ 
KFOR TV: https://kfor.com/health/fda-cooking-spices-could-be-making-you-sick/amp/ 
LiveStrong.com: https://www.livestrong.com/article/445647-is-too-much-cinnamon-bad-for-you/ 
MindBodyGreenFood: https://www.mindbodygreen.com/articles/cinnamon-uses-health-benefits-and-side-effects 
WebMD: https://www.webmd.com/diet/supplement-g

_____________________________________
CINNAMON RECIPE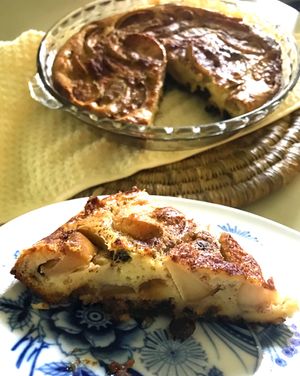 VERY Easy- Sour Cream Apple Pie
Makes its own crust! 
This takes about 15-20 minutes to prepare and cooks 35-40-minutes.
Preheat oven to 350-degrees.
2 thinly sliced medium apples. If used unpeeled, clean and dry the outside of the apples before slicing.
            ( I use a slicer which cores and cuts an apple into 8-pieces. Then I slice each piece.)
1/2 C  raisins
1/2 C  sugar
1 tsp   ground cinnamon
1/2 C  Bisquick mix
1/2 C  sour cream
1/2 C  half-and-half
2 TB   melted butter
2         large eggs
1/8 tsp ground cinnamon

Butter or spray 9" pie plate or 9"square glass dish.
Stir together apples, raisins, sugar and 1 tsp of cinnamon. Pour into pie dish.
Except for the 1/8 teaspoon of cinnamon, mix/whisk remaining ingredients until well blended. Spoon or pour gently over the apple mixture. Sprinkle with the remaining 1/8 teaspoon of cinnamon. Bake 40-45 minutes. When a knife inserted into the mixture comes out clean, the pie has finished cooking. When cooled, store covered in the refrigerator. (I use Press & Seal)
This is an old and easy recipe I have in my file and has been used often. I don't know the source.