MINDREACHER
THRILLER SERIES - BOOK I
www.irenebaron.com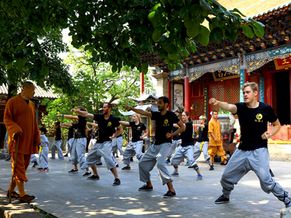 MAJOR JONATHON COULTER, USMC
Major Jonathon Coulter, USMC, is the hero in my thriller series, MINDREACHER.
He enrolled in the Shaolin Temple Kempo training  in China for three years after high school graduation.  After next enlisting in the U.S. Marine Corps, he eventually became one of the few elite warriors to train and work with the United States Navy SEALs.
Coulter is considered a natural leader with courage, intelligence and integrity, personifying the ideal soldier. Calm intelligent hazel eyes take in his surroundings where ever he may be. Dressed in civilian clothing, he blends in with the population except for his haircut, confident bearing and posture. Anyone not knowing of his recent combat injuries would erroneously assume he was in top condition.
He was most recently assigned as liaison officer between VESPER (Virtual ExtraSensory Perception Experimental Research) and OSD (Office of Secretary of Defense) to permit him a desk job while recovering from severe injuries during a black operation in the Middle East. 
MINDREACHER EXCERPT DESCRIBING COULTER:
     "The man Arnold referred to was Major Jonathon Coulter, USMC, an experienced officer in the Intelligence Support Activity of the Joint Special Operations Command. It was true Coulter believed remote viewing or telepathy is impossible. When first assigned to VESPER as Liaison Officer with OSD, he'd tried in vain to embrace the psychic concept. It was due to his skepticism that the Secretary of Defense believed the Major would remain Unbiased.
Coulter glanced at Philip Arnold as though looking at an insect. Ordered to wear civilian clothing, his gladiator-type body was camouflaged. Appearing innocuous, he had been ignored.
Anderson believed Major Coulter had more testosterone in his little finger than Philip Arnold had in his entire body. With gleaming eyes, Anderson answered, "Yes, even him." He was proud to have Jon as a longtime friend and colleague. With a stern voice, Anderson addressed Arnold.
"Major Coulter is one of the finest officers I've known.  A weapons expert and hand-to-hand combat instructor, he's served on many successful covert operations, some with Navy SEALs. Major Coulter has served this country with distinction. Once trained in techniques to identify a psychic, if he is in the vicinity of a psychic-caused phenomenon, he will recognize it as such and identify the telepath causing the incident."
With a raised and questioning eyebrow Coulter respectfully stated, "Colonel, I'm in possession of too much-classified information to be exposed to mind readers.  I've put in for a transfer."
Knowing Coulter's transfer request had been tucked safely away in his desk, Anderson gave him a sympathetic look. That request wouldn't see the light of day until Coulter was back in prime fighting condition."
KUNG FU THEORY-SHAOLIN TEMPLE TRAINING
From the Shaolin Temple website with permission:
"Kung Fu theory is taught during training time by the Headmaster Shifu Shi Yanjun. You will learn about different forms, history of Kung Fu, applications of the styles and forms. Shifu Yanjun gives you a solid base of Kung Fu theoretical aspects and uses and development…"

"Starting the Chinese New Year 2018, Songshan Shaolin Traditional Wushu Academy becomes Shaolin Kung Fu Department of the Shaolin Temple Yunnan. Shifu Shi Yanjun has been officially appointed as Director of the Kung Fu team by the Venerable Abbot Grandmaster Shi Yanbei of the Shaolin Temple Yunnan.  Shaolin Temple Yunnan is under the China Songshan Shaolin Temple in Henan Province."

The Shaolin Temple is a Buddhist temple. All persons there respect each student's religious beliefs. The teachings during lessons are not intended to convert anyone to Buddhist philosophy. They are only examples of conduct principles followed by all faiths. Students who cannot attend the Meditation classes based on their religious beliefs may replace their class with another discipline for their specific goals.
Buddhism etiquette is followed on a daily basis. Each day students are taught principles of Buddhism by example. If students wish to attend the Buddhist behavior classes inside the Shaolin Temple, they can do so on a daily basis morning and evening. Students are expected to participate in classes and ceremonies as part of Temple life.
With permission, the pictures below show views from the Shaolin temple martial arts lessons. The one on the right shows a man with his fingers positioned at the chest of another. This is part of a technique used in the Shaolin taught martial arts in which an internal organ of the enemy will be destroyed by using the force of the fingers. This method is used by MINDREACHER hero Jon Coulter during a wicked fight scene to kill a martial arts enemy in the wilderness mountains of Laos.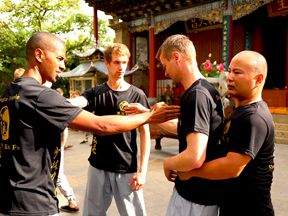 Blog visitors  also read: 
Temple URL:       http://kungfushaolins.com/about/  
Shaolin Kempo Karate: https://en.m.wikipedia.org/wiki/Shaolin_Kempo_Karate
Short video:         http://kungfushaolins.com/

BUDDHISM 
At the Shaolin Temple, Buddhism etiquette is followed on a daily basis. Each day Shifu Yanjun will teach the principles of Buddhism by example. This class is not a usual class. You do not learn Buddhism from books but from the master's behavior and his teachings. If you wish to attend the Buddhist ceremony inside the Shaolin Temple you can do on a daily basis at 5.30 am (depending on the season) or evening at 7.00 pm. During the year will be many ceremonies which you will be expected to participate as part of the life of the Temple.
 Students who wish to adhere to Buddhist Philosophy, please contact them to understand the requirements. If after your arrival you develop an interest in Buddhism and monks lifestyle, you can follow the monks around to understand their lifestyle. You can also learn with them doing the Buddhist chanting and following a monks' life as trial. Many students believe that the life of a monk is easy and they spend a lot of time meditating. After you spend a day with them you will find that is not actually true. No matter, it will be for you a unique and fulfilling experience.