HOW THE BRAIN CONTROLS   
COFFEE PREPARATION
By IRENE BARON  7 MARCH 2021
irenebaron.com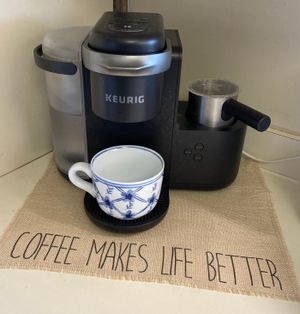 Yum! Time for my first cup of coffee today. 
To make a cup of coffee requires mental calculations using both sides of my brain. Some people don't believe this to be true. According to resources, the two different hemispheres of the brain are "in charge of" different types of specialties. Let's analyze those specialties. Assume I make coffee every morning and have full capacity of both hemispheres of my brain. 
What does my brain have to contend with to be successful in the basic act of making a simple hot beverage for my drinking pleasure?  I have listed alphabetically what categories of thoughts each hemisphere of my conscious and subconscious brain may have to become involved with to complete the task of making coffee in a Keurig.
THE RIGHT SIDE OF MY BRAIN CONTROLS RELATIONSHIPS OF: 
Art – Do I choose the curved and double-walled insulated glass mug so I can see both the coffee and milk foam which is an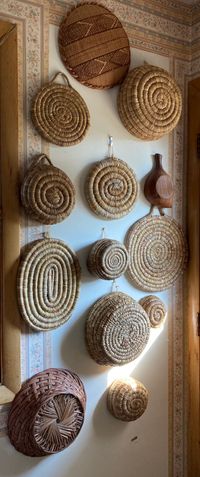 esthetic and pleasant sight, or one of the straight-sided mugs? I could choose a ceramic mug with a memorable scene on the outside, the smaller LL Bean steel, insulated mug with no design, or the newer insulated steel camping mug with a small forest design? There's always the smaller ceramic gift mug from friend Ruth Ann with the logo "I always thank my God for you …  1 Corinthians 1-4" on one side and  "Friend, 1 Corinthians 1:4" on the other side. It was made in China for the Lighthouse Christian Products Company. My daughter loves the cup for all the meanings it brings with it. My coffee tastes better when the cup is chosen is the right one for that day. 
I enjoy making coffee at dawn when the streaming sunbeams light up the stained glass in the east kitchen window. That makes the day start out beautiful. That makes me look at the hand made baskets from Andros Island and the Forfar Research Station where I took classes for 20-years in the summer. The island of art with art reminders and remnants in my kitchen.
Belief – I usually made good coffee in the past.  I will assume the coffee this morning will also be good. I'll use my favorite strong coffee for the first cup. 
Big picture – I will have the active pleasure of creating a good cup of coffee and will, perhaps, end up having two cups. It will be a great start for my day.
Creativity – I keep Ceylon cinnamon in a shaker bottle to add to my drinks for the healthy aspects of the spice.The only cinnamon to have such properties is the Ceylon cinnamon. I buy it by the pound which is much less expensive. 
 If I don't make a latte, I will use whole or dry milk. I can always add a dribble of vanilla and a teaspoon of sugar if I desire.  Some days I add a few tablespoons of a chocolate mix to my coffee. Today, it's just coffee and milk and cinnamon. if I have the urge, I can make latter with foamed milk and sprinkle it with a sugar-cinnamon mixture. 
Emotion- There is a peacefulness associated with such a simple task as making coffee the first thing in the morning. I will feel better once the coffee provides caffeine to wake me up for the day. It always reminds me of my Mother and Father enjoying one another's conversations over their coffee  I also have happier feelings when my favorite tasting coffee is available. 
Face recognition – not applicable this morning unless my daughter is awake. 
Imagination – I can keep the lid off the coffee mug and take 2-3 pieces of individually wrapped almond biscotti to dunk in the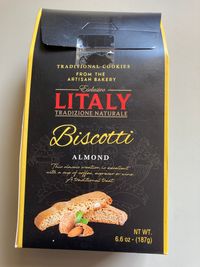 coffee. If available, I might use whipped cream instead of milk.Twirling a whisk in the coffee will create a froth. 
Interpersonal skills – I should ask my daughter if she would like some coffee, but she is still asleep. 
Intuition – my intuition tells me the coffee will be good and I will be happy to have made it once it is ready. 
Music – After teaching high school for many years, I enjoy peace and quiet in the morning. It is a pleasure not to have to experience the raucous sounds of a school all day. Perhaps in a few more years I may wish to listen to music during coffee making. (I doubt it! J) 
Nonverbal – AHHH, peace and quiet. Unless the news is on the radio or TV, and If my daughter is not awake, I speak only to the dogs. Leo is a Bernese Mt. Dog and Cody is a terrier mix. Both are 3-year old rescue dogs. They love to be loved. When I enter the kitchen, they lie down to wait and see if they will be offered any tidbits.  Nope. They are not offered any coffee! They are active enough. 
Spirituality – I thank my Heavenly Father daily for the food provided for my sustenance. Is it an early sunrise with sunshine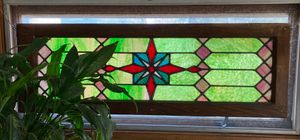 streaming in through the stained glass art in my east window? A gift from my parents who purchased it from a church, it always brings pleasure to see the sunlit colored glass. Not only because of it creates fond memories of my parents, but because of the Christian affiliation. They bought a stained glass church window for each of their children. 
I have been a Christian since a child with my education of Christianity increasing every year. The constant reminder from the stained glass, while making coffee and sitting at the dining room table to face the stained glass during the drinking the coffee or reading, makes the whole experience more pleasurable. So, there are definite relationships to spirituality if I drink coffee in my kitchen or adjacent dining room. 
 
THE LEFT SIDE OF MY BRAIN CONTROLS RELATIONSHIPS OF 
Administration – Today I check the bottom shelf of the cupboard above the Kurig coffee maker. It is filled with coffees from many lands. Some are instant, especially decaf. When I ran out of my favorite coffee a month ago, none was available at the 3iHOLSTER shop that sold it.  I had to wait three weeks for more to arrive. Owner, Scott Frank, called and let me know it was back in stock. 
Analysis – Every other category result must be analyzed by the brain to ensure the process taking place is correct.  After all is said and one, subconsciously, the procedure will be analyzed. The next time ideas will surface to make the process more perfect. 
Detail – Made by the IRON BEAN Coffee Company (ironbeancoffee.com) , I am currently drinking the "Thor" type which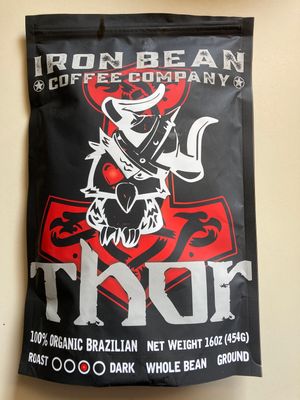 is100% organic Brazilian, roasted, dark, ground coffee. I most recently purchased a pound of the coffee. 
This coffee is organic, fair trade and made of specialty Arabica beans.  The owner wrote, "We are a truly small batch coffee roaster, owned and operated by USMC husband & wife. We are grateful for your support." 
Being a patriot, I try to support active military and veterans.  It makes me feel good to know I START EVERY DAY SUPPORTING THE MILITARY IN THIS SMALL WAY. They are always in my mind. 
On the back of the black coffee package is written, "Do not go gentle into that good night … RAGE. Rage against the dying of the light." 
It continues, "That poem above is a driving force screaming at you to live the fullest life that you can, fight for the good in this world, the good in your life. Do not go gentle, do not give up or give in. Revolutionize your life and don't sit idly by while your days run past you." 
This epitomizes my mission in life. Don't waste a minute.. I bought my coffee from the best holster shop in the United States. It is located in Zanesville, Ohio. 
BEST HOLSTER IN UNITED STATES ? (irenebaron.com) 
If I don't use the veteran manufactured coffee, I might use one my daughter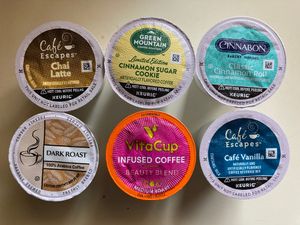 bought and left out for me.
Facts- If the overhead room light has to be turned on before the coffee is made, that action is usually the first to take place. My brain evaluates the amount of light without my thinking about it consciously. . 
Caffeine will wake me up and keep my body activities regular. My older brother, now deceased, told me to start off the day with a hot drink to keep your internal body functions healthy. He was right. Coffee does the trick. Thank you, Herb!   
Formation of strategies – I need to make sure the clear plastic water container of the coffee maker appliance has enough water for a 12-ounce cup of coffee and leave room in the cup for cream or milk. Eyeballing it, if I determine the appliance needs more water, I add distilled water. Tap water has too many chemicals to worry about. Drinking polluted hot tap water with a temperature that will assimilate into my body quickly is not something I desire. So, distilled it is. 
If I forget to check the water, the coffee machine will stop the process and have a message on the top surface, "add water." I have to check that I have my favorite ground coffee in the Keurig type containers.  If not, I have to remove the coffee from the cupboard and fill as many of the reusable, clean and empty containers that I have to make the next coffee extravaganza faster. 
Knowledge- Coffee brands make a difference in how I enjoy the coffee. My daughter, Dominique, buys brand and non-brand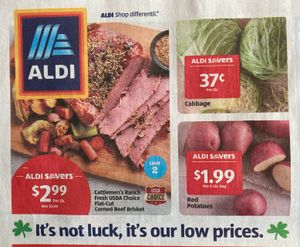 coffee pods with flavors and sweeteners that hide the true coffee flavor. It ends up not being coffee, but a hot and delicious concoction containing coffee.  If I want a less expensive but still good coffee, I can shop at Aldi's (aldi's grocery story - Bing)   or the local Reisbeck Grocery (Home - Riesbeck's Food Markets (riesbeckfoods.com). My favorite coffee brand so far is the Iron Bean coffee (Iron Bean Coffee Company | Fresh Roasted World Class Coffee Veteran). 
Aldi's, being an international store, has coffee from all over the world.  I am still in the process of experimenting with them to see if any are as good as the Iron Bean brand coffee. Some from Colombia are excellent. I should do a taste test with them and the Iron Bean. I find Aldi prices for exclusive brands less expensive than other grocers. I love the Aldi's German cookies which can be dipped into my coffee for additional pleasures. 
The owner of Aldi's is the brother of the founder of Trader Joe's groceries (The History of Trader Joe's (thedailymeal.com). They are both German in origin which is sentimental to me as my maternal grandparents were from BadenBaden, a German town. 

Logic – Since making coffee is a daily occurrence, the section of my brain which stores such notes and instructions is enlarged similar to an area which contains information of a hobby. Making coffee is kind of like a hobby. It's one in which I excel and can experiment to make the process easier, healthier and faster. I don't have to stop and think of each step and they have been completed so many times in the past, they are automatically accomplished. My brain knows what has to be done and in what order. It knows how to anticipate any body motion and complete that motion when needed. It has to move all parts of my body to complete the process of making coffee. So logical!  What a perfect creation the human mind and brain are. 
Math – The main math I need to think about is choosing the right amount of coffee for the size container into which it will fall. This Keurig machine I use has selections for coffee amounts of "shot, 6,8 10 or 12 oz." Unless I make a Chai Latte or concoction from my daughters' purchases, I have to allow room for cream of some type. Therefore, the container will decide how much coffee is made. If I want the foamed latte, if I make just a shot of coffee, there won't be much to drink. My brain has learned to make 8-ounces of coffee with the correct latte amount to fill up a large cup with coffee and foamed milk. 
Organization When the dishes are clean, I have a huge selection of cups and mugs stored in a pull-out drawer.. (If I want a pot of coffee, I have to use a different method of making the coffee.) My thinking brain has me check the amount of water available, choose a cup or mug, select the roast of coffee and fill the Keurig pod with my selected coffee or use a purchased pod 
Recall  - My brain recalls everything needed to make the coffee. Knowing that dementia begins around age 35, I am thankful that I am still alert and thinking. I believe the glial cells of my brain are active and healthy due to all the dairy foods and milk I consume.  Drinking 2-3 gallons of milk a week, my bones are dense and the glia in my brain healthy. 
Reading at the dining room table during coffee consumption, I often use the metal book holder. It is a gift from my younger brother, Joel, and used with fond memories.  It arrived as a surprise and has been much appreciated. I think of him when I use it which is almost every morning. If I don't use that metal book holder, I use the leather page weight  filled with lead shot that my Mother gave me to keep the books open. It originally had my initials stamped in gold at the center. It has been used so often, the gold has worn off. The memories of my Mother's joy when she saw my reaction at receiving it always makes me smile.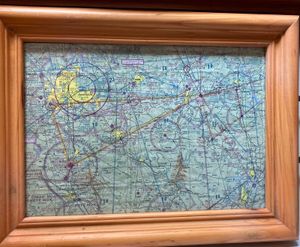 . Sometimes I would use a memory tray to hold my coffee. Made alike a picture, under the glass of the tray is my solo cross-country FAA chart. By using the tray for my coffee and toast or tidbit, I recall many memories and the fun responses I had by pilots when asked to sign verification of my locations. That tray hangs on the wood below a stained glass window hanging in my east kitchen window. 
Safety – The coffee maker is in a corner of my kitchen counter where it cannot be knocked to the floor. The refrigerator is to my left and the wall behind the appliance. As long as the coffee cup size relates to the amount of coffee chosen, there should be no spills of hot liquid. I don't have to worry about spilling the water container as I don't remove it from the appliance.  I remove the lid and pour in distilled water from the gallon jugs. The used coffee pods are not that hot when removed as I touch just the edges. The appliance is cleaned often to eliminate any microbes looking for a new home. 
Science – Even though I enjoy coffee in the morning, at least 30-minutes after taking my thyroid medicine, I ensure I have plenty of milk during the day. When I get thirsty, that means I'm already a quart low. I have a desire to drink milk first. I always thought that desire was from my body needing the calcium. Just as children, when given a spread of food for lunches over a period of time will always choose what they need to feed deficiencies in their bodies, I thought adults did too. 
I must have a lot of glial cells in my brain which control the neurons, for the desire for milk is constant. In restaurants I will often order milk, rather than coffee or other drinks, if not water.   
MILK-FOR-MEMORY (irenebaron.com) 
My mind has to think ahead of each movement so that I can move my body, arms and hands to complete all the functions of getting the cup/mug, finding the coffee I want, prepare the coffee maker, etc. That it has been accomplished many times in the past make the movements almost automatic. 
Time Awareness- I'm usually not in any rush, so I can make coffee anyway I please to do so at any time of the day. 
If I have tasks to accomplish away from the home, I must remember to not drink coffee until I return or ensure I have access to a rest room when on my missions. 
When I was invited to fly Ohio, West Virginia and Pennsylvania pipelines with Commercial Pilot, John Graham, I drank no coffee for two days prior to the flights and little liquid the day before. Being a pilot, I know most guys will fly 4-6 hours nonstop. If they do stop for a quick lunch, they fly another 4-6 hours. During such lunches, I drank little or no beverages 
I had to dehydrate my body prior to such flights to ensure I didn't disrupt John's scheduled flight patterns. He has specialized maps to follow to inspect the pipelines and needs to do it in a timely manner. I always appreciated him taking the time to invite me to tag along. We got to catch up on news and I was able to take as many aerial photographs as I wished. In the process, I learned a little about the technology used by pilots following intricate and preset paths. Being a good and experienced pilot, John was always centered on the path, even though the pipeline was not easily visible. Because of the technology, the inspections were made more easily. 
Sitting at the dining room table while sipping or drinking the coffee, allows me to watch multiple birds at the two bird feeders out the window to my right. It is with great appreciation of God's creations with so many species of birds that I have additional enjoyments during consumption of my hot coffee. With insulated mugs keeping the coffee hot over an hour, I can extend the period as long as I wish. A second cup is not unusual for me when I am studying at the table. 
Verbal – Making coffee, I don't have to say a word. Purchasing the coffee I desire, however, is a different matter. I am fortunate Scott Frank lets me know when it arrives in his store so that I may buy some before it is sold out. I enjoy the banter between myself and whoever is at the register when I enter the store. Being a holster store with national acclaim, it often has gentlemen of all ages inside chatting about all the topics of the day, including firearms and holsters. It's nice to see macho men out shopping with or without their significant others. 
I very much enjoy making coffee for friends. We'll drink our coffee while visiting on the front porch where I have a beautiful wooden glider and two comfortable outdoor chairs. We sometimes also visit in the back yard in the shade of tall pines or an umbrella at my small glass topped table. My back yard glider is beside an arbor with roses in bloom in the early summer. A homemade treat would usually be on hand. 
During COVID-19, we were able to keep our social/healthy distances from one another in an outdoor location.
 
SUMMARY 
You wouldn't think making a simple cup of coffee n a machine would cause so much work in the brain. Every step taken had to be planned and executed by the brain. Every action made by the human coffee maker with, eyes, mouth, legs, feet, arms, hands and fingers had to be thought out before the acts and worked out with the different aspects of my brain. Something as simple as making coffee, when thought out per right and left brain basics, becomes very difficult to imagine.The thoughts in the brain are at light speed, not the plodding along the typed words on this screen or paper.  
Creating an artificial brain in a computer seems to me to be a non-ending project.  Every day we learn new facts. All tjat knowledge would have to be entered into theartificial  brain.  We do it automatically with millions of connections between glia and neurons.  A computer would take much more time to do it and be less efficient, energy-wise. 
Medical Express reported: (Controlling your home with the power of thought (medicalxpress.com) 
"Our highly developed nervous system enables versatile and coordinated movement sequences in complex environments. We only notice the impact on our daily life when we are no longer able to perform certain actions, for example, as a result of a paralysis caused by a stroke. A novel approach to put the patient back in control would be brain-computer interfaces that are able to read signals from the brain. Such signals can be used as control signals not only for neuroprosthetic devices, which aim at directly replacing the lost motor function, but also for any computerized devices such as smartphones, tablets or a smart home."